- FEBRUARY 2018 -
Apulian Wines
TERROIR
The men, women, culture and land in wine-making
The historic wineries in Apulia have long abandoned the pursuit of quantity in their quest for quality and excellence.
Starting with next month's issue, Bridge will bring you an episode of our journey from Daunia to Terre di Bari, then heading South to High and Low Salento to discover the top 25 DOC wines produced in this region
by Angelo Pellegrino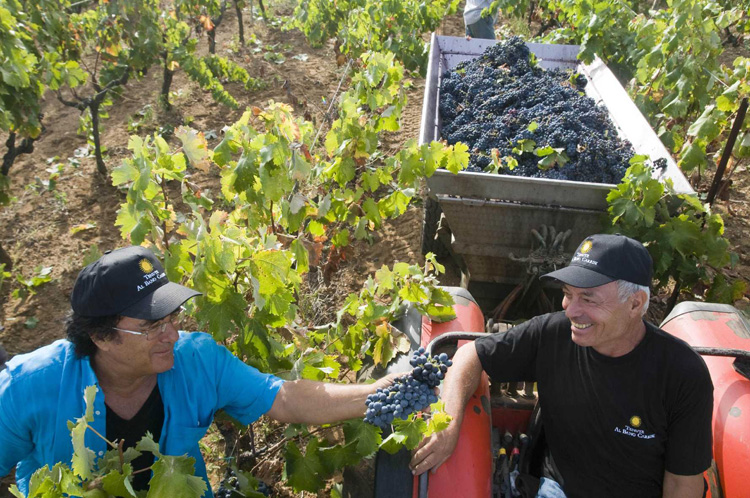 Cellino San Marco (Brindisi). Singer Albano Carrisi, passionate vine-grover and wine producer, on his estate.
Photo Archivio Fotogramma
      As a child, when someone asked me what I wanted to be when I grew up, I would say: a great wine taster. This is a passion I inherited from my grandparents. Grandfather Angiulinu, who loved the wine tavern market of Otranto like crazy, and grandfather Donato, who was a farmer and also a vintner, and the "sacred guardian" of the vineyard in the district of Donna Mita "Pasulu" in my hometown of Borgagne, in the province of Lecce. I often "enlisted" to help him. His wine, "Sinciru" (sincere and genuine) was exclusively for family use: I loved it the most in summertime, when he would make me a 'crazy mix' of Sinciru and orange soda slush. Perhaps even then I was already aware that drinking Sinciru by itself was too edgy for me, confirming that something genuine does not always go hand in hand with goodness.
      The land of Apulia has always yielded good fruit and they have gradually created the right conditions for the new challenge that global markets require: leaving behind the path of quantity, in a determined and professional way, to get on the path of quality and excellence. An approach that will soon be enriched with new indispensible content needed to create a unique image, made up of products from our enchanted land that include wine, as well as history, culture, landscapes, warmth and hospitality. This exceptional evolution has become a reality in the last 20 years, thanks most of all to the example noble, historical wineries were able to give.
      The great wines produced in Apulia today all have a story behind them which originate from the hands of men and women. Those who believed in the value of our land and who knew how to suffer and rejoice with it. It is to them that we will dedicate our column, and it is to them that we owe a deep gratitude for having been able to transfer their passion for the "vineyards" and the "wine" to their children.
      We will take you on a journey in search of those kinds of places and people, and then we will taste the nectar they have created, listen to their stories, and share their memories of a magical and mysterious land.
      The trip will include the entire region, from the Daunia to the Terre di Bari going down to higher and then lower Salento, discovering its 25 DOC wines along with their native grape varietals that by themselves can tell the story of this land: Negro Amaro, Primitivo, Nero di Troia, Malvasia, Susumaniello, Aleatico, Bianco d'Alessano, etc. Vine varietals considered not only able to provide good quality but which also differentiate the product nationally and internationally because they are identified with the land and culture from which they come.