- FEBRUARY 2018 -
Apulian Cooking
The scapece of Gallipoli
The history of this delicious product – small fish preserved in vinegar, saffron and grated breadcrumbs – found in the markets of Salento and elsewhere. It is mainly produced in Gallipoli but Vasto, in Abruzzo, also has a special recipe
by Dario Ersetti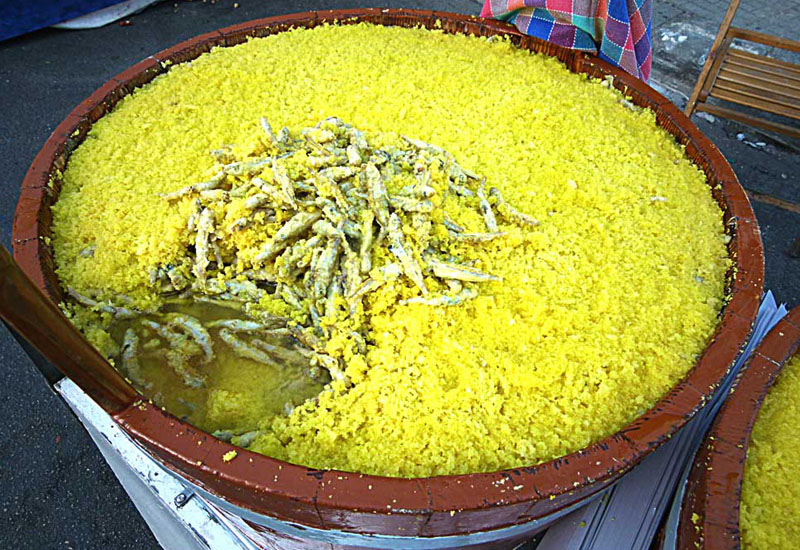 Scapece. Photo by Dario Ersetti
When the Hoenstaufen Frederick II, stupor mundi, came to his beloved Puglia, he gorged on mixed leaves, plants that grow wild in the countryside and are still used today. Another dish he liked and that was always to be found at his court, was eels from lake Lesina in Gargano preserved in vinegar. The preservation of foodstuffs (vegetables, fish, meat) using vinegar is a method known since ancient times, described by the Roman Marco Gavio Apicio, who is even credited with inventing it (Ut pisces fricti diu durent: eodem momento quo friguntur et levantur ab aceto calido perfunduntur. If you want to preserve fish sprinkle it with hot vinegar after frying). It may be precisely from "esca Apicii" (food of Apicio) that the procedure was called "scapece" in the South of Italy, "scabeccio" in Liguria and Piedmont, "escabeche" in Spain and "askipeciam" by Frederick II in the order he made to Riccardo di Pucaro of the Curia in Foggia on 28 March 1240. It is called "carpione" in the North of Italy, "saor" in Veneto and "aspic" in France.
Today with the availability of other methods of preservation, the use of vinegar is confined to impromptu recipes, like zucchine alla poverella in Puglia and all over southern Italy, sardines "in saor" in Veneto, the origin of which by the way was claimed to be Jewish by David de Pomi in his Ricettario Ebraico published in Venice in 1575. The exception in all this is the scapece of Gallipoli, where it has retained its original purpose, simply to preserve fish.
The monopoly on producing the scapece of Gallipoli is held by a small number of families, perhaps ten or so, descended from generations of scapeciari. It is sold exclusively in Salentinian markets. The recipe has remained strictly unchanged over the years. The ingredients are small fish of various kinds, which change according to the season, pupiddhru (picarel), mascularu (garizzo), minoscia (smelt), ope (bogues), cleaned with the removal of head and innards and then floured and fried; dried durum wheat bread grated strictly by hand to avoid overheating, which could make it ferment; red-wine vinegar decolored by mixing it with flour and then decanting it repeatedly until it is transparent; and lastly saffron stigma, and a little salt. The method then involves creating a layer of fish perfectly lined up in the bottom of a "caletta", which is a vat of chestnut wood with a drainage plug at the base, covered with a layer of grated breadcrumbs, another of fish, and so on until all the bread is used up. The vat is then filled with vinegar and covered with a heavy wooden lid to compress the mixture. The scapece is ready in a few days and can be kept for a long time, which is exactly what the method is designed for.
At Vasto, in Abruzzo, the scapece is richer, using dogfish, skate, as well as shellfish and rock-fish. The pieces of fish are floured and fried and then arranged in layers in a barrel. Each layer is covered in boiling white-wine vinegar colored with saffron, splashed with a little Trebbiano d'Abruzzo and finally covered with lightly fried onion. The tradition of Vasto is believed to derive directly from ancient Rome, since many families from Vasto also had a house in Rome. In the Statutes of Otto I of the year 973 it says "Che nisuno venda pescio salato se non è stato quattro dì in salsa" (Nobody can sell salt fish unless it has been 4 days in preserving liquor). For a long period, ending in 1840, the vinegar-maker Molino produced large quantities of scapece which were sold all over Italy.
On the subject of saffron, remember that the best sort is Persian, although the saffron from Navelli, in Abruzzo, is very good. Salento stopped producing it in the 1800s, but in Puglia in the last few years there has been an attempt to produce it again at Deliceto, in the area of Foggia.
More articles
Apulian Cooking
Flour gnocchi with scrum
Apulian Cooking
Cupeta An irresistibile delicacy
Apulian Cooking
Simulata with mussels
Apulian Cooking
Sardine fishballs
Apulian Cooking
"Fruttone", the other face of the pasticciotto
Apulian Cooking
Potato and zucchini soup
Apulian Cooking
Oven-baked pasta with eggplant and tomatoes
Apulian Cooking
Filled wafers
Apulian Cooking
Cuttlefish with artichokes and potatoes
Apulian Cooking
Pisieddhri a cecamariti (Peas cecamariti-style) or Pisieddhri cu li muersi (Peas with fried bread)
Apulian Cooking
Fish soup - Taranto style
MEDITERRANEAN DIET
Fish A precious part of healthy eating
Apulian Cooking
Puccia, pizzi and other delicacies
Apulian Cooking
Troccoli with octopus sauce
MEDITERRANEAN DIET
Octopus Few calories, good proteins
Apulian Cooking
Cherry pistofatru
MEDITERRANEAN DIET
Cherries, a miracle of goodness
Apulian Cooking
Apostles' fingers
MEDITERRANEAN DIET
Ricotta Tasty, nutritious and light
Apulian Cooking
Soup of cicerchie "alla pizzaiola"
MEDITERRANEAN DIET
Cicerchia In pursuit of old-time flavors
Apulian Cooking
Marzipan fruit
Apulian Cooking
Troccoli with walnut sauce
MEDITERRANEAN DIET
Walnuts Topping up on antioxidants
Apulian Cooking
Spaghetti with clams and samphire
MEDITERRANEAN DIET
Clams Low in calories, high in vitamins and minerals
Apulian Cooking
Lecce's "rustico"
Apulian Cooking
Pot of spring vegetables
MEDITERRANEAN DIET
Potatoes
Apulian Cooking
Scarcella …one of the Easter delicacies
MEDITERRANEAN DIET
Eggs, an extraordinary food
Apulian Cooking
Marzotica …a taste of spring
MEDITERRANEAN DIET
Marzotica ricotta For a calcium hit
Apulian Cooking
Maritati with fresh breadcrumbs
MEDITERRANEAN DIET
Anchovies A "poor fish" rich in goodness
Apulian Cooking
Lentils with lampascioni (grape hyacinths bulbs)
MEDITERRANEAN DIET
Lampascioni (Grape hyacinth bulbs) The viagra of the Ancients
Apulian Cooking
Cakes An alternative to panettone and purceddhruzzi
Apulian Cooking
Pasta with black chick peas from the Foggia Murge
Apulian Cooking
"Olive leaves" Pasta with olives
MEDITERRANEAN DIET
Olives, good and healthy
Apulian Cooking
Green peppers with mussels
MEDITERRANEAN DIET
Garlic A natural antibiotic
Apulian Cooking
Spumone
MEDITERRANEAN DIET
Everything you need to know about ice-cream
Apulian Cooking
Apulian calzone
Apulian Cooking
Foglie mischiate (mixed leaves)
MEDITERRANEAN DIET
Wild herbs, precious for health
Apulian Cooking
Baccalà with spunzali
MEDITERRANEAN DIET
Onions, a concentration of beneficial properties
Apulian Cooking
Artichoke parmigiana
MEDITERRANEAN DIET
Artichokes …so tasty and precious for our health
Apulian Cooking
Purceddhruzzi and carteddhrate to sweeten your Christmas
MEDITERRANEAN DIET
Honey A prodigious food
Apulian Cooking
Apulian focaccia
MEDITERRANEAN DIET
Eulogy to carbohydrates
Apulian Cooking
Red mullet with tomatoes
MEDITERRANEAN DIET
Fish Protein of high biological quality
Apulian Cooking
Poor Man's style zucchini
MEDITERRANEAN DIET
Zucchini An ideal summer food for the table
Apulian Cooking
Stuffed pepper rolls
MEDITERRANEAN DIET
Peppers Super-concentrated
with vitamin C
Apulian Cooking
Pea soup
MEDITERRANEAN DIET
Fresh peas Lots of vitamins and the taste of Spring
Apulian Cooking
Almond paste Easter lambs
MEDITERRANEAN DIET
Almonds So good …and precious for health and beauty
Apulian Cooking
St. Joseph's zeppole
MEDITERRANEAN DIET
Sweets How to stay in shape without feeling deprived
Apulian Cooking
Tubettini pasta with mussels
MEDITERRANEAN DIET
Mussels 
For a full serving of minerals

Apulian Cooking
Ciceri e tria (pasta and chickpeas)
MEDITERRANEAN DIET
Chickpeas Precious for good health and very tasty too
Apulian Cooking
Pittule
MEDITERRANEAN DIET
Extra virgin olive oil elixir of health and beauty
Apulian Cooking
Leccese Quince
MEDITERRANEAN DIET
The innumerable qualities of quince
Apulian Cooking
Lecce's eggplant parmigiana
MEDITERRANEAN DIET
Eggplant, depurative and very tasty
Apulian Cooking
Burnt grain
MEDITERRANEAN DIET
The tomato king of good health and beauty
Apulian Cooking
Pasticciotto, a delight from Salento
MEDITERRANEAN DIET
Pasticciotto
Apulian Cooking
Purée of fresh fava beans with chicory from Galatina
MEDITERRANEAN DIET
Fresh fava beans Chock full of energy and beauty
Apulian Cooking
Orecchiette with broccoli rabe
MEDITERRANEAN DIET
What makes them good for you…