- FEBRUARY 2018 -
Apulian Cooking
"Fruttone", the other face of the pasticciotto
The same shape as the pasticciotto but with ingredients typical of Salento: filled with almond paste and quince paste, in a delicious contrast with its chocolate icing.
Ideal when accompanied by a glass of Moscato di Trani
by Dario Ersetti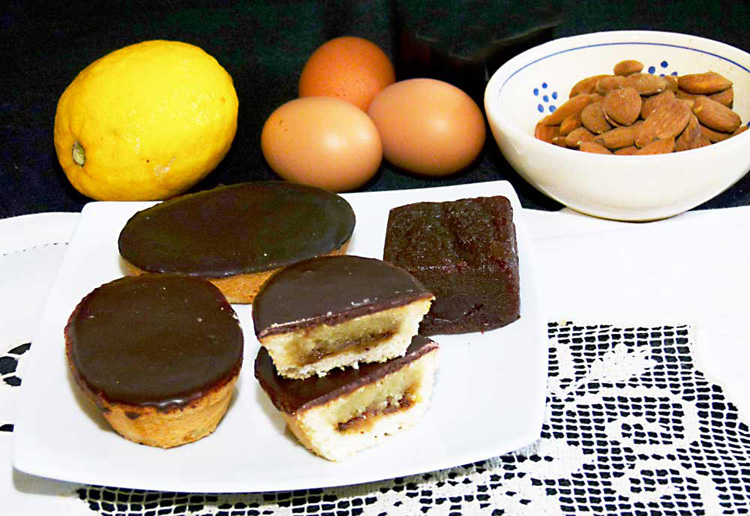 Fruttoni. For lovers of quince paste and almond paste these cakes are irresistible. Photo by Dario Ersetti
The pasticciotto is one of Lecce's typical traditional recipes, and perhaps its most famous. In actual fact what should be more famous is its brother the fruttone, since it contains the typical ingredients of the area, almond paste and quince paste. We think the chocolate covering was not introduced to make the cake richer but to balance out the sweetness of the almond paste and the quince paste. Like the pasticciotto, the fruttone, too, has larger cake-sized versions
 
The recipe


    For 10 fruttoni:
 
   For the SWEET SHORTCRUST PASTRY (sucrée)
- 500 g of 00 flour
- 250 g of lard
- 250 g of sugar
- 4 egg yolks
- 2 teaspoons of rising agent for cakes
- grated zest of a lemon
- a pinch of salt
 
   For the FILLING
- quince paste
- 300 g of peeled almonds
- 200 g of sugar
- 4 eggs
- 1 teaspoon ground cinnamon
 
   For the ICING
- 250 g of dark chocolate
- 50 g of butter
 
Sieve the flour, form it into a fountain on the board, mix in the salt, the rising agent, lemon zest and sugar. Place the lard in the center of the fountain and roll it in your fingertips so it absorbs a little flour. Add the yolks to the flour. Make the pastry into a ball and knead very briskly because the mixture must be smooth but must not get hot. Cover in cling-wrap and chill in the fridge for at least half an hour.
Actually, this pastry is not sablée but sucrée and it also contains rising agent. Sucrée is more compact and less crumbly than sablée and therefore better suited to lining moulds and for making small pastries.  
Prepare the filling by lightly toasting the almonds in a hot oven and grinding them with the sugar and then mixing them with the cinnamon and egg yolks. Stiffly whip the egg whites and lightly fold them into the mixture.
Use a fork to soften the quince paste. 
Roll out the pastry to a thickness of 3-4 mm, line the moulds, fill them with a good spoonful of quince paste and with almond mixture, cover with another layer of pastry. Bake in a 200° oven for at least half an hour.
Remove from the oven and let cool, remove from tins and cover with icing made by melting chocolate and butter in a bain-marie. Unlike the pasticciotto, which should be eaten hot or very hot, the fruttone is served at room temperature, best with a glass of "passito" moscato di Trani.
 
MOSCATO di TRANI
The dominican Leandro Alberti in his work "Description of all of Italy", published in 1577, reports that in Bisceglie sultanas were covered with a sugar mixture, like a comfit.
"Here they candy Gibebbo so excellently,with Sugar, and other aromatic things that it is thus very delicate to taste: it is much more pleasing than the one from the East".
It is almost certain that the grapes were the same as those used to make the wine Moscato di Trani, which was already known around the year 1000, when it was imported by merchants from the Republic of Venice.
Moscato di Trani, DOC (controlled origin) since 1974, has an alcohol content from 12.5° to 15°, a brilliant, deep yellow color, a bouquet typical of muscat grapes and a sweet, complex, mellow taste due to the development of its components during aging. It is a perfect accompaniment for almond paste sweets, including the fruttone.
More articles
Apulian Cooking
Flour gnocchi with scrum
Apulian Cooking
The scapece of Gallipoli
Apulian Cooking
Cupeta An irresistibile delicacy
Apulian Cooking
Simulata with mussels
Apulian Cooking
Sardine fishballs
Apulian Cooking
Potato and zucchini soup
Apulian Cooking
Oven-baked pasta with eggplant and tomatoes
Apulian Cooking
Filled wafers
Apulian Cooking
Cuttlefish with artichokes and potatoes
Apulian Cooking
Pisieddhri a cecamariti (Peas cecamariti-style) or Pisieddhri cu li muersi (Peas with fried bread)
Apulian Cooking
Fish soup - Taranto style
MEDITERRANEAN DIET
Fish A precious part of healthy eating
Apulian Cooking
Puccia, pizzi and other delicacies
Apulian Cooking
Troccoli with octopus sauce
MEDITERRANEAN DIET
Octopus Few calories, good proteins
Apulian Cooking
Cherry pistofatru
MEDITERRANEAN DIET
Cherries, a miracle of goodness
Apulian Cooking
Apostles' fingers
MEDITERRANEAN DIET
Ricotta Tasty, nutritious and light
Apulian Cooking
Soup of cicerchie "alla pizzaiola"
MEDITERRANEAN DIET
Cicerchia In pursuit of old-time flavors
Apulian Cooking
Marzipan fruit
Apulian Cooking
Troccoli with walnut sauce
MEDITERRANEAN DIET
Walnuts Topping up on antioxidants
Apulian Cooking
Spaghetti with clams and samphire
MEDITERRANEAN DIET
Clams Low in calories, high in vitamins and minerals
Apulian Cooking
Lecce's "rustico"
Apulian Cooking
Pot of spring vegetables
MEDITERRANEAN DIET
Potatoes
Apulian Cooking
Scarcella …one of the Easter delicacies
MEDITERRANEAN DIET
Eggs, an extraordinary food
Apulian Cooking
Marzotica …a taste of spring
MEDITERRANEAN DIET
Marzotica ricotta For a calcium hit
Apulian Cooking
Maritati with fresh breadcrumbs
MEDITERRANEAN DIET
Anchovies A "poor fish" rich in goodness
Apulian Cooking
Lentils with lampascioni (grape hyacinths bulbs)
MEDITERRANEAN DIET
Lampascioni (Grape hyacinth bulbs) The viagra of the Ancients
Apulian Cooking
Cakes An alternative to panettone and purceddhruzzi
Apulian Cooking
Pasta with black chick peas from the Foggia Murge
Apulian Cooking
"Olive leaves" Pasta with olives
MEDITERRANEAN DIET
Olives, good and healthy
Apulian Cooking
Green peppers with mussels
MEDITERRANEAN DIET
Garlic A natural antibiotic
Apulian Cooking
Spumone
MEDITERRANEAN DIET
Everything you need to know about ice-cream
Apulian Cooking
Apulian calzone
Apulian Cooking
Foglie mischiate (mixed leaves)
MEDITERRANEAN DIET
Wild herbs, precious for health
Apulian Cooking
Baccalà with spunzali
MEDITERRANEAN DIET
Onions, a concentration of beneficial properties
Apulian Cooking
Artichoke parmigiana
MEDITERRANEAN DIET
Artichokes …so tasty and precious for our health
Apulian Cooking
Purceddhruzzi and carteddhrate to sweeten your Christmas
MEDITERRANEAN DIET
Honey A prodigious food
Apulian Cooking
Apulian focaccia
MEDITERRANEAN DIET
Eulogy to carbohydrates
Apulian Cooking
Red mullet with tomatoes
MEDITERRANEAN DIET
Fish Protein of high biological quality
Apulian Cooking
Poor Man's style zucchini
MEDITERRANEAN DIET
Zucchini An ideal summer food for the table
Apulian Cooking
Stuffed pepper rolls
MEDITERRANEAN DIET
Peppers Super-concentrated
with vitamin C
Apulian Cooking
Pea soup
MEDITERRANEAN DIET
Fresh peas Lots of vitamins and the taste of Spring
Apulian Cooking
Almond paste Easter lambs
MEDITERRANEAN DIET
Almonds So good …and precious for health and beauty
Apulian Cooking
St. Joseph's zeppole
MEDITERRANEAN DIET
Sweets How to stay in shape without feeling deprived
Apulian Cooking
Tubettini pasta with mussels
MEDITERRANEAN DIET
Mussels 
For a full serving of minerals

Apulian Cooking
Ciceri e tria (pasta and chickpeas)
MEDITERRANEAN DIET
Chickpeas Precious for good health and very tasty too
Apulian Cooking
Pittule
MEDITERRANEAN DIET
Extra virgin olive oil elixir of health and beauty
Apulian Cooking
Leccese Quince
MEDITERRANEAN DIET
The innumerable qualities of quince
Apulian Cooking
Lecce's eggplant parmigiana
MEDITERRANEAN DIET
Eggplant, depurative and very tasty
Apulian Cooking
Burnt grain
MEDITERRANEAN DIET
The tomato king of good health and beauty
Apulian Cooking
Pasticciotto, a delight from Salento
MEDITERRANEAN DIET
Pasticciotto
Apulian Cooking
Purée of fresh fava beans with chicory from Galatina
MEDITERRANEAN DIET
Fresh fava beans Chock full of energy and beauty
Apulian Cooking
Orecchiette with broccoli rabe
MEDITERRANEAN DIET
What makes them good for you…