- FEBRUARY 2018 -
Apulian Cooking
Pisieddhri a cecamariti (Peas cecamariti-style) or Pisieddhri cu li muersi (Peas with fried bread)
2016 has been declared the "International Year of Pulses" by the UN and as its first recipe of the year Bridge suggests a pulse-based dish.
It's an old rustic recipe, really just using up the leftovers, good enough to "blind" your husband
by Dario Ersetti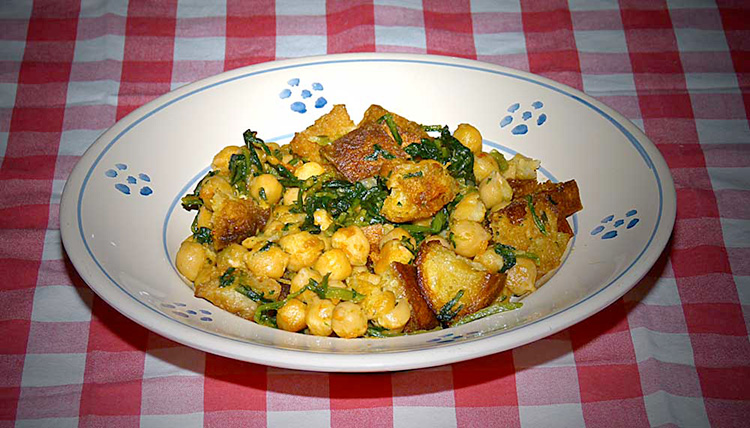 Cecamariti. Photo by Dario Ersetti
The FAO, the UN organization that deals with food and agriculture has declared 2016 to be the "International Year of Pulses", those nutritious seeds for a sustainable future and staple element in the Mediterranean Diet. So we thought it opportune to suggest, as the first recipe of the year, a delicious all-Apulian dish based on legumes: cecamariti.
More than a recipe it's a cooking method, or rather a kind of presentation, or, if you prefer… a state of mind.
Its name seems to mean that the dish is good enough to make a husband turn a blind eye (or maybe two) regarding his wife's affairs. The recipe is not only very good – it's also well-constructed and appears to need a long preparation time, while, in reality, it's leftovers organized in a certain way. This is where the idea of the wife busy in the kitchen for hours stems from, when actually she was busy on other business. Husbands were to be blinded by flair and dedication, as well as by the goodness of the dish.
The recipe calls for diced bread to be fried in olive oil and then mixed with pulses cooked in an earthenware pot. So we can have peas beans or fava or chick peas or other kinds of beans to which greens cooked in their own water with olive oil (nfucate or scattariciate) may be added.
Another name for this dish is muersi.
It was a very popular dish in the past, and had gone out of fashion, but it has been re-launched in these times of the revival of old rustic recipes. It's very substantial, and used to be a breakfast dish, washed down with a glass of wine, that wives would prepare for their husbands before they went off to work in the fields before sun-up.
If you decide to make this dish at home it is without doubt a good idea to follow the original principle, that is, use up the leftovers. So the dried peas or fava beans are cooked the day before – if it's not possible to cook them in the classic pignata over an open fire, then at least in an earthenware pot. The wild greens are best cooked the next day, scattariciate style. On the third day the pulses can be united with the vegetables, with the addition of one good handful of diced bread fried in olive oil for each of the diners and then the remaining oil can be used to dress the dish. It seems needlessly tiring to do everything the same day.
Just a word on the choice of the ingredients. In the stores you can find pulses from America (U.S.A. and Canada) that are remarkable for their size, and more rarely from the East (India), that are usually smaller. In the Orient they use pesticides which are banned in our part of the world these days, and in America they use hybrid seeds that produce large, but tasteless legumes.
Then there are the pulses from Zollino, obtained from the seeds that our grandfathers handed down, seeds that are suitable for the terrain, and don't need much water. The taste? Just try them and you won't be able to cook without them. By saying "Zollino" we mean any Apulian town where there is a farmer who grows legumes using the seeds inherited from his ancestors.
More articles
Apulian Cooking
Flour gnocchi with scrum
Apulian Cooking
The scapece of Gallipoli
Apulian Cooking
Cupeta An irresistibile delicacy
Apulian Cooking
Simulata with mussels
Apulian Cooking
Sardine fishballs
Apulian Cooking
"Fruttone", the other face of the pasticciotto
Apulian Cooking
Potato and zucchini soup
Apulian Cooking
Oven-baked pasta with eggplant and tomatoes
Apulian Cooking
Filled wafers
Apulian Cooking
Cuttlefish with artichokes and potatoes
Apulian Cooking
Fish soup - Taranto style
MEDITERRANEAN DIET
Fish A precious part of healthy eating
Apulian Cooking
Puccia, pizzi and other delicacies
Apulian Cooking
Troccoli with octopus sauce
MEDITERRANEAN DIET
Octopus Few calories, good proteins
Apulian Cooking
Cherry pistofatru
MEDITERRANEAN DIET
Cherries, a miracle of goodness
Apulian Cooking
Apostles' fingers
MEDITERRANEAN DIET
Ricotta Tasty, nutritious and light
Apulian Cooking
Soup of cicerchie "alla pizzaiola"
MEDITERRANEAN DIET
Cicerchia In pursuit of old-time flavors
Apulian Cooking
Marzipan fruit
Apulian Cooking
Troccoli with walnut sauce
MEDITERRANEAN DIET
Walnuts Topping up on antioxidants
Apulian Cooking
Spaghetti with clams and samphire
MEDITERRANEAN DIET
Clams Low in calories, high in vitamins and minerals
Apulian Cooking
Lecce's "rustico"
Apulian Cooking
Pot of spring vegetables
MEDITERRANEAN DIET
Potatoes
Apulian Cooking
Scarcella …one of the Easter delicacies
MEDITERRANEAN DIET
Eggs, an extraordinary food
Apulian Cooking
Marzotica …a taste of spring
MEDITERRANEAN DIET
Marzotica ricotta For a calcium hit
Apulian Cooking
Maritati with fresh breadcrumbs
MEDITERRANEAN DIET
Anchovies A "poor fish" rich in goodness
Apulian Cooking
Lentils with lampascioni (grape hyacinths bulbs)
MEDITERRANEAN DIET
Lampascioni (Grape hyacinth bulbs) The viagra of the Ancients
Apulian Cooking
Cakes An alternative to panettone and purceddhruzzi
Apulian Cooking
Pasta with black chick peas from the Foggia Murge
Apulian Cooking
"Olive leaves" Pasta with olives
MEDITERRANEAN DIET
Olives, good and healthy
Apulian Cooking
Green peppers with mussels
MEDITERRANEAN DIET
Garlic A natural antibiotic
Apulian Cooking
Spumone
MEDITERRANEAN DIET
Everything you need to know about ice-cream
Apulian Cooking
Apulian calzone
Apulian Cooking
Foglie mischiate (mixed leaves)
MEDITERRANEAN DIET
Wild herbs, precious for health
Apulian Cooking
Baccalà with spunzali
MEDITERRANEAN DIET
Onions, a concentration of beneficial properties
Apulian Cooking
Artichoke parmigiana
MEDITERRANEAN DIET
Artichokes …so tasty and precious for our health
Apulian Cooking
Purceddhruzzi and carteddhrate to sweeten your Christmas
MEDITERRANEAN DIET
Honey A prodigious food
Apulian Cooking
Apulian focaccia
MEDITERRANEAN DIET
Eulogy to carbohydrates
Apulian Cooking
Red mullet with tomatoes
MEDITERRANEAN DIET
Fish Protein of high biological quality
Apulian Cooking
Poor Man's style zucchini
MEDITERRANEAN DIET
Zucchini An ideal summer food for the table
Apulian Cooking
Stuffed pepper rolls
MEDITERRANEAN DIET
Peppers Super-concentrated
with vitamin C
Apulian Cooking
Pea soup
MEDITERRANEAN DIET
Fresh peas Lots of vitamins and the taste of Spring
Apulian Cooking
Almond paste Easter lambs
MEDITERRANEAN DIET
Almonds So good …and precious for health and beauty
Apulian Cooking
St. Joseph's zeppole
MEDITERRANEAN DIET
Sweets How to stay in shape without feeling deprived
Apulian Cooking
Tubettini pasta with mussels
MEDITERRANEAN DIET
Mussels 
For a full serving of minerals

Apulian Cooking
Ciceri e tria (pasta and chickpeas)
MEDITERRANEAN DIET
Chickpeas Precious for good health and very tasty too
Apulian Cooking
Pittule
MEDITERRANEAN DIET
Extra virgin olive oil elixir of health and beauty
Apulian Cooking
Leccese Quince
MEDITERRANEAN DIET
The innumerable qualities of quince
Apulian Cooking
Lecce's eggplant parmigiana
MEDITERRANEAN DIET
Eggplant, depurative and very tasty
Apulian Cooking
Burnt grain
MEDITERRANEAN DIET
The tomato king of good health and beauty
Apulian Cooking
Pasticciotto, a delight from Salento
MEDITERRANEAN DIET
Pasticciotto
Apulian Cooking
Purée of fresh fava beans with chicory from Galatina
MEDITERRANEAN DIET
Fresh fava beans Chock full of energy and beauty
Apulian Cooking
Orecchiette with broccoli rabe
MEDITERRANEAN DIET
What makes them good for you…