- FEBRUARY 2018 -
Apulian Cooking
Cherry pistofatru
Adding cherries to one of Puglia's oldest sweets gives a surprising result
by Dario Ersetti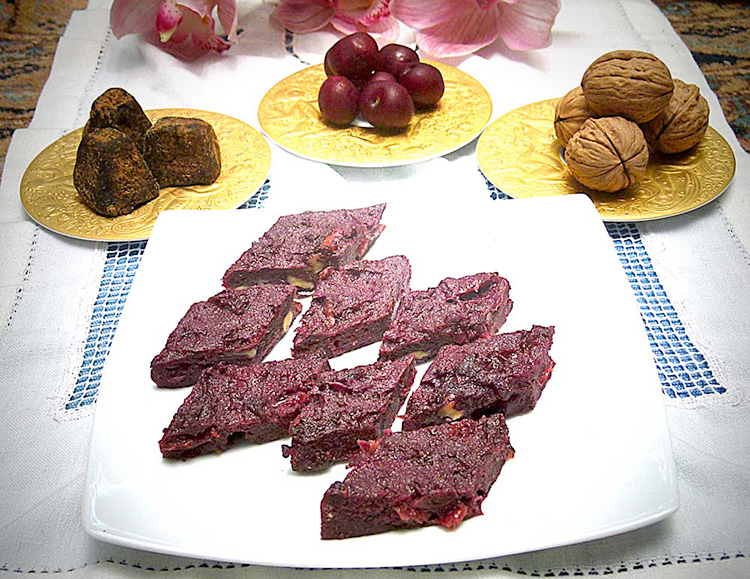 Cherry pistofatru. Photo by Dario Ersetti
The cherries grown in Puglia, especially the Ferrovia variety, are delicious and we decided to combine them with what is probably the oldest sweet of our region: pistofatru. The result was outstanding!
The world's oldest documented sweets are types of biscuit of varying degrees of softness, made of flour and water, sweetened with honey or grape-must and sometimes having walnuts, almonds or sesame seeds added.
The traditional sweets in Puglia do not differ much from this. One of the most typical and perhaps the very first sweet created in Puglia and Southern Italy is pistofatru, a sort of paste of durum wheat flour cooked in vincotto. The name may have derived from "farro pesto" (spelt paste), while vincotto is a concentrate of the grape-must that was used as a sweetener at a time in history when today's beet sugar was unknown, cane sugar was very dear and honey was reserved for the barons.
The grape-must was boiled at length to concentrate the sugars and then flour was then added, along with cloves and cinnamon, and the mixture was brought to the boil, producing a very solid polenta which was spread onto a marble slab and then cut into diamond shapes.
To avoid being limited to the grape-harvest season, we propose using a good full-bodied red wine such as Negroamaro.
White refined sugar (not very good for the body) can be replaced by cane sugar or even better, by palm sugar. The latter can now be found quite easily in Italy in ethnic food shops. It is obtained from the crystallization of the nectar of certain kinds of palm flowers all over South-East Asia. It is very dark in color and tastes of caramel with hints of incense and licorice.
Among its important features there is the very low glycemic index (35 as opposed to 100 for glucose and 68 for refined white sugar), a very high antioxidant value (2200 ORAC as opposed to 405 for tomatoes and 665 for carrots) and the great quantity of oligo elements.
The recipe
   Ingredients:
- 1 bottle of red wine
- 300 g of cherries
- 100 g of walnuts
- 50 g of sugar
- 2 cloves
- a teaspoon of ground cinnamon
- 100 g of durum wheat flour.
Boil the wine with the de-stoned cherries, roughly chopped walnuts, cloves, cinnamon and sugar for 30-40 minutes, then sprinkle in the flour, mixing with a wooden spoon, and cook for fifteen minutes more, until the mixture thickens and comes away from the sides of the pot. Spread on a slab of marble or oven paper in a 1 cm layer. When cool, cut into diamond shapes and dust with icing sugar.
This recipe could also be varied, making a dessert of cherries cooked in wine using all the ingredients except the flour or going back to the original recipe and excluding the cherries and walnuts but increasing the proportion of flour used.
More articles
Apulian Cooking
Flour gnocchi with scrum
Apulian Cooking
The scapece of Gallipoli
Apulian Cooking
Cupeta An irresistibile delicacy
Apulian Cooking
Simulata with mussels
Apulian Cooking
Sardine fishballs
Apulian Cooking
"Fruttone", the other face of the pasticciotto
Apulian Cooking
Potato and zucchini soup
Apulian Cooking
Oven-baked pasta with eggplant and tomatoes
Apulian Cooking
Filled wafers
Apulian Cooking
Cuttlefish with artichokes and potatoes
Apulian Cooking
Pisieddhri a cecamariti (Peas cecamariti-style) or Pisieddhri cu li muersi (Peas with fried bread)
Apulian Cooking
Fish soup - Taranto style
MEDITERRANEAN DIET
Fish A precious part of healthy eating
Apulian Cooking
Puccia, pizzi and other delicacies
Apulian Cooking
Troccoli with octopus sauce
MEDITERRANEAN DIET
Octopus Few calories, good proteins
MEDITERRANEAN DIET
Cherries, a miracle of goodness
Apulian Cooking
Apostles' fingers
MEDITERRANEAN DIET
Ricotta Tasty, nutritious and light
Apulian Cooking
Soup of cicerchie "alla pizzaiola"
MEDITERRANEAN DIET
Cicerchia In pursuit of old-time flavors
Apulian Cooking
Marzipan fruit
Apulian Cooking
Troccoli with walnut sauce
MEDITERRANEAN DIET
Walnuts Topping up on antioxidants
Apulian Cooking
Spaghetti with clams and samphire
MEDITERRANEAN DIET
Clams Low in calories, high in vitamins and minerals
Apulian Cooking
Lecce's "rustico"
Apulian Cooking
Pot of spring vegetables
MEDITERRANEAN DIET
Potatoes
Apulian Cooking
Scarcella …one of the Easter delicacies
MEDITERRANEAN DIET
Eggs, an extraordinary food
Apulian Cooking
Marzotica …a taste of spring
MEDITERRANEAN DIET
Marzotica ricotta For a calcium hit
Apulian Cooking
Maritati with fresh breadcrumbs
MEDITERRANEAN DIET
Anchovies A "poor fish" rich in goodness
Apulian Cooking
Lentils with lampascioni (grape hyacinths bulbs)
MEDITERRANEAN DIET
Lampascioni (Grape hyacinth bulbs) The viagra of the Ancients
Apulian Cooking
Cakes An alternative to panettone and purceddhruzzi
Apulian Cooking
Pasta with black chick peas from the Foggia Murge
Apulian Cooking
"Olive leaves" Pasta with olives
MEDITERRANEAN DIET
Olives, good and healthy
Apulian Cooking
Green peppers with mussels
MEDITERRANEAN DIET
Garlic A natural antibiotic
Apulian Cooking
Spumone
MEDITERRANEAN DIET
Everything you need to know about ice-cream
Apulian Cooking
Apulian calzone
Apulian Cooking
Foglie mischiate (mixed leaves)
MEDITERRANEAN DIET
Wild herbs, precious for health
Apulian Cooking
Baccalà with spunzali
MEDITERRANEAN DIET
Onions, a concentration of beneficial properties
Apulian Cooking
Artichoke parmigiana
MEDITERRANEAN DIET
Artichokes …so tasty and precious for our health
Apulian Cooking
Purceddhruzzi and carteddhrate to sweeten your Christmas
MEDITERRANEAN DIET
Honey A prodigious food
Apulian Cooking
Apulian focaccia
MEDITERRANEAN DIET
Eulogy to carbohydrates
Apulian Cooking
Red mullet with tomatoes
MEDITERRANEAN DIET
Fish Protein of high biological quality
Apulian Cooking
Poor Man's style zucchini
MEDITERRANEAN DIET
Zucchini An ideal summer food for the table
Apulian Cooking
Stuffed pepper rolls
MEDITERRANEAN DIET
Peppers Super-concentrated
with vitamin C
Apulian Cooking
Pea soup
MEDITERRANEAN DIET
Fresh peas Lots of vitamins and the taste of Spring
Apulian Cooking
Almond paste Easter lambs
MEDITERRANEAN DIET
Almonds So good …and precious for health and beauty
Apulian Cooking
St. Joseph's zeppole
MEDITERRANEAN DIET
Sweets How to stay in shape without feeling deprived
Apulian Cooking
Tubettini pasta with mussels
MEDITERRANEAN DIET
Mussels 
For a full serving of minerals

Apulian Cooking
Ciceri e tria (pasta and chickpeas)
MEDITERRANEAN DIET
Chickpeas Precious for good health and very tasty too
Apulian Cooking
Pittule
MEDITERRANEAN DIET
Extra virgin olive oil elixir of health and beauty
Apulian Cooking
Leccese Quince
MEDITERRANEAN DIET
The innumerable qualities of quince
Apulian Cooking
Lecce's eggplant parmigiana
MEDITERRANEAN DIET
Eggplant, depurative and very tasty
Apulian Cooking
Burnt grain
MEDITERRANEAN DIET
The tomato king of good health and beauty
Apulian Cooking
Pasticciotto, a delight from Salento
MEDITERRANEAN DIET
Pasticciotto
Apulian Cooking
Purée of fresh fava beans with chicory from Galatina
MEDITERRANEAN DIET
Fresh fava beans Chock full of energy and beauty
Apulian Cooking
Orecchiette with broccoli rabe
MEDITERRANEAN DIET
What makes them good for you…