- FEBRUARY 2018 -
Apulian Cooking
Marzipan fruit
Marzipan in the shape of fruit, which originated in Sicily as "frutta martorana", is also very common in Puglia.
With the traditional marzipan fish, this "fruit" brightens up the Christmas table
by Dario Ersetti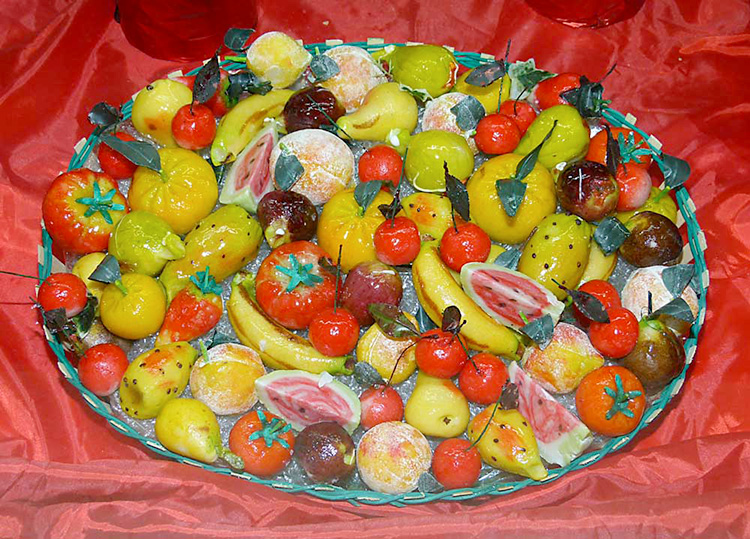 Marzipan fruit. Photo by Dario Ersetti
Among the typical Puglian sweets, marzipan has a major role. Used as the basic ingredient for various cakes or in the shape of a lamb at Easter (which we have already talked about in this column) or of a fish at Christmas time, it can also take the form of a wide range of brightly colored fruit or other foods. For the coming Christmas celebrations, we suggest you bring this tempting "fruit" to your table. It can be bought ready-made in many pastry-shops or you can give your imagination and creativity free reign and have fun making it at home.
The "genealogy" of the almond paste lamb, as we wrote in the past, dates back to the Etruscans and, through the Romans and the Arabs, arrived in the papal court and later in the convents of Sicily, Bari and Lecce. And on the subject of the convents and the fruit-shaped sweets, their origin seems to lead back to Palermo's convent of the Martorana. There are two legends: according to one, the nuns decorated the trees in their orange orchard with marzipan fruit in honor of Charles V during his visit to Palermo in June 1537. The other legend says that the nuns asked the bishop's permission to start some kind of business. When he flatly refused (nuns must pray and that's all), the nuns changed their tack and started to sing the praises of the fruit from their orchards, asking to at least be allowed to sell that. The bishop, fed up with the arrogance of these "idle aristocrats" wanted to punish them for their pride and decided to go and visit their orchard, but in winter, to ask them the whereabouts of the marvelous fruit they had praised so much. The resourceful nuns set up a trap for the bishop (and it was a trap): what he found was a wonderful orchard full of fruit. To avoid completely losing face, the bishop put on a show of magnanimity and allowed them to sell the fruit, which from that time on was called after the convent, "martorana".
The recipe
   Ingredients for about 2 kg of almond paste fruit:
- 1 kg of almonds,
- 5 bitter almonds,
- 1 kg of icing sugar,
- vanilla
- 50 g of glucose
   For the decoration:
- edible coloring, gum arabic
Pound the almonds with a mortar and pestle, gradually adding the sugar, until they form a powder. Place in a saucepan and stir with the glucose over a low fire, without boiling, until the sugar has dissolved. When cool, thoroughly knead the mixture to make the pastry smoother. After creating the desired shapes, cook till slightly hardened in the oven. Color with the edible colorings, let them dry and lastly give them a shine with a mixture of gum arabic dissolved in water.
More articles
Apulian Cooking
Flour gnocchi with scrum
Apulian Cooking
The scapece of Gallipoli
Apulian Cooking
Cupeta An irresistibile delicacy
Apulian Cooking
Simulata with mussels
Apulian Cooking
Sardine fishballs
Apulian Cooking
"Fruttone", the other face of the pasticciotto
Apulian Cooking
Potato and zucchini soup
Apulian Cooking
Oven-baked pasta with eggplant and tomatoes
Apulian Cooking
Filled wafers
Apulian Cooking
Cuttlefish with artichokes and potatoes
Apulian Cooking
Pisieddhri a cecamariti (Peas cecamariti-style) or Pisieddhri cu li muersi (Peas with fried bread)
Apulian Cooking
Fish soup - Taranto style
MEDITERRANEAN DIET
Fish A precious part of healthy eating
Apulian Cooking
Puccia, pizzi and other delicacies
Apulian Cooking
Troccoli with octopus sauce
MEDITERRANEAN DIET
Octopus Few calories, good proteins
Apulian Cooking
Cherry pistofatru
MEDITERRANEAN DIET
Cherries, a miracle of goodness
Apulian Cooking
Apostles' fingers
MEDITERRANEAN DIET
Ricotta Tasty, nutritious and light
Apulian Cooking
Soup of cicerchie "alla pizzaiola"
MEDITERRANEAN DIET
Cicerchia In pursuit of old-time flavors
Apulian Cooking
Troccoli with walnut sauce
MEDITERRANEAN DIET
Walnuts Topping up on antioxidants
Apulian Cooking
Spaghetti with clams and samphire
MEDITERRANEAN DIET
Clams Low in calories, high in vitamins and minerals
Apulian Cooking
Lecce's "rustico"
Apulian Cooking
Pot of spring vegetables
MEDITERRANEAN DIET
Potatoes
Apulian Cooking
Scarcella …one of the Easter delicacies
MEDITERRANEAN DIET
Eggs, an extraordinary food
Apulian Cooking
Marzotica …a taste of spring
MEDITERRANEAN DIET
Marzotica ricotta For a calcium hit
Apulian Cooking
Maritati with fresh breadcrumbs
MEDITERRANEAN DIET
Anchovies A "poor fish" rich in goodness
Apulian Cooking
Lentils with lampascioni (grape hyacinths bulbs)
MEDITERRANEAN DIET
Lampascioni (Grape hyacinth bulbs) The viagra of the Ancients
Apulian Cooking
Cakes An alternative to panettone and purceddhruzzi
Apulian Cooking
Pasta with black chick peas from the Foggia Murge
Apulian Cooking
"Olive leaves" Pasta with olives
MEDITERRANEAN DIET
Olives, good and healthy
Apulian Cooking
Green peppers with mussels
MEDITERRANEAN DIET
Garlic A natural antibiotic
Apulian Cooking
Spumone
MEDITERRANEAN DIET
Everything you need to know about ice-cream
Apulian Cooking
Apulian calzone
Apulian Cooking
Foglie mischiate (mixed leaves)
MEDITERRANEAN DIET
Wild herbs, precious for health
Apulian Cooking
Baccalà with spunzali
MEDITERRANEAN DIET
Onions, a concentration of beneficial properties
Apulian Cooking
Artichoke parmigiana
MEDITERRANEAN DIET
Artichokes …so tasty and precious for our health
Apulian Cooking
Purceddhruzzi and carteddhrate to sweeten your Christmas
MEDITERRANEAN DIET
Honey A prodigious food
Apulian Cooking
Apulian focaccia
MEDITERRANEAN DIET
Eulogy to carbohydrates
Apulian Cooking
Red mullet with tomatoes
MEDITERRANEAN DIET
Fish Protein of high biological quality
Apulian Cooking
Poor Man's style zucchini
MEDITERRANEAN DIET
Zucchini An ideal summer food for the table
Apulian Cooking
Stuffed pepper rolls
MEDITERRANEAN DIET
Peppers Super-concentrated
with vitamin C
Apulian Cooking
Pea soup
MEDITERRANEAN DIET
Fresh peas Lots of vitamins and the taste of Spring
Apulian Cooking
Almond paste Easter lambs
MEDITERRANEAN DIET
Almonds So good …and precious for health and beauty
Apulian Cooking
St. Joseph's zeppole
MEDITERRANEAN DIET
Sweets How to stay in shape without feeling deprived
Apulian Cooking
Tubettini pasta with mussels
MEDITERRANEAN DIET
Mussels 
For a full serving of minerals

Apulian Cooking
Ciceri e tria (pasta and chickpeas)
MEDITERRANEAN DIET
Chickpeas Precious for good health and very tasty too
Apulian Cooking
Pittule
MEDITERRANEAN DIET
Extra virgin olive oil elixir of health and beauty
Apulian Cooking
Leccese Quince
MEDITERRANEAN DIET
The innumerable qualities of quince
Apulian Cooking
Lecce's eggplant parmigiana
MEDITERRANEAN DIET
Eggplant, depurative and very tasty
Apulian Cooking
Burnt grain
MEDITERRANEAN DIET
The tomato king of good health and beauty
Apulian Cooking
Pasticciotto, a delight from Salento
MEDITERRANEAN DIET
Pasticciotto
Apulian Cooking
Purée of fresh fava beans with chicory from Galatina
MEDITERRANEAN DIET
Fresh fava beans Chock full of energy and beauty
Apulian Cooking
Orecchiette with broccoli rabe
MEDITERRANEAN DIET
What makes them good for you…