- FEBRUARY 2018 -
Apulian Cooking
Lecce's "rustico"
Delicious street food found in nearly every cafe in Lecce and the surrounding area.
Nobody knows where and when it was invented but it is certainly a "cousin" of other delicacies made with pastry similar to our puff pastry in the Balkans and the Middle East
by Dario Ersetti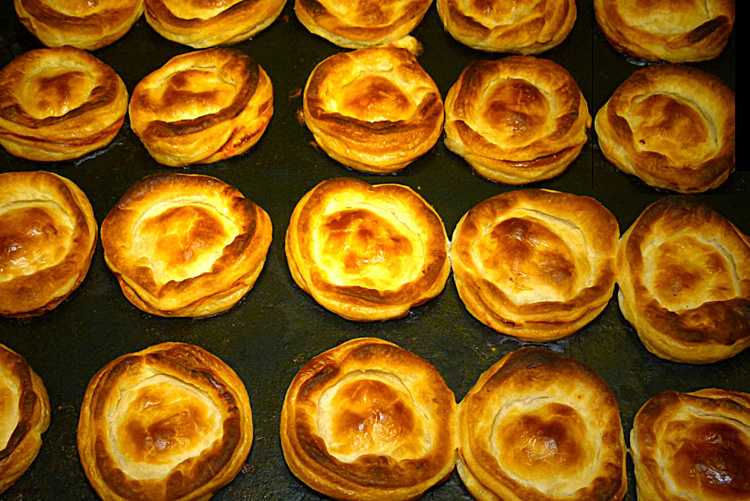 Freshly baked "Rustici leccesi". Photo by Dario Ersetti
The only thing we know for sure about the origin of this food is that we have no historical evidence. Some people think it had "noble" origins, being invented in some palazzo belonging to Lecce's aristocracy, considering that it uses béchamel and puff pastry which probably came from France. We think, however, that the idea came more simply from across the Adriatic. We feel the rustico is more a street food than a dish to serve at an elegant dinner. It can be found in all the cafes, takeaways and cake shops in Salento.
And on the other side of the Adriatic there's the burek (also spelled börek and many other ways), a roll of phyllo pastry containing cheese, or meat, or vegetables.
If while on holiday in Greece or Albania you taste a cheese burek and when you get back to Lecce you want to make it, first of all you'll have to replace the phyllo pastry (which in the past didn't exist in Italy and is still hard to find in Lecce) with puff pastry and also use mozzarella fior di latte made of cow's milk instead of feta, then add a bit of tomato to make it lighter and béchamel to absorb the liquids: and there you have the rustico Leccese!
Phyllo pastry is a very thin sheet of pastry (flour and water) used all over the Middle East and the Balkans, as far as Austria, to make savory and sweet dishes. It was introduced by the Ottomans who had discovered it further to the east, perhaps beyond Persia. In the Maghreb it corresponds directly to brik pastry, which in appearance and ingredients is the same as phyllo.
On the subject of so-called modern cuisine, it's worth remembering that gastronomy began in Persia and that, in spite of everything, they have three or four thousand years more experience than us. Evidence of this is the famous Tabriz köftesi (meatballs) and also phyllo pastry.
How are these paper-thin sheets made? The traditional method is to make a dough of flour and water and form it into a small cake which is thrown onto a hot griddle. The skill lies in the speed of performing the action, filling the whole griddle with a sheet of pastry of even thickness, so that the cooking will also be even. It is a kind of magic trick that seems like a miracle.
The pastry sold commercially, factory made, is spread out in a very thin layer, sprinkled with corn starch with potassium sorbate added and then placed between sheets of cotton to absorb the moisture.
To make brik pastry, on the other hand, you have to create a very runny mixture of flour and water and have a cup of oil on hand. The hot griddle is brushed with oil and then immediately, off the heat, brushed with the flour and water mixture. The griddle is returned to the heat and the sheet of pastry is removed when it becomes transparent. Easier said than done!
A well-tried use of phyllo pastry or brik is to create a series of layers with a little fat, usually butter, between them, producing a sort of puff pastry, but with a much more delicate consistency. This pastry, in layers alternated with minced walnuts and pistachios and then practically immersed in honey, is used to make the famous baklava, an exquisite sweet common from Israel and Turkey to Slovenia and Bulgaria. The best baklava is considered to be the kind made in Argirocastro, in Albania, and the most experienced cooks manage to make it with over a hundred layers of pastry.
The recipe
   For 6 rustici:
- 12 circles of puff pastry 10cm in diameter
- 90 g of béchamel sauce
- 20 g of grated mozzarella
- 30 g of tomato "salsa"
Cut the puff pastry into circles 10 cm in diameter. Place a circle on the work bench, brush with beaten egg. In the center, place béchamel mixed with mozzarella and tomato. With your hands, stretch another circle to a diameter of 12/13 cm and place it over the base circle. Press the edges to close in the filling and with an 8 cm pastry cutter pasta, seal the pastry well. Brush with beaten egg.
Cook in the oven at 180° for about 10 minutes.
More articles
Apulian Cooking
Flour gnocchi with scrum
Apulian Cooking
The scapece of Gallipoli
Apulian Cooking
Cupeta An irresistibile delicacy
Apulian Cooking
Simulata with mussels
Apulian Cooking
Sardine fishballs
Apulian Cooking
"Fruttone", the other face of the pasticciotto
Apulian Cooking
Potato and zucchini soup
Apulian Cooking
Oven-baked pasta with eggplant and tomatoes
Apulian Cooking
Filled wafers
Apulian Cooking
Cuttlefish with artichokes and potatoes
Apulian Cooking
Pisieddhri a cecamariti (Peas cecamariti-style) or Pisieddhri cu li muersi (Peas with fried bread)
Apulian Cooking
Fish soup - Taranto style
MEDITERRANEAN DIET
Fish A precious part of healthy eating
Apulian Cooking
Puccia, pizzi and other delicacies
Apulian Cooking
Troccoli with octopus sauce
MEDITERRANEAN DIET
Octopus Few calories, good proteins
Apulian Cooking
Cherry pistofatru
MEDITERRANEAN DIET
Cherries, a miracle of goodness
Apulian Cooking
Apostles' fingers
MEDITERRANEAN DIET
Ricotta Tasty, nutritious and light
Apulian Cooking
Soup of cicerchie "alla pizzaiola"
MEDITERRANEAN DIET
Cicerchia In pursuit of old-time flavors
Apulian Cooking
Marzipan fruit
Apulian Cooking
Troccoli with walnut sauce
MEDITERRANEAN DIET
Walnuts Topping up on antioxidants
Apulian Cooking
Spaghetti with clams and samphire
MEDITERRANEAN DIET
Clams Low in calories, high in vitamins and minerals
Apulian Cooking
Pot of spring vegetables
MEDITERRANEAN DIET
Potatoes
Apulian Cooking
Scarcella …one of the Easter delicacies
MEDITERRANEAN DIET
Eggs, an extraordinary food
Apulian Cooking
Marzotica …a taste of spring
MEDITERRANEAN DIET
Marzotica ricotta For a calcium hit
Apulian Cooking
Maritati with fresh breadcrumbs
MEDITERRANEAN DIET
Anchovies A "poor fish" rich in goodness
Apulian Cooking
Lentils with lampascioni (grape hyacinths bulbs)
MEDITERRANEAN DIET
Lampascioni (Grape hyacinth bulbs) The viagra of the Ancients
Apulian Cooking
Cakes An alternative to panettone and purceddhruzzi
Apulian Cooking
Pasta with black chick peas from the Foggia Murge
Apulian Cooking
"Olive leaves" Pasta with olives
MEDITERRANEAN DIET
Olives, good and healthy
Apulian Cooking
Green peppers with mussels
MEDITERRANEAN DIET
Garlic A natural antibiotic
Apulian Cooking
Spumone
MEDITERRANEAN DIET
Everything you need to know about ice-cream
Apulian Cooking
Apulian calzone
Apulian Cooking
Foglie mischiate (mixed leaves)
MEDITERRANEAN DIET
Wild herbs, precious for health
Apulian Cooking
Baccalà with spunzali
MEDITERRANEAN DIET
Onions, a concentration of beneficial properties
Apulian Cooking
Artichoke parmigiana
MEDITERRANEAN DIET
Artichokes …so tasty and precious for our health
Apulian Cooking
Purceddhruzzi and carteddhrate to sweeten your Christmas
MEDITERRANEAN DIET
Honey A prodigious food
Apulian Cooking
Apulian focaccia
MEDITERRANEAN DIET
Eulogy to carbohydrates
Apulian Cooking
Red mullet with tomatoes
MEDITERRANEAN DIET
Fish Protein of high biological quality
Apulian Cooking
Poor Man's style zucchini
MEDITERRANEAN DIET
Zucchini An ideal summer food for the table
Apulian Cooking
Stuffed pepper rolls
MEDITERRANEAN DIET
Peppers Super-concentrated
with vitamin C
Apulian Cooking
Pea soup
MEDITERRANEAN DIET
Fresh peas Lots of vitamins and the taste of Spring
Apulian Cooking
Almond paste Easter lambs
MEDITERRANEAN DIET
Almonds So good …and precious for health and beauty
Apulian Cooking
St. Joseph's zeppole
MEDITERRANEAN DIET
Sweets How to stay in shape without feeling deprived
Apulian Cooking
Tubettini pasta with mussels
MEDITERRANEAN DIET
Mussels 
For a full serving of minerals

Apulian Cooking
Ciceri e tria (pasta and chickpeas)
MEDITERRANEAN DIET
Chickpeas Precious for good health and very tasty too
Apulian Cooking
Pittule
MEDITERRANEAN DIET
Extra virgin olive oil elixir of health and beauty
Apulian Cooking
Leccese Quince
MEDITERRANEAN DIET
The innumerable qualities of quince
Apulian Cooking
Lecce's eggplant parmigiana
MEDITERRANEAN DIET
Eggplant, depurative and very tasty
Apulian Cooking
Burnt grain
MEDITERRANEAN DIET
The tomato king of good health and beauty
Apulian Cooking
Pasticciotto, a delight from Salento
MEDITERRANEAN DIET
Pasticciotto
Apulian Cooking
Purée of fresh fava beans with chicory from Galatina
MEDITERRANEAN DIET
Fresh fava beans Chock full of energy and beauty
Apulian Cooking
Orecchiette with broccoli rabe
MEDITERRANEAN DIET
What makes them good for you…