- FEBRUARY 2018 -
Apulian Cooking
Marzotica
…a taste of spring
In Puglia a few weeks before the beginning of spring the delicatessens are already displaying the first pieces of marzotica ricotta.
Delicious with young raw fava beans, it is also used in many recipes. We will give you two very good ones: "Sagne torte with marzotica" and "Marzotica balls"
by Dario Ersetti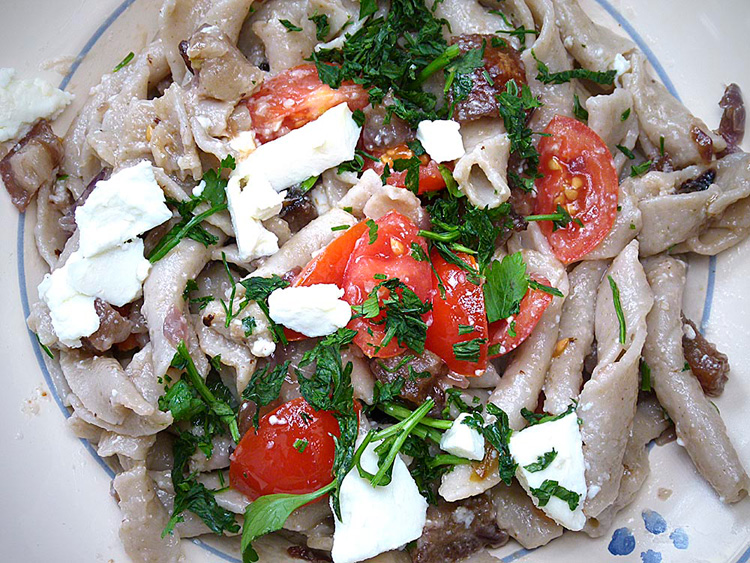 Sagne torte with marzotica. Photo by Dario Ersetti
Marzotica is an aged sheep's milk ricotta made at the beginning of spring when the ewes start grazing on the sweet spring pasture and produce a richer, more flavorsome milk in large quantities to coincide with the birth of their lambs. Add to this the fact that at this time of year the demand for ricotta starts to dwindle, and you can see why shepherds invented marzotica ricotta and "strong ricotta" or "schiante" as two ways of preserving the product.
Marzotica is a semi-hard ricotta, crumbly, non-elastic, white colored, which is salted and aged for a short time in a small wicker tub, where it is lightly pressed by hand, then wrapped in wild grasses that vary from place to place. Spear grass is quite commonly used. These grasses give the product a typical herby, fresh flavor. The cheese is round, weighing between half a kilo to two kilos and in some cases, to preserve it better, it is lightly smoked. The flavor has a slight tang.
Marzotica is used as a normal antipasto or dessert cheese, but also in the fillings of meat roulades. It can be grated over fresh pasta with delicate or raw sauces, giving them a typical "spring" flavor, while when it is still quite fresh and cannot be grated it should be broken into pieces and mixed in with the pasta, creating a delightful creaminess.
But perhaps the most traditional use of fresh marzotica is to serve it with young fava beans to be eaten raw, a custom that has become a real cult.
We will offer you two other recipes to highlight the versatility of this cheese. Sagne torte, or 'ncannulate (twisted strips of lasagne) are a typically Salentinian pasta shape. Notice the dark color due to the use of unrefined durum wheat flour instead of semolina.
Sagne torte with marzotica
  4 servings:
- 400 g of sagne torte
- 200 g of pork rind
- a large onion
- parsley
- extra virgin olive oil
- salt
- pepper
- marzotica ricotta
Optional:
- 1 kg of tomatoes for sauce or about twenty cherry tomatoes
Cut the pork rind into cubes and brown it in a pan with a spoonful or more of oil, depending on how much lard is attached to the rind. Add the sliced onion and brown it after adding half a glass of water, and add salt to taste.
Cook the pasta in boiling salted water, drain and dress it with the sauce. To serve, sprinkle the dishes with marzotica roughly grated or crumbled if fresh, finely chopped parsley and plenty of pepper.
That is the traditional recipe, while in a more recent one, after browning the pork rind and onion, crushed cherry tomatoes are added and the cooking continues for half an hour or more. In this case the amount of oil can be reduced.
In an even more modern alternative the cubed tomato is added raw and mixed with the pasta before the marzotica is added.
Marzotica balls
  4 servings (to make about 80 little balls, 2.5cm in diameter):
- 400 g of marzotica
- 150 g of grated bread
- 150 g of grated caciocavallo cheese
- 2 eggs
- parsley
- pepper
- vegetable stock
Mix all ingredients together and make small balls which are dropped into the gently simmering vegetable stock to cook. Normally there is no need to add salt.
This is a dish that used to be eaten during Lent when meat was banned from the table but people didn't want to give up their "meatballs".
Related articles
MEDITERRANEAN DIET
Marzotica ricotta For a calcium hit
More articles
Apulian Cooking
Flour gnocchi with scrum
Apulian Cooking
The scapece of Gallipoli
Apulian Cooking
Cupeta An irresistibile delicacy
Apulian Cooking
Simulata with mussels
Apulian Cooking
Sardine fishballs
Apulian Cooking
"Fruttone", the other face of the pasticciotto
Apulian Cooking
Potato and zucchini soup
Apulian Cooking
Oven-baked pasta with eggplant and tomatoes
Apulian Cooking
Filled wafers
Apulian Cooking
Cuttlefish with artichokes and potatoes
Apulian Cooking
Pisieddhri a cecamariti (Peas cecamariti-style) or Pisieddhri cu li muersi (Peas with fried bread)
Apulian Cooking
Fish soup - Taranto style
MEDITERRANEAN DIET
Fish A precious part of healthy eating
Apulian Cooking
Puccia, pizzi and other delicacies
Apulian Cooking
Troccoli with octopus sauce
MEDITERRANEAN DIET
Octopus Few calories, good proteins
Apulian Cooking
Cherry pistofatru
MEDITERRANEAN DIET
Cherries, a miracle of goodness
Apulian Cooking
Apostles' fingers
MEDITERRANEAN DIET
Ricotta Tasty, nutritious and light
Apulian Cooking
Soup of cicerchie "alla pizzaiola"
MEDITERRANEAN DIET
Cicerchia In pursuit of old-time flavors
Apulian Cooking
Marzipan fruit
Apulian Cooking
Troccoli with walnut sauce
MEDITERRANEAN DIET
Walnuts Topping up on antioxidants
Apulian Cooking
Spaghetti with clams and samphire
MEDITERRANEAN DIET
Clams Low in calories, high in vitamins and minerals
Apulian Cooking
Lecce's "rustico"
Apulian Cooking
Pot of spring vegetables
MEDITERRANEAN DIET
Potatoes
Apulian Cooking
Scarcella …one of the Easter delicacies
MEDITERRANEAN DIET
Eggs, an extraordinary food
Apulian Cooking
Maritati with fresh breadcrumbs
MEDITERRANEAN DIET
Anchovies A "poor fish" rich in goodness
Apulian Cooking
Lentils with lampascioni (grape hyacinths bulbs)
MEDITERRANEAN DIET
Lampascioni (Grape hyacinth bulbs) The viagra of the Ancients
Apulian Cooking
Cakes An alternative to panettone and purceddhruzzi
Apulian Cooking
Pasta with black chick peas from the Foggia Murge
Apulian Cooking
"Olive leaves" Pasta with olives
MEDITERRANEAN DIET
Olives, good and healthy
Apulian Cooking
Green peppers with mussels
MEDITERRANEAN DIET
Garlic A natural antibiotic
Apulian Cooking
Spumone
MEDITERRANEAN DIET
Everything you need to know about ice-cream
Apulian Cooking
Apulian calzone
Apulian Cooking
Foglie mischiate (mixed leaves)
MEDITERRANEAN DIET
Wild herbs, precious for health
Apulian Cooking
Baccalà with spunzali
MEDITERRANEAN DIET
Onions, a concentration of beneficial properties
Apulian Cooking
Artichoke parmigiana
MEDITERRANEAN DIET
Artichokes …so tasty and precious for our health
Apulian Cooking
Purceddhruzzi and carteddhrate to sweeten your Christmas
MEDITERRANEAN DIET
Honey A prodigious food
Apulian Cooking
Apulian focaccia
MEDITERRANEAN DIET
Eulogy to carbohydrates
Apulian Cooking
Red mullet with tomatoes
MEDITERRANEAN DIET
Fish Protein of high biological quality
Apulian Cooking
Poor Man's style zucchini
MEDITERRANEAN DIET
Zucchini An ideal summer food for the table
Apulian Cooking
Stuffed pepper rolls
MEDITERRANEAN DIET
Peppers Super-concentrated
with vitamin C
Apulian Cooking
Pea soup
MEDITERRANEAN DIET
Fresh peas Lots of vitamins and the taste of Spring
Apulian Cooking
Almond paste Easter lambs
MEDITERRANEAN DIET
Almonds So good …and precious for health and beauty
Apulian Cooking
St. Joseph's zeppole
MEDITERRANEAN DIET
Sweets How to stay in shape without feeling deprived
Apulian Cooking
Tubettini pasta with mussels
MEDITERRANEAN DIET
Mussels 
For a full serving of minerals

Apulian Cooking
Ciceri e tria (pasta and chickpeas)
MEDITERRANEAN DIET
Chickpeas Precious for good health and very tasty too
Apulian Cooking
Pittule
MEDITERRANEAN DIET
Extra virgin olive oil elixir of health and beauty
Apulian Cooking
Leccese Quince
MEDITERRANEAN DIET
The innumerable qualities of quince
Apulian Cooking
Lecce's eggplant parmigiana
MEDITERRANEAN DIET
Eggplant, depurative and very tasty
Apulian Cooking
Burnt grain
MEDITERRANEAN DIET
The tomato king of good health and beauty
Apulian Cooking
Pasticciotto, a delight from Salento
MEDITERRANEAN DIET
Pasticciotto
Apulian Cooking
Purée of fresh fava beans with chicory from Galatina
MEDITERRANEAN DIET
Fresh fava beans Chock full of energy and beauty
Apulian Cooking
Orecchiette with broccoli rabe
MEDITERRANEAN DIET
What makes them good for you…