- FEBRUARY 2018 -
Apulian Cooking
Lentils with lampascioni (grape hyacinths bulbs)
From an ancient recipe by the Greek philosopher, Chrysippus, a delicious winter dish
by Dario Ersetti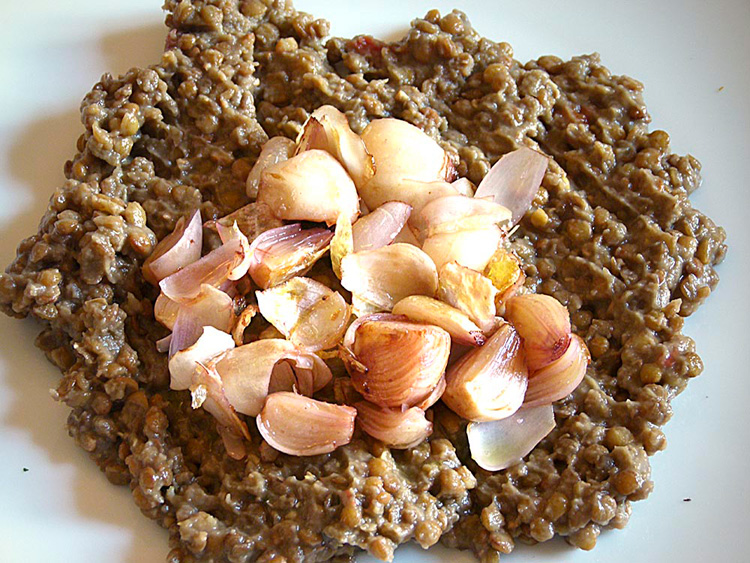 Lentils with grape hyacinths bulbs. Photo by Dario Ersetti
The lentil was almost certainly first plant grown by Man.
In Italy its farming is not yet mechanized. They are harvested in July, the plants are sorted into bunches and allowed to dry, in August they are threshed and in September they are ready to be eaten.
In Italy the most famous and tastiest are the ones grown in Castelluccio di Norcia (Perugia), Pantelleria (Trapani), Santo Stefano di Sessanio (L'Aquila) and in Altamura (Bari). The best-sellers, however, come from Turkey, Canada and the United States.
In Castelluccio the old peasant custom of going round the fields to carry out the ancestral rites to invoke protection against fire, drought, storms and crickets still goes on. They plant a little cross made of olive twigs in every field, they scatter coals that have been blessed on the earth and sprinkle some drops of holy water around while reciting a prayer to saint Benedict and saint Scholastica.
"Lentils with bulbs, when it's really cold, is like ambrosia", so said the Athenian Greek philosopher Chrysippus in his work Deipnosoph (Learned men at banquet). Even though Chrysippus is the author of over two hundred works, none of them have made their way down to us and we know about him only through other authors. There are only a few fragments of his surviving in the villa of the papyruses at Herculaneum, which is closely connected with the papyrus museum of Lecce.
The "bulbs" are grape hyacinths or tassel hyacinths, whose employment in the kitchen was limited until fairly recently to Greece and Southern Italy, and Puglia in particular.
We have tried to create, or perhaps recreate, a recipe inspired by Chrysippus to check out if his claim is true. It's very simple.
The recipe
   4 servings:
- 300 g of lentils
- a stalk of celery
- 2 cloves of garlic
- 16 grape hyacinth bulbs (lampascioni)
- salt
- extra virgin olive oil
Put the lentils and the celery cut into pieces with the garlic into a pan, cover them with water and cook without salt, adding a little more water if necessary. When they are cooked the lentils must have absorbed all the water. Add salt to taste, and a little olive oil.
Previously you should have prepared the grape hyacinths bulbs by removing the outer membrane and the roots and letting them soak for a few hours to get rid of the excessively bitter taste they are known to have. These are to be cut into quarters and gently fried for a few minutes in a little oil and then salted at the end. They shouldn't be overcooked.
Serve by putting the lentils on the plate, and then the grape hyacinths bulbs on top with the oil they were cooked in.
It's an exceptional dish because the bitterness of the hyacinths bulbs and their crunchy consistency will be a counterpoint to the sweetness of the lentils and their softness.
If this is the dish Chrysippus was talking about, he was right!
Related articles
MEDITERRANEAN DIET
Lampascioni (Grape hyacinth bulbs) The viagra of the Ancients
More articles
Apulian Cooking
Flour gnocchi with scrum
Apulian Cooking
The scapece of Gallipoli
Apulian Cooking
Cupeta An irresistibile delicacy
Apulian Cooking
Simulata with mussels
Apulian Cooking
Sardine fishballs
Apulian Cooking
"Fruttone", the other face of the pasticciotto
Apulian Cooking
Potato and zucchini soup
Apulian Cooking
Oven-baked pasta with eggplant and tomatoes
Apulian Cooking
Filled wafers
Apulian Cooking
Cuttlefish with artichokes and potatoes
Apulian Cooking
Pisieddhri a cecamariti (Peas cecamariti-style) or Pisieddhri cu li muersi (Peas with fried bread)
Apulian Cooking
Fish soup - Taranto style
MEDITERRANEAN DIET
Fish A precious part of healthy eating
Apulian Cooking
Puccia, pizzi and other delicacies
Apulian Cooking
Troccoli with octopus sauce
MEDITERRANEAN DIET
Octopus Few calories, good proteins
Apulian Cooking
Cherry pistofatru
MEDITERRANEAN DIET
Cherries, a miracle of goodness
Apulian Cooking
Apostles' fingers
MEDITERRANEAN DIET
Ricotta Tasty, nutritious and light
Apulian Cooking
Soup of cicerchie "alla pizzaiola"
MEDITERRANEAN DIET
Cicerchia In pursuit of old-time flavors
Apulian Cooking
Marzipan fruit
Apulian Cooking
Troccoli with walnut sauce
MEDITERRANEAN DIET
Walnuts Topping up on antioxidants
Apulian Cooking
Spaghetti with clams and samphire
MEDITERRANEAN DIET
Clams Low in calories, high in vitamins and minerals
Apulian Cooking
Lecce's "rustico"
Apulian Cooking
Pot of spring vegetables
MEDITERRANEAN DIET
Potatoes
Apulian Cooking
Scarcella …one of the Easter delicacies
MEDITERRANEAN DIET
Eggs, an extraordinary food
Apulian Cooking
Marzotica …a taste of spring
MEDITERRANEAN DIET
Marzotica ricotta For a calcium hit
Apulian Cooking
Maritati with fresh breadcrumbs
MEDITERRANEAN DIET
Anchovies A "poor fish" rich in goodness
Apulian Cooking
Cakes An alternative to panettone and purceddhruzzi
Apulian Cooking
Pasta with black chick peas from the Foggia Murge
Apulian Cooking
"Olive leaves" Pasta with olives
MEDITERRANEAN DIET
Olives, good and healthy
Apulian Cooking
Green peppers with mussels
MEDITERRANEAN DIET
Garlic A natural antibiotic
Apulian Cooking
Spumone
MEDITERRANEAN DIET
Everything you need to know about ice-cream
Apulian Cooking
Apulian calzone
Apulian Cooking
Foglie mischiate (mixed leaves)
MEDITERRANEAN DIET
Wild herbs, precious for health
Apulian Cooking
Baccalà with spunzali
MEDITERRANEAN DIET
Onions, a concentration of beneficial properties
Apulian Cooking
Artichoke parmigiana
MEDITERRANEAN DIET
Artichokes …so tasty and precious for our health
Apulian Cooking
Purceddhruzzi and carteddhrate to sweeten your Christmas
MEDITERRANEAN DIET
Honey A prodigious food
Apulian Cooking
Apulian focaccia
MEDITERRANEAN DIET
Eulogy to carbohydrates
Apulian Cooking
Red mullet with tomatoes
MEDITERRANEAN DIET
Fish Protein of high biological quality
Apulian Cooking
Poor Man's style zucchini
MEDITERRANEAN DIET
Zucchini An ideal summer food for the table
Apulian Cooking
Stuffed pepper rolls
MEDITERRANEAN DIET
Peppers Super-concentrated
with vitamin C
Apulian Cooking
Pea soup
MEDITERRANEAN DIET
Fresh peas Lots of vitamins and the taste of Spring
Apulian Cooking
Almond paste Easter lambs
MEDITERRANEAN DIET
Almonds So good …and precious for health and beauty
Apulian Cooking
St. Joseph's zeppole
MEDITERRANEAN DIET
Sweets How to stay in shape without feeling deprived
Apulian Cooking
Tubettini pasta with mussels
MEDITERRANEAN DIET
Mussels 
For a full serving of minerals

Apulian Cooking
Ciceri e tria (pasta and chickpeas)
MEDITERRANEAN DIET
Chickpeas Precious for good health and very tasty too
Apulian Cooking
Pittule
MEDITERRANEAN DIET
Extra virgin olive oil elixir of health and beauty
Apulian Cooking
Leccese Quince
MEDITERRANEAN DIET
The innumerable qualities of quince
Apulian Cooking
Lecce's eggplant parmigiana
MEDITERRANEAN DIET
Eggplant, depurative and very tasty
Apulian Cooking
Burnt grain
MEDITERRANEAN DIET
The tomato king of good health and beauty
Apulian Cooking
Pasticciotto, a delight from Salento
MEDITERRANEAN DIET
Pasticciotto
Apulian Cooking
Purée of fresh fava beans with chicory from Galatina
MEDITERRANEAN DIET
Fresh fava beans Chock full of energy and beauty
Apulian Cooking
Orecchiette with broccoli rabe
MEDITERRANEAN DIET
What makes them good for you…