- FEBRUARY 2018 -
Apulian Cooking
Spumone
Sorbet and ice-cream have origins that go way back, in Sicily, Campania and Puglia.
Spumone, invented in Naples and exported to Puglia, has become a very popular ice-cream in Salento.
Here's where to taste the best ones…
by Dario Ersetti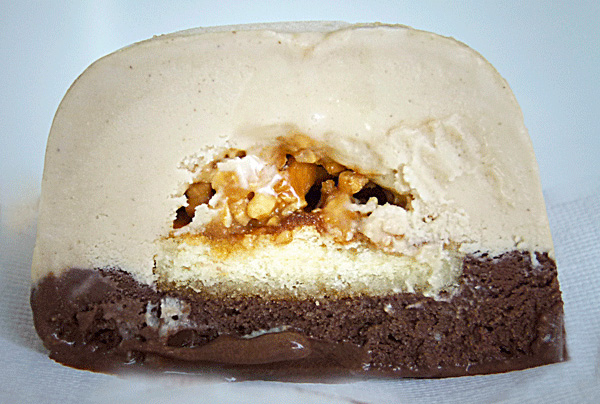 The classic hazelnut and chocolate spumone with a filling of sponge and almond brittle. Photo by Dario Ersetti
Blending ice or snow to fruit juices to achieve a refreshing sweet is an idea they thought up over four thousand years ago. The Arabs in Sicily used the snow on Etna and, with fruit juices and honey, created Sherbet (sweet snow from which the name sorbet derives), and then Emperor Frederick II took it to his beloved Puglia, where it became so popular that up to a few decades ago, semi-underground "neviere", constructions that protected and conserved the snow for a long time, under layers of straw, were still in use. There also used to be a flourishing trade in ice transported from Albania to the Salento coast.
The whipped ice-cream as we know it would seem to have been invented by a Sicilian, Francesco Procopio de' Coltelli, who, in 1686, opened a café in Paris, called Café de Procope. Procopio, thanks to a machine invented by his grandfather Francesco, by blending salt and ice, managed to render the mixture of fruit and sugar extremely homogenous.
The evolution of whipped ice-cream is spumone, whose origins could go back to the imagination of the Neapolitan "monsù" and is, basically, an individual ice-cream cake that has become so popular in Salento that it is considered a specialty of the area. It is a dome-shaped ice-cream, served in a tin bowl, that is kept in the fridge long enough for it to take on a more solid consistency on the outside, while the inside is softer because of the effect of the alcohol content on the filling.
In Lecce, at La Torinese, in viale Lo Re, they said you could find the best spumoni, made by the famous pastry-chef Cesare Prato. In the 1930s the aristocrats of Lecce used to take their children there, not forgetting their own telescopic silver travel cups and spoons so as to get round the problem of the rather low standards of hygiene in the pastry-shops. After its closure, in the post-war years, the people of Lecce began to frequent Cicci & Sebastiano in via Paladini, until Sebastiano, a Sicilian from Messina, dissolved the partnership in 1956.
You can find different flavors of spumone depending on the flavors of the ice-cream used – the most popular versions are hazelnut and chocolate – and on the filling, which can be made with sponge fingers or sponge cake soaked in various liquors.
In Gallipoli a version based on hazelnut or chocolate ice-cream, with a filling of what they call Plombières cream, flavored with Marsala or Benevento liquor, pieces of dark chocolate and crunchy toasted ground almonds, has become the most popular one. In Tuglie the filling is made of meringue.
In Lecce you can find some exquisite spumoni; among the best are those made by Franchini, Capilungo, Natale and Cadorna. Also in the provinces you can find some good ones; Bar Royal in Trepuzzi do some pistachio ones with candied mandarin peel that are a must.
In the United States you mustn't miss the "National Spumoni Day", held by request of the Italian immigrants on 21st August every year since the 19th century.
Related articles
MEDITERRANEAN DIET
Everything you need to know about ice-cream
More articles
Apulian Cooking
Flour gnocchi with scrum
Apulian Cooking
The scapece of Gallipoli
Apulian Cooking
Cupeta An irresistibile delicacy
Apulian Cooking
Simulata with mussels
Apulian Cooking
Sardine fishballs
Apulian Cooking
"Fruttone", the other face of the pasticciotto
Apulian Cooking
Potato and zucchini soup
Apulian Cooking
Oven-baked pasta with eggplant and tomatoes
Apulian Cooking
Filled wafers
Apulian Cooking
Cuttlefish with artichokes and potatoes
Apulian Cooking
Pisieddhri a cecamariti (Peas cecamariti-style) or Pisieddhri cu li muersi (Peas with fried bread)
Apulian Cooking
Fish soup - Taranto style
MEDITERRANEAN DIET
Fish A precious part of healthy eating
Apulian Cooking
Puccia, pizzi and other delicacies
Apulian Cooking
Troccoli with octopus sauce
MEDITERRANEAN DIET
Octopus Few calories, good proteins
Apulian Cooking
Cherry pistofatru
MEDITERRANEAN DIET
Cherries, a miracle of goodness
Apulian Cooking
Apostles' fingers
MEDITERRANEAN DIET
Ricotta Tasty, nutritious and light
Apulian Cooking
Soup of cicerchie "alla pizzaiola"
MEDITERRANEAN DIET
Cicerchia In pursuit of old-time flavors
Apulian Cooking
Marzipan fruit
Apulian Cooking
Troccoli with walnut sauce
MEDITERRANEAN DIET
Walnuts Topping up on antioxidants
Apulian Cooking
Spaghetti with clams and samphire
MEDITERRANEAN DIET
Clams Low in calories, high in vitamins and minerals
Apulian Cooking
Lecce's "rustico"
Apulian Cooking
Pot of spring vegetables
MEDITERRANEAN DIET
Potatoes
Apulian Cooking
Scarcella …one of the Easter delicacies
MEDITERRANEAN DIET
Eggs, an extraordinary food
Apulian Cooking
Marzotica …a taste of spring
MEDITERRANEAN DIET
Marzotica ricotta For a calcium hit
Apulian Cooking
Maritati with fresh breadcrumbs
MEDITERRANEAN DIET
Anchovies A "poor fish" rich in goodness
Apulian Cooking
Lentils with lampascioni (grape hyacinths bulbs)
MEDITERRANEAN DIET
Lampascioni (Grape hyacinth bulbs) The viagra of the Ancients
Apulian Cooking
Cakes An alternative to panettone and purceddhruzzi
Apulian Cooking
Pasta with black chick peas from the Foggia Murge
Apulian Cooking
"Olive leaves" Pasta with olives
MEDITERRANEAN DIET
Olives, good and healthy
Apulian Cooking
Green peppers with mussels
MEDITERRANEAN DIET
Garlic A natural antibiotic
Apulian Cooking
Apulian calzone
Apulian Cooking
Foglie mischiate (mixed leaves)
MEDITERRANEAN DIET
Wild herbs, precious for health
Apulian Cooking
Baccalà with spunzali
MEDITERRANEAN DIET
Onions, a concentration of beneficial properties
Apulian Cooking
Artichoke parmigiana
MEDITERRANEAN DIET
Artichokes …so tasty and precious for our health
Apulian Cooking
Purceddhruzzi and carteddhrate to sweeten your Christmas
MEDITERRANEAN DIET
Honey A prodigious food
Apulian Cooking
Apulian focaccia
MEDITERRANEAN DIET
Eulogy to carbohydrates
Apulian Cooking
Red mullet with tomatoes
MEDITERRANEAN DIET
Fish Protein of high biological quality
Apulian Cooking
Poor Man's style zucchini
MEDITERRANEAN DIET
Zucchini An ideal summer food for the table
Apulian Cooking
Stuffed pepper rolls
MEDITERRANEAN DIET
Peppers Super-concentrated
with vitamin C
Apulian Cooking
Pea soup
MEDITERRANEAN DIET
Fresh peas Lots of vitamins and the taste of Spring
Apulian Cooking
Almond paste Easter lambs
MEDITERRANEAN DIET
Almonds So good …and precious for health and beauty
Apulian Cooking
St. Joseph's zeppole
MEDITERRANEAN DIET
Sweets How to stay in shape without feeling deprived
Apulian Cooking
Tubettini pasta with mussels
MEDITERRANEAN DIET
Mussels 
For a full serving of minerals

Apulian Cooking
Ciceri e tria (pasta and chickpeas)
MEDITERRANEAN DIET
Chickpeas Precious for good health and very tasty too
Apulian Cooking
Pittule
MEDITERRANEAN DIET
Extra virgin olive oil elixir of health and beauty
Apulian Cooking
Leccese Quince
MEDITERRANEAN DIET
The innumerable qualities of quince
Apulian Cooking
Lecce's eggplant parmigiana
MEDITERRANEAN DIET
Eggplant, depurative and very tasty
Apulian Cooking
Burnt grain
MEDITERRANEAN DIET
The tomato king of good health and beauty
Apulian Cooking
Pasticciotto, a delight from Salento
MEDITERRANEAN DIET
Pasticciotto
Apulian Cooking
Purée of fresh fava beans with chicory from Galatina
MEDITERRANEAN DIET
Fresh fava beans Chock full of energy and beauty
Apulian Cooking
Orecchiette with broccoli rabe
MEDITERRANEAN DIET
What makes them good for you…