- FEBRUARY 2018 -
Apulian Cooking
Foglie mischiate (mixed leaves)
A simple and delicious rustic recipe, which dates back to the age of the Emperor Frederick II.
It is made with wild herbs
by Dario Ersetti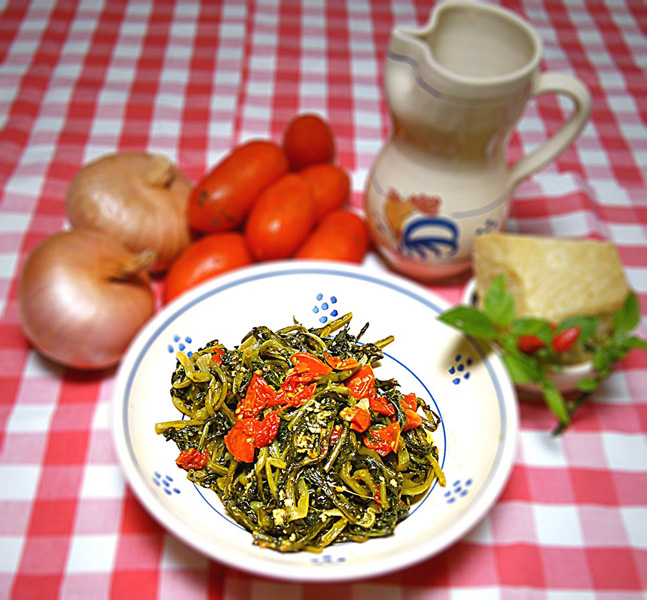 Mixed leaves. A recipe loved by the Emperor Frederick II. Photo by Dario Ersetti
Spring is the ideal season for walks in the countryside and also for gathering wild herbs, something which needs a great deal of patience and a quick eye; so it is better to start gathering herbs with someone who is already experienced.
In Salento, where they are common on fallow land as well as near dry walls, one can collect the blossoms of Jerusalem sage (Phlomis fruticosa), which are then left to dry in the shade, in a ventilated room, placed on racks. The dried blossoms are left in hot water in an infusion in order to obtain a sweet, fresh drink, otherwise they can be sucked as soon as they are collected, as they are very sweet.
On fallow land one can collect "mixed" herbs, such as the dandelion in its manifold varieties: the cicoreddhe (wild chicory), wild poppy or red poppy (known in Salento as paparina), nettle and other plants.
Excellent is Silene vulgaris (bladder campion), in Italian known as strigoli and as cauleddu in some areas of Salento. Very widespread but also unknown as an edible plant in most parts of Puglia. The tops of the plants and pulpy leaves are perfect for an omelet, a risotto or simply boiled and dressed with a little extra-virgin olive oil and a few drops of lemon juice, or even raw, in a mixed salad. In short, they can be used the same way as spinach.
Boiled dandelion buds are a delicacy when dressed with a little olive oil and a little lemon juice. The elegance and the delicacy of this dish are directly proportional to the difficulty of collecting them!
Mixed herbs, the so-called "foglie mischiate" (mixed leaves), were very much appreciated by the Emperor Frederick II Hohenstaufen, stupor mundi, when he visited his beloved Salento. They can be cooked in various ways, with pork or on their own. The recipe we suggest is the most typical spring recipe. As a side-dish it occupies a lot of space on the plate and should be combined with a good dish of mixed boiled meat, but it can also be regarded as a second course or as a main course on its own. When it was a rustic dish it was dressed with much more olive oil and used to accompany abundant portions of homemade bread.
The recipe
4 servings:
- 800 g of cleaned vegetables
- 100 g of onion
- 150 g of tomatoes
- 50 g of extra-virgin olive oil
- 50 g of grated Pecorino cheese
- salt
- 1 hot chili pepper
Wash the vegetables and boil them in abundant salted water. In a pan slightly fry the onions cut into thin slices in olive oil, add the tomatoes and the chili pepper cut into small pieces and leave to cook for about ten minutes. Drain the vegetables (not too much) and place them in the pan, mix them and leave so that they acquire the flavor of the other ingredients for approximately twenty minutes, adding some salt if needed. When ready, add the cheese, mix and serve.
The vegetables should not be too dry but slightly watery.
Related articles
MEDITERRANEAN DIET
Wild herbs, precious for health
More articles
Apulian Cooking
Flour gnocchi with scrum
Apulian Cooking
The scapece of Gallipoli
Apulian Cooking
Cupeta An irresistibile delicacy
Apulian Cooking
Simulata with mussels
Apulian Cooking
Sardine fishballs
Apulian Cooking
"Fruttone", the other face of the pasticciotto
Apulian Cooking
Potato and zucchini soup
Apulian Cooking
Oven-baked pasta with eggplant and tomatoes
Apulian Cooking
Filled wafers
Apulian Cooking
Cuttlefish with artichokes and potatoes
Apulian Cooking
Pisieddhri a cecamariti (Peas cecamariti-style) or Pisieddhri cu li muersi (Peas with fried bread)
Apulian Cooking
Fish soup - Taranto style
MEDITERRANEAN DIET
Fish A precious part of healthy eating
Apulian Cooking
Puccia, pizzi and other delicacies
Apulian Cooking
Troccoli with octopus sauce
MEDITERRANEAN DIET
Octopus Few calories, good proteins
Apulian Cooking
Cherry pistofatru
MEDITERRANEAN DIET
Cherries, a miracle of goodness
Apulian Cooking
Apostles' fingers
MEDITERRANEAN DIET
Ricotta Tasty, nutritious and light
Apulian Cooking
Soup of cicerchie "alla pizzaiola"
MEDITERRANEAN DIET
Cicerchia In pursuit of old-time flavors
Apulian Cooking
Marzipan fruit
Apulian Cooking
Troccoli with walnut sauce
MEDITERRANEAN DIET
Walnuts Topping up on antioxidants
Apulian Cooking
Spaghetti with clams and samphire
MEDITERRANEAN DIET
Clams Low in calories, high in vitamins and minerals
Apulian Cooking
Lecce's "rustico"
Apulian Cooking
Pot of spring vegetables
MEDITERRANEAN DIET
Potatoes
Apulian Cooking
Scarcella …one of the Easter delicacies
MEDITERRANEAN DIET
Eggs, an extraordinary food
Apulian Cooking
Marzotica …a taste of spring
MEDITERRANEAN DIET
Marzotica ricotta For a calcium hit
Apulian Cooking
Maritati with fresh breadcrumbs
MEDITERRANEAN DIET
Anchovies A "poor fish" rich in goodness
Apulian Cooking
Lentils with lampascioni (grape hyacinths bulbs)
MEDITERRANEAN DIET
Lampascioni (Grape hyacinth bulbs) The viagra of the Ancients
Apulian Cooking
Cakes An alternative to panettone and purceddhruzzi
Apulian Cooking
Pasta with black chick peas from the Foggia Murge
Apulian Cooking
"Olive leaves" Pasta with olives
MEDITERRANEAN DIET
Olives, good and healthy
Apulian Cooking
Green peppers with mussels
MEDITERRANEAN DIET
Garlic A natural antibiotic
Apulian Cooking
Spumone
MEDITERRANEAN DIET
Everything you need to know about ice-cream
Apulian Cooking
Apulian calzone
Apulian Cooking
Baccalà with spunzali
MEDITERRANEAN DIET
Onions, a concentration of beneficial properties
Apulian Cooking
Artichoke parmigiana
MEDITERRANEAN DIET
Artichokes …so tasty and precious for our health
Apulian Cooking
Purceddhruzzi and carteddhrate to sweeten your Christmas
MEDITERRANEAN DIET
Honey A prodigious food
Apulian Cooking
Apulian focaccia
MEDITERRANEAN DIET
Eulogy to carbohydrates
Apulian Cooking
Red mullet with tomatoes
MEDITERRANEAN DIET
Fish Protein of high biological quality
Apulian Cooking
Poor Man's style zucchini
MEDITERRANEAN DIET
Zucchini An ideal summer food for the table
Apulian Cooking
Stuffed pepper rolls
MEDITERRANEAN DIET
Peppers Super-concentrated
with vitamin C
Apulian Cooking
Pea soup
MEDITERRANEAN DIET
Fresh peas Lots of vitamins and the taste of Spring
Apulian Cooking
Almond paste Easter lambs
MEDITERRANEAN DIET
Almonds So good …and precious for health and beauty
Apulian Cooking
St. Joseph's zeppole
MEDITERRANEAN DIET
Sweets How to stay in shape without feeling deprived
Apulian Cooking
Tubettini pasta with mussels
MEDITERRANEAN DIET
Mussels 
For a full serving of minerals

Apulian Cooking
Ciceri e tria (pasta and chickpeas)
MEDITERRANEAN DIET
Chickpeas Precious for good health and very tasty too
Apulian Cooking
Pittule
MEDITERRANEAN DIET
Extra virgin olive oil elixir of health and beauty
Apulian Cooking
Leccese Quince
MEDITERRANEAN DIET
The innumerable qualities of quince
Apulian Cooking
Lecce's eggplant parmigiana
MEDITERRANEAN DIET
Eggplant, depurative and very tasty
Apulian Cooking
Burnt grain
MEDITERRANEAN DIET
The tomato king of good health and beauty
Apulian Cooking
Pasticciotto, a delight from Salento
MEDITERRANEAN DIET
Pasticciotto
Apulian Cooking
Purée of fresh fava beans with chicory from Galatina
MEDITERRANEAN DIET
Fresh fava beans Chock full of energy and beauty
Apulian Cooking
Orecchiette with broccoli rabe
MEDITERRANEAN DIET
What makes them good for you…