- FEBRUARY 2018 -
Apulian Cooking
Baccalà with spunzali
Introduced in southern Italy by the Spaniards in the 15th century, baccalà (dried salted cod) combined with delicious spunzali (spring onions), makes an excellent dish
by Dario Ersetti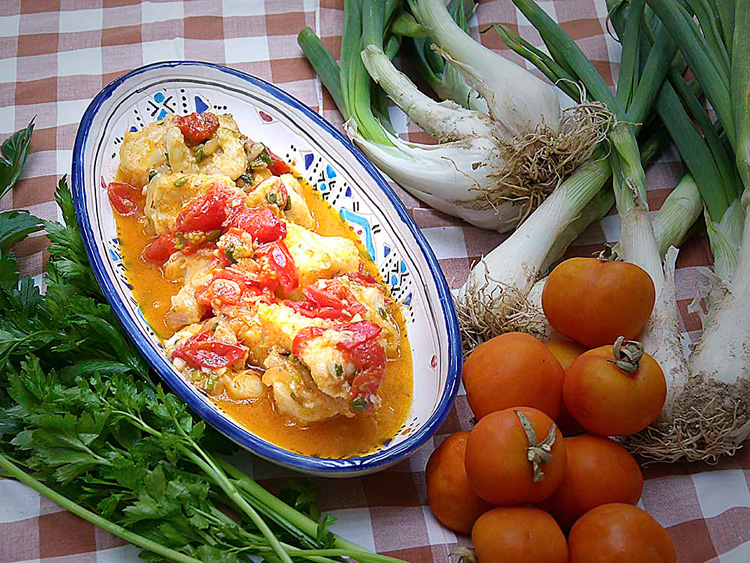 Baccalà with spunzali. Photo by Dario Ersetti
Dried cod becomes stock fish, when preserved in salt it becomes baccalà, that is dried and salted cod. In northern Italy stock fish is mostly used, whereas in the south dried salted cod. Stock fish arrived for the first time in Venice thanks to Pietro Quirini who, having set off in the summer of 1431 with two other Venetian fellow merchants, after many vicissitudes was shipwrecked and arrived on one of the Lofoten islands, in the north of Norway. From there he then succeeded in returning to Italy with fifty crates of stock fish. It is interesting to read the report of his journey to see how many negative events can occur before an adventure finishes with something positive.
On the contrary, baccalà – dried cod kept under salt –, was introduced in southern Italy by the Spaniards who, together with the Portuguese, fished cod in Labrador and Newfoundland already in the 15th century.
In 1497, an Italian, John Cabot, supported by England, reached the coasts of America, probably the present-day Newfoundland, and on his return to England he said, among many other things, that "over there the sea is covered with fish". The fish were cod, and there were so many that a little further south Cabo de las Arenas was renamed Cape Cod.
In Italy the use of dried and salted cod is particularly widespread in areas that are far from the coast because of the religious custom during days of abstinence.
It is curious to notice that the famous baccalà alla vicentina and baccalà mantecato veneziano are in fact made with stock fish.
Spunzali are common onion bulbs which have sprouted up in the second year. Once planted, from the bulbs bunches of soft shoots are obtained, which are used in various springtime recipes based on fava beans and peas, or in soups and stews. Very popular in Puglia, they are practically unknown in the rest of Italy, except for some villages in Liguria where they are called cipolle bouse. The green upper part, has a stronger taste while the white lower part is similar, also in shape, to leeks, which are however much sweeter. Spunzali can be found from fall to spring. An excellent way to preserve them at home is to plant them in a flower pot with good soil, as they are normally sold with the roots.
Recipe
4 servings:
- 1 Kg of desalted baccalà
- 5 spunzali
- 8 winter cherry tomatoes
- extra virgin olive oil
- salt
Clean the baccalà (dried and salted cod), already desalted for a few days in fresh water, by removing the bones and the fins. Cut into pieces of 4-5 centimeters.
Fry in a large saucepan in a little olive oil until it becomes golden brown, then remove it gently from the saucepan and place it on one side.
Cut the spunzali into thin slices and put them in the saucepan with the olive oil of the baccalà adding some water, and fry lightly. Add the tomatoes cut into four and as soon as the sauce gets thicker add the baccalà. Cook for about ten minutes adding a little water to prevent the sauce from getting too thick.
Serve hot, maybe on a layer of simulata (durum wheat semolina polenta, sweeter and more delicate than the normal corn polenta).
Related articles
MEDITERRANEAN DIET
Onions, a concentration of beneficial properties
More articles
Apulian Cooking
Flour gnocchi with scrum
Apulian Cooking
The scapece of Gallipoli
Apulian Cooking
Cupeta An irresistibile delicacy
Apulian Cooking
Simulata with mussels
Apulian Cooking
Sardine fishballs
Apulian Cooking
"Fruttone", the other face of the pasticciotto
Apulian Cooking
Potato and zucchini soup
Apulian Cooking
Oven-baked pasta with eggplant and tomatoes
Apulian Cooking
Filled wafers
Apulian Cooking
Cuttlefish with artichokes and potatoes
Apulian Cooking
Pisieddhri a cecamariti (Peas cecamariti-style) or Pisieddhri cu li muersi (Peas with fried bread)
Apulian Cooking
Fish soup - Taranto style
MEDITERRANEAN DIET
Fish A precious part of healthy eating
Apulian Cooking
Puccia, pizzi and other delicacies
Apulian Cooking
Troccoli with octopus sauce
MEDITERRANEAN DIET
Octopus Few calories, good proteins
Apulian Cooking
Cherry pistofatru
MEDITERRANEAN DIET
Cherries, a miracle of goodness
Apulian Cooking
Apostles' fingers
MEDITERRANEAN DIET
Ricotta Tasty, nutritious and light
Apulian Cooking
Soup of cicerchie "alla pizzaiola"
MEDITERRANEAN DIET
Cicerchia In pursuit of old-time flavors
Apulian Cooking
Marzipan fruit
Apulian Cooking
Troccoli with walnut sauce
MEDITERRANEAN DIET
Walnuts Topping up on antioxidants
Apulian Cooking
Spaghetti with clams and samphire
MEDITERRANEAN DIET
Clams Low in calories, high in vitamins and minerals
Apulian Cooking
Lecce's "rustico"
Apulian Cooking
Pot of spring vegetables
MEDITERRANEAN DIET
Potatoes
Apulian Cooking
Scarcella …one of the Easter delicacies
MEDITERRANEAN DIET
Eggs, an extraordinary food
Apulian Cooking
Marzotica …a taste of spring
MEDITERRANEAN DIET
Marzotica ricotta For a calcium hit
Apulian Cooking
Maritati with fresh breadcrumbs
MEDITERRANEAN DIET
Anchovies A "poor fish" rich in goodness
Apulian Cooking
Lentils with lampascioni (grape hyacinths bulbs)
MEDITERRANEAN DIET
Lampascioni (Grape hyacinth bulbs) The viagra of the Ancients
Apulian Cooking
Cakes An alternative to panettone and purceddhruzzi
Apulian Cooking
Pasta with black chick peas from the Foggia Murge
Apulian Cooking
"Olive leaves" Pasta with olives
MEDITERRANEAN DIET
Olives, good and healthy
Apulian Cooking
Green peppers with mussels
MEDITERRANEAN DIET
Garlic A natural antibiotic
Apulian Cooking
Spumone
MEDITERRANEAN DIET
Everything you need to know about ice-cream
Apulian Cooking
Apulian calzone
Apulian Cooking
Foglie mischiate (mixed leaves)
MEDITERRANEAN DIET
Wild herbs, precious for health
Apulian Cooking
Artichoke parmigiana
MEDITERRANEAN DIET
Artichokes …so tasty and precious for our health
Apulian Cooking
Purceddhruzzi and carteddhrate to sweeten your Christmas
MEDITERRANEAN DIET
Honey A prodigious food
Apulian Cooking
Apulian focaccia
MEDITERRANEAN DIET
Eulogy to carbohydrates
Apulian Cooking
Red mullet with tomatoes
MEDITERRANEAN DIET
Fish Protein of high biological quality
Apulian Cooking
Poor Man's style zucchini
MEDITERRANEAN DIET
Zucchini An ideal summer food for the table
Apulian Cooking
Stuffed pepper rolls
MEDITERRANEAN DIET
Peppers Super-concentrated
with vitamin C
Apulian Cooking
Pea soup
MEDITERRANEAN DIET
Fresh peas Lots of vitamins and the taste of Spring
Apulian Cooking
Almond paste Easter lambs
MEDITERRANEAN DIET
Almonds So good …and precious for health and beauty
Apulian Cooking
St. Joseph's zeppole
MEDITERRANEAN DIET
Sweets How to stay in shape without feeling deprived
Apulian Cooking
Tubettini pasta with mussels
MEDITERRANEAN DIET
Mussels 
For a full serving of minerals

Apulian Cooking
Ciceri e tria (pasta and chickpeas)
MEDITERRANEAN DIET
Chickpeas Precious for good health and very tasty too
Apulian Cooking
Pittule
MEDITERRANEAN DIET
Extra virgin olive oil elixir of health and beauty
Apulian Cooking
Leccese Quince
MEDITERRANEAN DIET
The innumerable qualities of quince
Apulian Cooking
Lecce's eggplant parmigiana
MEDITERRANEAN DIET
Eggplant, depurative and very tasty
Apulian Cooking
Burnt grain
MEDITERRANEAN DIET
The tomato king of good health and beauty
Apulian Cooking
Pasticciotto, a delight from Salento
MEDITERRANEAN DIET
Pasticciotto
Apulian Cooking
Purée of fresh fava beans with chicory from Galatina
MEDITERRANEAN DIET
Fresh fava beans Chock full of energy and beauty
Apulian Cooking
Orecchiette with broccoli rabe
MEDITERRANEAN DIET
What makes them good for you…