- FEBRUARY 2018 -
Apulian Cooking
Purceddhruzzi and carteddhrate
to sweeten your Christmas
A must on Apulian tables throughout the Christmas holidays, they are delicious fried "sweets" covered with honey, originating from the Middle East.
There are countless variations in the ingredients, almost a competition to see who succeeds in making the best ones
by Dario Ersetti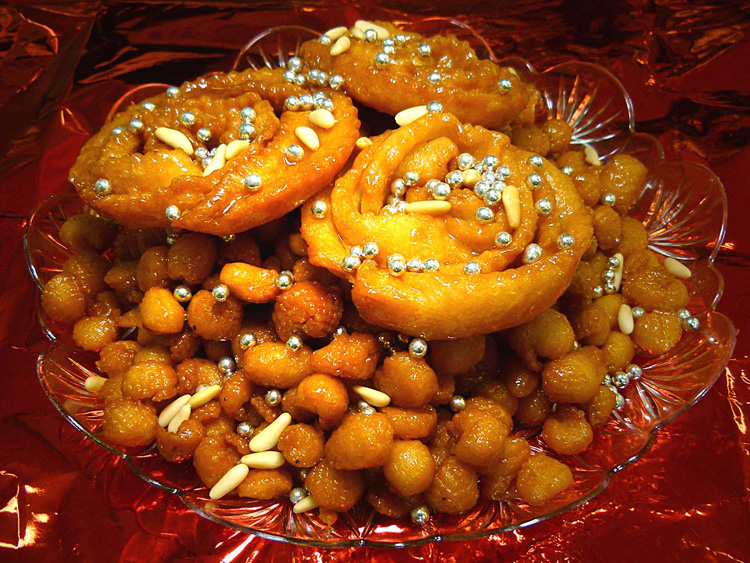 Purceddhruzzi and carteddhrate just fried and covered with honey, aniseed and pine nuts. Delicious!
Photo by Dario Ersetti
Purceddhruzzi (literally piglets) and carteddhrate (literally pieces of thin paper) are typical Christmas "sweets" of Apulia, but also widespread in nearby regions. Purceddhruzzi are similar to Neapolitan struffoli and Sicilian truffoli. They are fried and covered with honey and almost certainly originate from the Middle East. Normally the same dough is used for both recipes. Curiously enough, the various texts that deal with the topic report countless variations as far as the ingredients are concerned: hard or tender wheat flour, with or without eggs, with or without yeast, beer yeast or baking powder or baking soda or ammonia, with either olive oil or sunflower oil or lard or butter, with either wine or alcohol or even aniseed or brandy, honey or vincotto (cooked grape must) and so on. It seems that completely different recipes are being described!
In his Libro Novo printed in Venice in 1557, Cristofaro di Messisbugo wrote that for truffoli one should use "refined flour, beaten eggs, sugar, rose water and a bit of butter, as well as a little saffron. Once you have mixed it, fry the truffoli in good fat or butter or good olive oil and then leave them to cool in honey. After that build a castle, or a tower or anything else you wish with them". In fact, even today purceddhruzzi are prepared in the shape of a cone.
If one wants to go further back in time, a graffito of a dish similar to cartellate is to be found in a rock painting of the 6th century BC near Bari, which has been interpreted as an offering of first fruits (lanxsatura) to the gods.
However, regardless of the wide range of ingredients, what really characterizes this dish is olive oil, in which citrus peel has been fried. Olive oil is needed to obtain a sort of short pastry and, by adding baking powder, you can reduce the amount and make it crumbly just the same. Probably the custom of making the oil smoking hot with citrus peel in it derives from the fact that in the past olive oil had lots of defects and it had a very bad taste because it had been badly milled and also because very often fried oil was used several times before being thrown away.
Traditional festivity sweets often represent a sort of rite. For instance, in the past, when society was rural, farmers were proud to donate these sweets to the landlord for Christmas and even today it is a very widespread custom in the villages of Apulia to exchange these presents between friends. However, giving a tray of these "sweets" to friends and receiving in exchange another tray with the same speciality, looks more like a challenge rather than a rite.
Another aspect that could be interesting for a cultural anthropologist is the religious aura that these sweets have been given. In the past eating a fig stolen from the landlord was regarded as a sin of gluttony and the fact of being able to eat something sweet once a year without going directly to hell had to be religiously correct. Therefore, in Christian tradition cartellate represent the halo or the swaddling bands that covered Baby Jesus in the cradle, but also the crown of thorns of the Crucifixion, and all Christmas sweets are in fact presents to Our Lady, cooked to invoke her protection for a good harvest, while in Taranto, according to tradition, the last purceddhuzzo should be eaten on the 17th January, the day dedicated to Saint Antony the Abbot, who is represented with a piglet following him.
In Parabita, in the province of Lecce, the same dough is used to make pitteddhre.
With a rolling pin roll out the dough and with a glass cut out circles of about 6 cm in diameter on which a spoon of grape jam is placed. With your finger tips pinch the circle in several points so that the edge is in relief. Bake at 150°C for approximately 30 minutes.
Typical of Ruffano, in the province of Lecce, are caranciuli or riccetti di Gesù.
From the dough cut out long strips about 1 meter long similar to thick spaghetti and wind them round a stick starting from the bottom and then the other way round so as to make the dough overlap. Press them slightly, remove the stick and fry in abundant olive oil.
Recipe
Makes about 1.5 kg of purceddhruzzi and carteddhrate:
- 1 Kg of all-purpose flour
- 150 cc of extra virgin olive oil
- about 150 cc of dry white wine
- 50 cc of alcohol or anisette liquor
- 60 g of sugar
- 1/2 teaspoon of ground cinnamon
- 1 small packet of baking powder
- juice and peel of 1 orange
- 1 lemon
- 1 mandarin
- salt
- about 200 g of oil for frying
- honey
- grated plain chocolate
- pine nuts
- aniseed
Make olive oil smoking hot with a few small slices of orange, lemon and mandarin peel. Leave to cool.
On the pastry board put the flour and make a well. Add sugar, cinnamon, baking powder, a pinch of salt and mix, then add olive oil and the citrus juice and mix, adding little by little white wine and/or liquor so as to obtain a soft, smooth mixture. Knead for a long time and then begin kneading again. This is the fundamental secret for a good result. Leave it to stand for 30 minutes.
Purceddhruzzi
From the dough make tiny rolls as long as a pencil, cut them into small pieces of about 1 cm and make a hollow in them on a wicker basket according to tradition or on a fork, to obtain gnocchetti. Fry them in oil at a moderate heat until they are a golden color, drain and roll them on absorbent paper.
Heat the honey and drop the purceddhruzzi in it, stirring very gently. After a while remove them with a slotted spoon and place on a large dish, piling them up to form a kind of dome. Sprinkle with roasted pine nuts, aniseed and grated chocolate. You can also make them in the shape of a donut by placing a glass in the middle, which is then removed.
Carteddhrate
Roll out the dough with a rolling pin and cut it into strips 4 cm wide and about 30 cm long. Fold the dough strips in two lengthwise and pinch them every 5 cm to join them. Wind them in spirals to obtain a shape similar to a flower and fry in abundant boiling oil.
Remove them as soon as they puff up and are a golden color, drain them and place them on absorbent paper.
Place them on a large dish and cover them with honey, sprinkle with powdered sugar mixed with ground cinnamon and aniseed.
Related articles
MEDITERRANEAN DIET
Honey A prodigious food
More articles
Apulian Cooking
Flour gnocchi with scrum
Apulian Cooking
The scapece of Gallipoli
Apulian Cooking
Cupeta An irresistibile delicacy
Apulian Cooking
Simulata with mussels
Apulian Cooking
Sardine fishballs
Apulian Cooking
"Fruttone", the other face of the pasticciotto
Apulian Cooking
Potato and zucchini soup
Apulian Cooking
Oven-baked pasta with eggplant and tomatoes
Apulian Cooking
Filled wafers
Apulian Cooking
Cuttlefish with artichokes and potatoes
Apulian Cooking
Pisieddhri a cecamariti (Peas cecamariti-style) or Pisieddhri cu li muersi (Peas with fried bread)
Apulian Cooking
Fish soup - Taranto style
MEDITERRANEAN DIET
Fish A precious part of healthy eating
Apulian Cooking
Puccia, pizzi and other delicacies
Apulian Cooking
Troccoli with octopus sauce
MEDITERRANEAN DIET
Octopus Few calories, good proteins
Apulian Cooking
Cherry pistofatru
MEDITERRANEAN DIET
Cherries, a miracle of goodness
Apulian Cooking
Apostles' fingers
MEDITERRANEAN DIET
Ricotta Tasty, nutritious and light
Apulian Cooking
Soup of cicerchie "alla pizzaiola"
MEDITERRANEAN DIET
Cicerchia In pursuit of old-time flavors
Apulian Cooking
Marzipan fruit
Apulian Cooking
Troccoli with walnut sauce
MEDITERRANEAN DIET
Walnuts Topping up on antioxidants
Apulian Cooking
Spaghetti with clams and samphire
MEDITERRANEAN DIET
Clams Low in calories, high in vitamins and minerals
Apulian Cooking
Lecce's "rustico"
Apulian Cooking
Pot of spring vegetables
MEDITERRANEAN DIET
Potatoes
Apulian Cooking
Scarcella …one of the Easter delicacies
MEDITERRANEAN DIET
Eggs, an extraordinary food
Apulian Cooking
Marzotica …a taste of spring
MEDITERRANEAN DIET
Marzotica ricotta For a calcium hit
Apulian Cooking
Maritati with fresh breadcrumbs
MEDITERRANEAN DIET
Anchovies A "poor fish" rich in goodness
Apulian Cooking
Lentils with lampascioni (grape hyacinths bulbs)
MEDITERRANEAN DIET
Lampascioni (Grape hyacinth bulbs) The viagra of the Ancients
Apulian Cooking
Cakes An alternative to panettone and purceddhruzzi
Apulian Cooking
Pasta with black chick peas from the Foggia Murge
Apulian Cooking
"Olive leaves" Pasta with olives
MEDITERRANEAN DIET
Olives, good and healthy
Apulian Cooking
Green peppers with mussels
MEDITERRANEAN DIET
Garlic A natural antibiotic
Apulian Cooking
Spumone
MEDITERRANEAN DIET
Everything you need to know about ice-cream
Apulian Cooking
Apulian calzone
Apulian Cooking
Foglie mischiate (mixed leaves)
MEDITERRANEAN DIET
Wild herbs, precious for health
Apulian Cooking
Baccalà with spunzali
MEDITERRANEAN DIET
Onions, a concentration of beneficial properties
Apulian Cooking
Artichoke parmigiana
MEDITERRANEAN DIET
Artichokes …so tasty and precious for our health
Apulian Cooking
Apulian focaccia
MEDITERRANEAN DIET
Eulogy to carbohydrates
Apulian Cooking
Red mullet with tomatoes
MEDITERRANEAN DIET
Fish Protein of high biological quality
Apulian Cooking
Poor Man's style zucchini
MEDITERRANEAN DIET
Zucchini An ideal summer food for the table
Apulian Cooking
Stuffed pepper rolls
MEDITERRANEAN DIET
Peppers Super-concentrated
with vitamin C
Apulian Cooking
Pea soup
MEDITERRANEAN DIET
Fresh peas Lots of vitamins and the taste of Spring
Apulian Cooking
Almond paste Easter lambs
MEDITERRANEAN DIET
Almonds So good …and precious for health and beauty
Apulian Cooking
St. Joseph's zeppole
MEDITERRANEAN DIET
Sweets How to stay in shape without feeling deprived
Apulian Cooking
Tubettini pasta with mussels
MEDITERRANEAN DIET
Mussels 
For a full serving of minerals

Apulian Cooking
Ciceri e tria (pasta and chickpeas)
MEDITERRANEAN DIET
Chickpeas Precious for good health and very tasty too
Apulian Cooking
Pittule
MEDITERRANEAN DIET
Extra virgin olive oil elixir of health and beauty
Apulian Cooking
Leccese Quince
MEDITERRANEAN DIET
The innumerable qualities of quince
Apulian Cooking
Lecce's eggplant parmigiana
MEDITERRANEAN DIET
Eggplant, depurative and very tasty
Apulian Cooking
Burnt grain
MEDITERRANEAN DIET
The tomato king of good health and beauty
Apulian Cooking
Pasticciotto, a delight from Salento
MEDITERRANEAN DIET
Pasticciotto
Apulian Cooking
Purée of fresh fava beans with chicory from Galatina
MEDITERRANEAN DIET
Fresh fava beans Chock full of energy and beauty
Apulian Cooking
Orecchiette with broccoli rabe
MEDITERRANEAN DIET
What makes them good for you…