- FEBRUARY 2018 -
Apulian Cooking
MEDITERRANEAN DIET
Eulogy to carbohydrates
The excellent Apulian focaccia, like all other carbohydrates, is not completely forbidden even for those who are following a slimming regime. In modest quantities, it is one of the staples of a healthy diet
by Novella Pranzo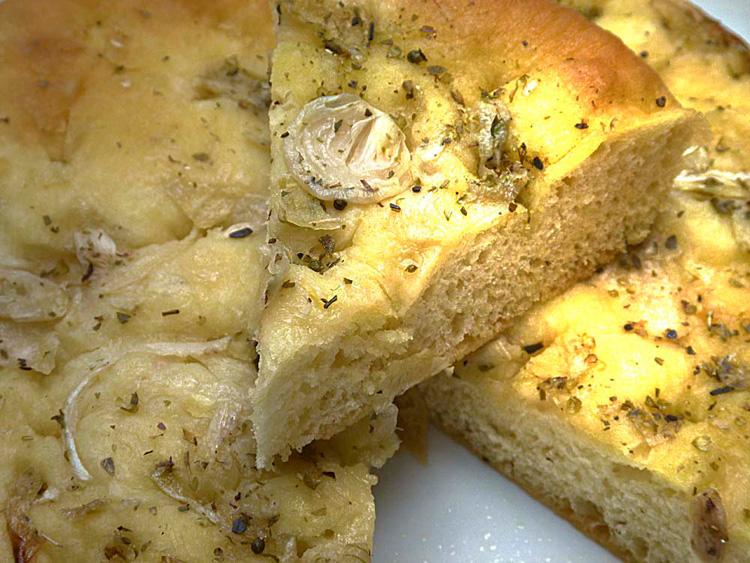 Altamura focaccia. Photo by Dario Ersetti
Apulian focaccia
For a 700 gram focaccia:
- 500 g of durum wheat flour
- 1 cube of brewer's yeast
- 10 tablespoonfuls of extra virgin olive oil
- 1 teaspoonful of salt
- 1 teaspoonful of sugar
- about 300 ml of lukewarm water
- 20 small tomatoes
- oregano
Nutrition facts per 100 g:
- energy: 441 Kcal
- carbohydrates: 56,5 g
- protein: 8 g
- lipids: 22 g
- fiber: 2,5 g
The Apulian focaccia is really good… and gives us a chance to talk about carbohydrates, too frequently the victims of prejudice.
No newspaper or magazine misses its chance to advise us on magic diets to lose weight rapidly by means of the elimination of carbohydrates: but there is nothing more mistaken. The consequence is an ill-balanced diet exceeding in fats, whereas it has been demonstrated that the consumption of carbohydrates helps us to avoid the accumulation of fats, giving us the energy to demolish lipids; that is, providing us with immediately available energy. Carbohydrates are our bodies' fuel! And it is thanks to them that we can face our busy days and carry out the normal activities of everyday life.
A diet completely lacking in carbohydrates is highly ill-advisable even for people who are following a strictly low-calorie regime.
Carbohydrates are at the base of the food pyramid and the staple of the Mediterranean diet which, we remind our readers, in 2010 was declared by UNESCO (United Nations Educational, Scientific and Cultural Organization) to be a cultural though intangible heritage of mankind.
A diet containing an ideal proportion of carbohydrates is not fattening; it can even prevent the accumulation of fat in the body. What is the ideal proportion? On a well-balanced diet, carbohydrates should make up 55-60% of all the calories consumed in a single day.
Carbohydrates are present also in many foods that introduce other important nutrients into the diet. If we think of that famous complete dish, that fabulous combination which nourishes our organism on all fronts: the classic pasta with beans, a tasty dish rich in carbohydrates and protein.
Neither must we underestimate the fact that carbohydrates, as well as being our first source of energy, are also very cheap.
Let's enjoy our slice of focaccia, then. With a piece of fresh cheese, some salad and a piece of fruit it's a complete, nourishing and healthy meal.
Related articles
Apulian Cooking
Apulian focaccia
More articles
Apulian Cooking
Flour gnocchi with scrum
Apulian Cooking
The scapece of Gallipoli
Apulian Cooking
Cupeta An irresistibile delicacy
Apulian Cooking
Simulata with mussels
Apulian Cooking
Sardine fishballs
Apulian Cooking
"Fruttone", the other face of the pasticciotto
Apulian Cooking
Potato and zucchini soup
Apulian Cooking
Oven-baked pasta with eggplant and tomatoes
Apulian Cooking
Filled wafers
Apulian Cooking
Cuttlefish with artichokes and potatoes
Apulian Cooking
Pisieddhri a cecamariti (Peas cecamariti-style) or Pisieddhri cu li muersi (Peas with fried bread)
Apulian Cooking
Fish soup - Taranto style
MEDITERRANEAN DIET
Fish A precious part of healthy eating
Apulian Cooking
Puccia, pizzi and other delicacies
Apulian Cooking
Troccoli with octopus sauce
MEDITERRANEAN DIET
Octopus Few calories, good proteins
Apulian Cooking
Cherry pistofatru
MEDITERRANEAN DIET
Cherries, a miracle of goodness
Apulian Cooking
Apostles' fingers
MEDITERRANEAN DIET
Ricotta Tasty, nutritious and light
Apulian Cooking
Soup of cicerchie "alla pizzaiola"
MEDITERRANEAN DIET
Cicerchia In pursuit of old-time flavors
Apulian Cooking
Marzipan fruit
Apulian Cooking
Troccoli with walnut sauce
MEDITERRANEAN DIET
Walnuts Topping up on antioxidants
Apulian Cooking
Spaghetti with clams and samphire
MEDITERRANEAN DIET
Clams Low in calories, high in vitamins and minerals
Apulian Cooking
Lecce's "rustico"
Apulian Cooking
Pot of spring vegetables
MEDITERRANEAN DIET
Potatoes
Apulian Cooking
Scarcella …one of the Easter delicacies
MEDITERRANEAN DIET
Eggs, an extraordinary food
Apulian Cooking
Marzotica …a taste of spring
MEDITERRANEAN DIET
Marzotica ricotta For a calcium hit
Apulian Cooking
Maritati with fresh breadcrumbs
MEDITERRANEAN DIET
Anchovies A "poor fish" rich in goodness
Apulian Cooking
Lentils with lampascioni (grape hyacinths bulbs)
MEDITERRANEAN DIET
Lampascioni (Grape hyacinth bulbs) The viagra of the Ancients
Apulian Cooking
Cakes An alternative to panettone and purceddhruzzi
Apulian Cooking
Pasta with black chick peas from the Foggia Murge
Apulian Cooking
"Olive leaves" Pasta with olives
MEDITERRANEAN DIET
Olives, good and healthy
Apulian Cooking
Green peppers with mussels
MEDITERRANEAN DIET
Garlic A natural antibiotic
Apulian Cooking
Spumone
MEDITERRANEAN DIET
Everything you need to know about ice-cream
Apulian Cooking
Apulian calzone
Apulian Cooking
Foglie mischiate (mixed leaves)
MEDITERRANEAN DIET
Wild herbs, precious for health
Apulian Cooking
Baccalà with spunzali
MEDITERRANEAN DIET
Onions, a concentration of beneficial properties
Apulian Cooking
Artichoke parmigiana
MEDITERRANEAN DIET
Artichokes …so tasty and precious for our health
Apulian Cooking
Purceddhruzzi and carteddhrate to sweeten your Christmas
MEDITERRANEAN DIET
Honey A prodigious food
Apulian Cooking
Red mullet with tomatoes
MEDITERRANEAN DIET
Fish Protein of high biological quality
Apulian Cooking
Poor Man's style zucchini
MEDITERRANEAN DIET
Zucchini An ideal summer food for the table
Apulian Cooking
Stuffed pepper rolls
MEDITERRANEAN DIET
Peppers Super-concentrated
with vitamin C
Apulian Cooking
Pea soup
MEDITERRANEAN DIET
Fresh peas Lots of vitamins and the taste of Spring
Apulian Cooking
Almond paste Easter lambs
MEDITERRANEAN DIET
Almonds So good …and precious for health and beauty
Apulian Cooking
St. Joseph's zeppole
MEDITERRANEAN DIET
Sweets How to stay in shape without feeling deprived
Apulian Cooking
Tubettini pasta with mussels
MEDITERRANEAN DIET
Mussels 
For a full serving of minerals

Apulian Cooking
Ciceri e tria (pasta and chickpeas)
MEDITERRANEAN DIET
Chickpeas Precious for good health and very tasty too
Apulian Cooking
Pittule
MEDITERRANEAN DIET
Extra virgin olive oil elixir of health and beauty
Apulian Cooking
Leccese Quince
MEDITERRANEAN DIET
The innumerable qualities of quince
Apulian Cooking
Lecce's eggplant parmigiana
MEDITERRANEAN DIET
Eggplant, depurative and very tasty
Apulian Cooking
Burnt grain
MEDITERRANEAN DIET
The tomato king of good health and beauty
Apulian Cooking
Pasticciotto, a delight from Salento
MEDITERRANEAN DIET
Pasticciotto
Apulian Cooking
Purée of fresh fava beans with chicory from Galatina
MEDITERRANEAN DIET
Fresh fava beans Chock full of energy and beauty
Apulian Cooking
Orecchiette with broccoli rabe
MEDITERRANEAN DIET
What makes them good for you…