- FEBRUARY 2018 -
Apulian Cooking
MEDITERRANEAN DIET
Sweets
How to stay in shape without feeling deprived
A sweet every now and then does not hurt and it helps to improve mood. Sweets are definitely not forbidden if you have an active lifestyle and do sports.
And if you sometimes go "overboard" when eating, it really is better to immediately diet the next day to get rid of the excess calories right away
by Novella Pranzo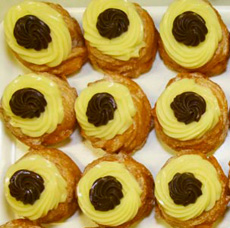 Zeppole with pastry cream.
Irresistible for food lovers.
Photo by Dario Ersetti



Zeppole
Ingredients for thirty zeppole:
For the DOUGH
- 300 g of flour
- 80 g butter
- 6 eggs
- 1/4 liter of water
- a pinch of salt
- extra virgin olive oil or lard for frying
For the PASTRY CREAM FILLING
- 1/2 liter of milk
- 125 g of sugar
- 4 egg yolks
- 50 g of refined flour
- 1/2 vanilla bean or a little lemon peel (yellow part only)
For the GARNISH
- cherries in syrup
- powdered sugar
or, in place of cherries in syrup, garnish with a dollop of chocolate cream sauce, made by mixing 2-3 teaspoons of unsweetened cocoa powder with a little of the cream
Nutrition facts per 1 zeppola:
(Fried in EVO oil with cherries in syrup garnish)
- energy: 268 Kcal
- protein: 4 g
- fat: 21.5 g
- saturated fat: 5 g
- carbohydrates: 15.5 g
- sugars: 6 g
- fiber: 0.5 g
- total cholesterol: 69.5 mg
(Fried in lard with with cherries in syrup garnish)
- energy: 267 Kcal
- protein: 4 g
- fat: 21.5 g
- saturated fat: 9 g
- carbohydrates: 15.5 g
- sugars: 6 g
- fiber: 0.5 g
- total cholesterol: 85.5 mg
      Have a sweet YES or have a sweet NO? It is always an open debate.
      But who said that to stay in shape and not gain weight you must sacrifice sweets and not eat them?
      Let's start by saying that it is important to eat a healthy and varied diet, and to be attentive to the quality and quantity of food according to the individual and their lifestyle. People who are active, do sports, and walk or ride a bicycle regularly will surely allow themselves more satisfying food than those with a sedentary lifestyle. In any case, a sweet every once in a while, especially when eaten at the right time of the day, is not fattening. The secret lies in being able to control your intake: enjoying a little bit of sweet pastry or a small piece of cake is one thing, overindulging is another. Letting yourself occasionally enjoy the sin of gluttony helps you to adhere to a healthy diet or stay on a diet and keeps your morale up. Too much rigidity is counterproductive because that can only lead to hunger pangs which in turn lead to overeating.
      In theory you could even eat a cake a day without gaining weight. Clearly it depends on the type of cake and "when" it is consumed. Breakfast time is perfect: a slice of pie or plum cake, preferably home-made with genuine, simple ingredients goes together well with a cup of milk.
      The ideal time to give in to the daily urge for something sweet, without fear of seeing the needle on the scale go up, is in the morning. In fact, in the early hours of the day, sugar is burned off more quickly. If you have a sweet tooth, breakfast is the most conducive meal to indulge it.
      If sweets are eaten after lunch, maybe it would be appropriate to decrease the serving size of the first course.
      In the evening, however, one would be better off not eating sweets because at the end of the day metabolic activity is low and thus any calories consumed are transformed mainly into fat. Of course, for a special occasion you can make an exception to the rule but do not let it become a habit, and you need to pay attention to the quantity you consume. If you are in a period of intensive study or work, and you are busy in the evenings, it could help to eat something sweet after dinner, like a piece of chocolate, even better if it is dark.
      In any case it is inconceivable to never go "overboard". The important thing is knowing how to "cut down" as soon as possible. If today you allow yourself more calories, than tomorrow you have to make some small sacrifice: cut down on carbohydrates or, if you can, replace your evening meal with two glasses of water and one or two apples, chewed slowly. A minimum of satiety is assured and the next day you can already return to your normal diet.
      One last tip: avoid, if possible, prepackaged sweets, snacks and those desserts full of preservatives. They are high in fat or harmful hydrogenated vegetable fats, such as coconut oil or palm oil. If you are going to have something sweet to eat, choose homemade cakes or freshly made pastries of top quality, like the irresistible zeppole proposed in this issue of Bridge.
Related articles
Apulian Cooking
St. Joseph's zeppole
More articles
Apulian Cooking
Flour gnocchi with scrum
Apulian Cooking
The scapece of Gallipoli
Apulian Cooking
Cupeta An irresistibile delicacy
Apulian Cooking
Simulata with mussels
Apulian Cooking
Sardine fishballs
Apulian Cooking
"Fruttone", the other face of the pasticciotto
Apulian Cooking
Potato and zucchini soup
Apulian Cooking
Oven-baked pasta with eggplant and tomatoes
Apulian Cooking
Filled wafers
Apulian Cooking
Cuttlefish with artichokes and potatoes
Apulian Cooking
Pisieddhri a cecamariti (Peas cecamariti-style) or Pisieddhri cu li muersi (Peas with fried bread)
Apulian Cooking
Fish soup - Taranto style
MEDITERRANEAN DIET
Fish A precious part of healthy eating
Apulian Cooking
Puccia, pizzi and other delicacies
Apulian Cooking
Troccoli with octopus sauce
MEDITERRANEAN DIET
Octopus Few calories, good proteins
Apulian Cooking
Cherry pistofatru
MEDITERRANEAN DIET
Cherries, a miracle of goodness
Apulian Cooking
Apostles' fingers
MEDITERRANEAN DIET
Ricotta Tasty, nutritious and light
Apulian Cooking
Soup of cicerchie "alla pizzaiola"
MEDITERRANEAN DIET
Cicerchia In pursuit of old-time flavors
Apulian Cooking
Marzipan fruit
Apulian Cooking
Troccoli with walnut sauce
MEDITERRANEAN DIET
Walnuts Topping up on antioxidants
Apulian Cooking
Spaghetti with clams and samphire
MEDITERRANEAN DIET
Clams Low in calories, high in vitamins and minerals
Apulian Cooking
Lecce's "rustico"
Apulian Cooking
Pot of spring vegetables
MEDITERRANEAN DIET
Potatoes
Apulian Cooking
Scarcella …one of the Easter delicacies
MEDITERRANEAN DIET
Eggs, an extraordinary food
Apulian Cooking
Marzotica …a taste of spring
MEDITERRANEAN DIET
Marzotica ricotta For a calcium hit
Apulian Cooking
Maritati with fresh breadcrumbs
MEDITERRANEAN DIET
Anchovies A "poor fish" rich in goodness
Apulian Cooking
Lentils with lampascioni (grape hyacinths bulbs)
MEDITERRANEAN DIET
Lampascioni (Grape hyacinth bulbs) The viagra of the Ancients
Apulian Cooking
Cakes An alternative to panettone and purceddhruzzi
Apulian Cooking
Pasta with black chick peas from the Foggia Murge
Apulian Cooking
"Olive leaves" Pasta with olives
MEDITERRANEAN DIET
Olives, good and healthy
Apulian Cooking
Green peppers with mussels
MEDITERRANEAN DIET
Garlic A natural antibiotic
Apulian Cooking
Spumone
MEDITERRANEAN DIET
Everything you need to know about ice-cream
Apulian Cooking
Apulian calzone
Apulian Cooking
Foglie mischiate (mixed leaves)
MEDITERRANEAN DIET
Wild herbs, precious for health
Apulian Cooking
Baccalà with spunzali
MEDITERRANEAN DIET
Onions, a concentration of beneficial properties
Apulian Cooking
Artichoke parmigiana
MEDITERRANEAN DIET
Artichokes …so tasty and precious for our health
Apulian Cooking
Purceddhruzzi and carteddhrate to sweeten your Christmas
MEDITERRANEAN DIET
Honey A prodigious food
Apulian Cooking
Apulian focaccia
MEDITERRANEAN DIET
Eulogy to carbohydrates
Apulian Cooking
Red mullet with tomatoes
MEDITERRANEAN DIET
Fish Protein of high biological quality
Apulian Cooking
Poor Man's style zucchini
MEDITERRANEAN DIET
Zucchini An ideal summer food for the table
Apulian Cooking
Stuffed pepper rolls
MEDITERRANEAN DIET
Peppers Super-concentrated
with vitamin C
Apulian Cooking
Pea soup
MEDITERRANEAN DIET
Fresh peas Lots of vitamins and the taste of Spring
Apulian Cooking
Almond paste Easter lambs
MEDITERRANEAN DIET
Almonds So good …and precious for health and beauty
Apulian Cooking
Tubettini pasta with mussels
MEDITERRANEAN DIET
Mussels 
For a full serving of minerals

Apulian Cooking
Ciceri e tria (pasta and chickpeas)
MEDITERRANEAN DIET
Chickpeas Precious for good health and very tasty too
Apulian Cooking
Pittule
MEDITERRANEAN DIET
Extra virgin olive oil elixir of health and beauty
Apulian Cooking
Leccese Quince
MEDITERRANEAN DIET
The innumerable qualities of quince
Apulian Cooking
Lecce's eggplant parmigiana
MEDITERRANEAN DIET
Eggplant, depurative and very tasty
Apulian Cooking
Burnt grain
MEDITERRANEAN DIET
The tomato king of good health and beauty
Apulian Cooking
Pasticciotto, a delight from Salento
MEDITERRANEAN DIET
Pasticciotto
Apulian Cooking
Purée of fresh fava beans with chicory from Galatina
MEDITERRANEAN DIET
Fresh fava beans Chock full of energy and beauty
Apulian Cooking
Orecchiette with broccoli rabe
MEDITERRANEAN DIET
What makes them good for you…