- FEBRUARY 2018 -
Apulian Cooking
MEDITERRANEAN DIET
Chickpeas
Precious for good health and very tasty too
Coupled with grain, as in "pasta and chickpeas," they are a complete food source.
Their myriad properties make them precious allies in maintaining good health.
And if you have trouble digesting them you can use kombu seaweed
by Novella Pranzo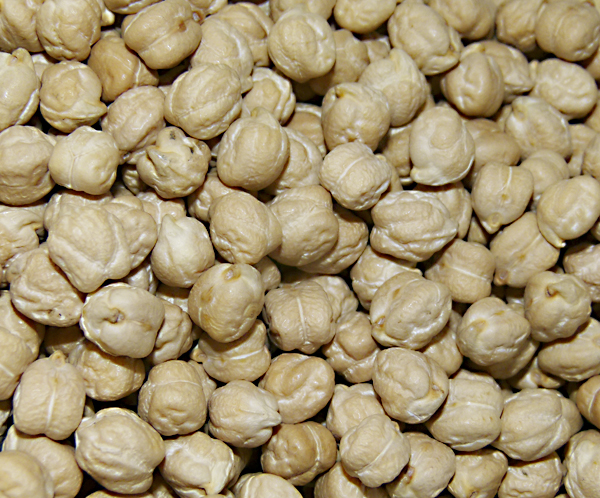 Chickpeas. Photo by Dario Ersetti
Ciceri e tria (pasta and chickpeas)
4 servings:
- 200 g of whole wheat semolina flour
- 300 g of chickpeas
- 1 carrot
- 1 stalk of celery
- 1 clove of garlic
- 1 onion (or two scallions)
- 3 tomatoes
- a sprig of rosemary
- extra virgin olive oil
- salt
Nutrition facts per serving:
- energy: 476 kcal
- protein: 17 g
- fat: 16 g
- carbohydrates: 70 g
- cholesterol: 0
- fiber : 16 g
      Chickpeas, like all legumes in general, have always played a very important role in the Mediterranean diet.
      Also known as "meat of the poor", they are a valid ally for those who follow a low calorie diet, because they are very rich in plant proteins with a high fiber content and have high satiating power with a relatively moderate caloric intake.
      Legumes and grains (or their derivatives) are a perfect match. In fact, grains have an amino acid composition that is complementary to legumes, because they are low in lysine but rich in sulfur, amino acid, and tryptophan. This means a serving of pasta and chickpeas can take the place of a piece of meat. The fiber contained in the chickpeas has the ability to regulate intestinal functions and at the same time helps maintain balanced blood sugar levels. Also, chickpeas do not contain gluten and are therefore particularly suitable for people with celiac disease.
      Chickpeas are a complete food and energy source that contains many carbohydrates, proteins, fiber, minerals such as calcium, iron, potassium, phosphorus, and vitamins A, B, and C. They are richer in fat than other legumes and therefore offer a more balanced distribution of macronutrients.
      Because of their high protein power, they can be used in diets which do not include the use of animal proteins, as a meat substitute. Thanks to their diuretic properties, they help eliminate uric acid and excess salt and facilitate the expulsion of urinary calculi.
      They are quite rich in omega-3 essential fatty acids and thus help maintain health and prevent cardiovascular disease, and help keep our arteries are clear.
      Chickpeas also have the ability to lower levels of "bad cholesterol" (LDL) in the blood and so they play a protective role in regards to the heart.
      These beneficial effects are due to the presence of magnesium and folate, and folate in particular has the ability to lower levels of homocysteine (an amino acid) which, if present in excessive amounts in the blood, increases the chance of heart attack and stroke or peripheral arterial disease (scientific study published in the journal Annals of Nutrition and Metabolism, edited by Dr. Madeleine J. Ball, of the School of Human Life Sciences, University of Tasmania - Australia).
      Folate, which is part of the B vitamin group, when taken in proper doses, could decrease by 10% the number of strokes that occur each year in the U.S. alone and a dish of chickpeas can itself supply 70.5% of the recommended daily intake of folate. Magnesium, on the other hand, improves blood circulation and brings more oxygen and nutrients to cells and tissues: When this mineral is scarce, the body runs a greater risk of succumbing to a heart attack.
      The fight against cholesterol in the diet can be easily won, by regularly eating a nice dish of chickpeas.
      Despite these commendable features, chickpeas are among the least-consumed legumes in Italy, perhaps because they can be a little difficult to digest due to the cellulose they contain, and they are, therefore, not recommended to those who suffer from stomach or intestinal problems or colitis. However, a consumer can enjoy them with peace of mind with this little hint: remove the transparent skin that covers them. This makes them much lighter and easier to digest.
      Another trick is to add kombu seaweed during their cooking. This algae – one of the most frequently used in natural health food alimentation – contains an acid (AC/ alginate) which can soften the fibers in all foods, and that is why it is often used with legumes. Its use reduces cooking time, enhances natural flavors and frees nutrients that increase digestibility and inhibit intestinal fermentation. This is a real natural cleansing that enables the elimination of toxins that are created inside the colon.
      A good dish of pasta and chickpeas, as well as being tasty, can be of great advantage for the heart and arteries, and is a key ally in maintaining good health.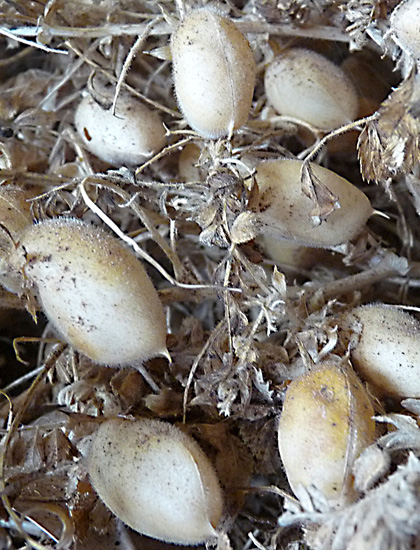 Related articles
Apulian Cooking
Ciceri e tria (pasta and chickpeas)
More articles
Apulian Cooking
Flour gnocchi with scrum
Apulian Cooking
The scapece of Gallipoli
Apulian Cooking
Cupeta An irresistibile delicacy
Apulian Cooking
Simulata with mussels
Apulian Cooking
Sardine fishballs
Apulian Cooking
"Fruttone", the other face of the pasticciotto
Apulian Cooking
Potato and zucchini soup
Apulian Cooking
Oven-baked pasta with eggplant and tomatoes
Apulian Cooking
Filled wafers
Apulian Cooking
Cuttlefish with artichokes and potatoes
Apulian Cooking
Pisieddhri a cecamariti (Peas cecamariti-style) or Pisieddhri cu li muersi (Peas with fried bread)
Apulian Cooking
Fish soup - Taranto style
MEDITERRANEAN DIET
Fish A precious part of healthy eating
Apulian Cooking
Puccia, pizzi and other delicacies
Apulian Cooking
Troccoli with octopus sauce
MEDITERRANEAN DIET
Octopus Few calories, good proteins
Apulian Cooking
Cherry pistofatru
MEDITERRANEAN DIET
Cherries, a miracle of goodness
Apulian Cooking
Apostles' fingers
MEDITERRANEAN DIET
Ricotta Tasty, nutritious and light
Apulian Cooking
Soup of cicerchie "alla pizzaiola"
MEDITERRANEAN DIET
Cicerchia In pursuit of old-time flavors
Apulian Cooking
Marzipan fruit
Apulian Cooking
Troccoli with walnut sauce
MEDITERRANEAN DIET
Walnuts Topping up on antioxidants
Apulian Cooking
Spaghetti with clams and samphire
MEDITERRANEAN DIET
Clams Low in calories, high in vitamins and minerals
Apulian Cooking
Lecce's "rustico"
Apulian Cooking
Pot of spring vegetables
MEDITERRANEAN DIET
Potatoes
Apulian Cooking
Scarcella …one of the Easter delicacies
MEDITERRANEAN DIET
Eggs, an extraordinary food
Apulian Cooking
Marzotica …a taste of spring
MEDITERRANEAN DIET
Marzotica ricotta For a calcium hit
Apulian Cooking
Maritati with fresh breadcrumbs
MEDITERRANEAN DIET
Anchovies A "poor fish" rich in goodness
Apulian Cooking
Lentils with lampascioni (grape hyacinths bulbs)
MEDITERRANEAN DIET
Lampascioni (Grape hyacinth bulbs) The viagra of the Ancients
Apulian Cooking
Cakes An alternative to panettone and purceddhruzzi
Apulian Cooking
Pasta with black chick peas from the Foggia Murge
Apulian Cooking
"Olive leaves" Pasta with olives
MEDITERRANEAN DIET
Olives, good and healthy
Apulian Cooking
Green peppers with mussels
MEDITERRANEAN DIET
Garlic A natural antibiotic
Apulian Cooking
Spumone
MEDITERRANEAN DIET
Everything you need to know about ice-cream
Apulian Cooking
Apulian calzone
Apulian Cooking
Foglie mischiate (mixed leaves)
MEDITERRANEAN DIET
Wild herbs, precious for health
Apulian Cooking
Baccalà with spunzali
MEDITERRANEAN DIET
Onions, a concentration of beneficial properties
Apulian Cooking
Artichoke parmigiana
MEDITERRANEAN DIET
Artichokes …so tasty and precious for our health
Apulian Cooking
Purceddhruzzi and carteddhrate to sweeten your Christmas
MEDITERRANEAN DIET
Honey A prodigious food
Apulian Cooking
Apulian focaccia
MEDITERRANEAN DIET
Eulogy to carbohydrates
Apulian Cooking
Red mullet with tomatoes
MEDITERRANEAN DIET
Fish Protein of high biological quality
Apulian Cooking
Poor Man's style zucchini
MEDITERRANEAN DIET
Zucchini An ideal summer food for the table
Apulian Cooking
Stuffed pepper rolls
MEDITERRANEAN DIET
Peppers Super-concentrated
with vitamin C
Apulian Cooking
Pea soup
MEDITERRANEAN DIET
Fresh peas Lots of vitamins and the taste of Spring
Apulian Cooking
Almond paste Easter lambs
MEDITERRANEAN DIET
Almonds So good …and precious for health and beauty
Apulian Cooking
St. Joseph's zeppole
MEDITERRANEAN DIET
Sweets How to stay in shape without feeling deprived
Apulian Cooking
Tubettini pasta with mussels
MEDITERRANEAN DIET
Mussels 
For a full serving of minerals

Apulian Cooking
Pittule
MEDITERRANEAN DIET
Extra virgin olive oil elixir of health and beauty
Apulian Cooking
Leccese Quince
MEDITERRANEAN DIET
The innumerable qualities of quince
Apulian Cooking
Lecce's eggplant parmigiana
MEDITERRANEAN DIET
Eggplant, depurative and very tasty
Apulian Cooking
Burnt grain
MEDITERRANEAN DIET
The tomato king of good health and beauty
Apulian Cooking
Pasticciotto, a delight from Salento
MEDITERRANEAN DIET
Pasticciotto
Apulian Cooking
Purée of fresh fava beans with chicory from Galatina
MEDITERRANEAN DIET
Fresh fava beans Chock full of energy and beauty
Apulian Cooking
Orecchiette with broccoli rabe
MEDITERRANEAN DIET
What makes them good for you…