- FEBRUARY 2018 -
Apulian Cooking
Ciceri e tria
(pasta and chickpeas)
It is a traditional Salento dish, but has Arabian/Sicilian origins.
The finishing touch that adds special flavor comes from frying a small amount of pasta separately and mixing it with the rest just before serving
by Dario Ersetti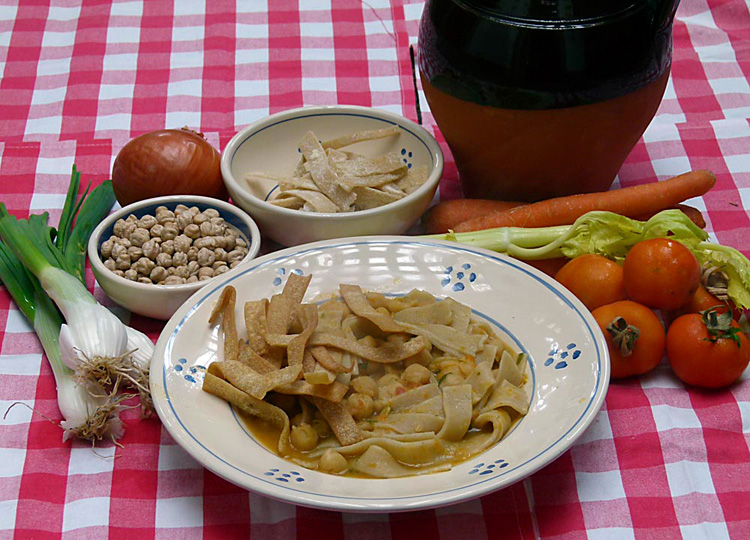 Ciceri e tria, a delicious, healthy dish. Photo by Dario Ersetti
      A dish with Arabian/Sicilian roots, it has become a symbol of Salento.
      Throughout the Middle East, hummus, a puree of chickpeas with tahini (a salty sesame seed paste, like Nutella), is eaten together with fried pasta that is similar to Italian "angel hair" pasta.
      The first Sicilian collocation of "tria" is owed to Abu Abdullah Muhammad al-Idrisi al-Qurtubi al-Hasani al-Sabti, better known as al-Idrisi, the Arab geographer who designed the map of the world on behalf of King Roger II of Sicily. He was also given the task of studying Sicilian traditions and the customs of its people, which were then collected in Kitab-Rugiar (The Book of Roger) in 1154.
      And it was in this book that the production of thin Sicilian spaghetti, called tria in Sicilian dialect and itryah in Arabic, was first mentioned. About a century before this, we have, however, an illustration of itryah, noted in an illuminated manuscript written by an Iraqi doctor of Christian faith, Abu al-Hasan al-Mukhtar ibn 'Abdun (transliterated as Ububchasym de Baldach), who worked in Baghdad in the mid-eleventh century. Among the copies of his manuscript Tacuina Sanitatis, the most famous are in Vienna, Paris and Rome (Casanatense Library, under the name of Theatrum Sanitatis).
The recipe
4 servings:
- 200 g of whole wheat semolina flour
- 300 g of chickpeas
- 1 carrot
- 1 stalk of celery
- 1 clove of garlic
- 1 onion (or two scallions)
- 3 tomatoes
- a sprig of rosemary
- extra virgin olive oil
- salt
      Soak the chickpeas in water overnight. Drain, rinse and put them in a (preferably earthenware) pot together with the vegetables and add enough water to make a rather thin soup. Towards the end of cooking, remove the garlic, crush (or remove) the celery and carrot and add salt.
      While the soup is cooking, prepare the pasta in the usual way with flour, water and a pinch of salt. Knead well, let the dough rest covered with a damp cloth, then roll out the dough and cut to form noodles.
      Take about one-third of these noodles and fry them in abundant oil, drain and salt lightly. The remaining noodles are boiled in the pot with the chickpeas.
      When serving the soup, add the fried noodles, mix, and drizzle with a little oil.
Related articles
MEDITERRANEAN DIET
Chickpeas Precious for good health and very tasty too
More articles
Apulian Cooking
Flour gnocchi with scrum
Apulian Cooking
The scapece of Gallipoli
Apulian Cooking
Cupeta An irresistibile delicacy
Apulian Cooking
Simulata with mussels
Apulian Cooking
Sardine fishballs
Apulian Cooking
"Fruttone", the other face of the pasticciotto
Apulian Cooking
Potato and zucchini soup
Apulian Cooking
Oven-baked pasta with eggplant and tomatoes
Apulian Cooking
Filled wafers
Apulian Cooking
Cuttlefish with artichokes and potatoes
Apulian Cooking
Pisieddhri a cecamariti (Peas cecamariti-style) or Pisieddhri cu li muersi (Peas with fried bread)
Apulian Cooking
Fish soup - Taranto style
MEDITERRANEAN DIET
Fish A precious part of healthy eating
Apulian Cooking
Puccia, pizzi and other delicacies
Apulian Cooking
Troccoli with octopus sauce
MEDITERRANEAN DIET
Octopus Few calories, good proteins
Apulian Cooking
Cherry pistofatru
MEDITERRANEAN DIET
Cherries, a miracle of goodness
Apulian Cooking
Apostles' fingers
MEDITERRANEAN DIET
Ricotta Tasty, nutritious and light
Apulian Cooking
Soup of cicerchie "alla pizzaiola"
MEDITERRANEAN DIET
Cicerchia In pursuit of old-time flavors
Apulian Cooking
Marzipan fruit
Apulian Cooking
Troccoli with walnut sauce
MEDITERRANEAN DIET
Walnuts Topping up on antioxidants
Apulian Cooking
Spaghetti with clams and samphire
MEDITERRANEAN DIET
Clams Low in calories, high in vitamins and minerals
Apulian Cooking
Lecce's "rustico"
Apulian Cooking
Pot of spring vegetables
MEDITERRANEAN DIET
Potatoes
Apulian Cooking
Scarcella …one of the Easter delicacies
MEDITERRANEAN DIET
Eggs, an extraordinary food
Apulian Cooking
Marzotica …a taste of spring
MEDITERRANEAN DIET
Marzotica ricotta For a calcium hit
Apulian Cooking
Maritati with fresh breadcrumbs
MEDITERRANEAN DIET
Anchovies A "poor fish" rich in goodness
Apulian Cooking
Lentils with lampascioni (grape hyacinths bulbs)
MEDITERRANEAN DIET
Lampascioni (Grape hyacinth bulbs) The viagra of the Ancients
Apulian Cooking
Cakes An alternative to panettone and purceddhruzzi
Apulian Cooking
Pasta with black chick peas from the Foggia Murge
Apulian Cooking
"Olive leaves" Pasta with olives
MEDITERRANEAN DIET
Olives, good and healthy
Apulian Cooking
Green peppers with mussels
MEDITERRANEAN DIET
Garlic A natural antibiotic
Apulian Cooking
Spumone
MEDITERRANEAN DIET
Everything you need to know about ice-cream
Apulian Cooking
Apulian calzone
Apulian Cooking
Foglie mischiate (mixed leaves)
MEDITERRANEAN DIET
Wild herbs, precious for health
Apulian Cooking
Baccalà with spunzali
MEDITERRANEAN DIET
Onions, a concentration of beneficial properties
Apulian Cooking
Artichoke parmigiana
MEDITERRANEAN DIET
Artichokes …so tasty and precious for our health
Apulian Cooking
Purceddhruzzi and carteddhrate to sweeten your Christmas
MEDITERRANEAN DIET
Honey A prodigious food
Apulian Cooking
Apulian focaccia
MEDITERRANEAN DIET
Eulogy to carbohydrates
Apulian Cooking
Red mullet with tomatoes
MEDITERRANEAN DIET
Fish Protein of high biological quality
Apulian Cooking
Poor Man's style zucchini
MEDITERRANEAN DIET
Zucchini An ideal summer food for the table
Apulian Cooking
Stuffed pepper rolls
MEDITERRANEAN DIET
Peppers Super-concentrated
with vitamin C
Apulian Cooking
Pea soup
MEDITERRANEAN DIET
Fresh peas Lots of vitamins and the taste of Spring
Apulian Cooking
Almond paste Easter lambs
MEDITERRANEAN DIET
Almonds So good …and precious for health and beauty
Apulian Cooking
St. Joseph's zeppole
MEDITERRANEAN DIET
Sweets How to stay in shape without feeling deprived
Apulian Cooking
Tubettini pasta with mussels
MEDITERRANEAN DIET
Mussels 
For a full serving of minerals

Apulian Cooking
Pittule
MEDITERRANEAN DIET
Extra virgin olive oil elixir of health and beauty
Apulian Cooking
Leccese Quince
MEDITERRANEAN DIET
The innumerable qualities of quince
Apulian Cooking
Lecce's eggplant parmigiana
MEDITERRANEAN DIET
Eggplant, depurative and very tasty
Apulian Cooking
Burnt grain
MEDITERRANEAN DIET
The tomato king of good health and beauty
Apulian Cooking
Pasticciotto, a delight from Salento
MEDITERRANEAN DIET
Pasticciotto
Apulian Cooking
Purée of fresh fava beans with chicory from Galatina
MEDITERRANEAN DIET
Fresh fava beans Chock full of energy and beauty
Apulian Cooking
Orecchiette with broccoli rabe
MEDITERRANEAN DIET
What makes them good for you…