- FEBRUARY 2018 -
Apulian Cooking
MEDITERRANEAN DIET
Extra virgin olive oil
elixir of health and beauty
A staple ingredient in the Mediterranean diet, it has countless remarkable properties. It is also the best for frying
by Novella Pranzo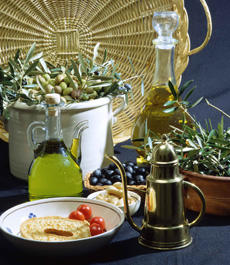 Extra virgin olive oil, as well as being
an excellent food from a nutritional point
of view, has an exquisite taste that
enhances every flavor.
Photo Archivio Fotogramma
Pittule
- 1 kg of whole wheat flour
- 25 g of yeast
- salt
- warm water
- extra virgin olive oil (for frying)
Nutritional table per 100g serving (about 5 pittule)
- energy: 355 Kcal
- protein: 6 g
- fat: 20 g
- carbohydrates: 39 g
- sugar: 1.3 g
- fiber: 2 g
      Pittule are scrumptious! My favorite appetizer.
      Our beloved pittule is a dish from the poor in regards to the ingredients used but it is definitely high-calorie. They are mainly composed of carbohydrates (complex sugars) and, given the type of cooking, also very high in fat.
      But pay attention to the fat, it is here that the truth comes out! It is widely thought that the best oil for frying is a good, light, seed oil. But it is not so. Seed oil, at high cooking temperatures, becomes toxic to the human body, unlike extra virgin olive oil, which is the only vegetable oil rich in monounsaturated fatty acids that can withstand high cooking temperatures. As for the vaunted lightness of seed oil, the truth is exactly the opposite of what the media has argued for years; in fact, the digestibility of extra virgin olive oil has been rated at 100 (thick and tasty) against, for example, a 36 given to corn oil (transparent and tasteless). This means that our stomachs, in order to digest a tablespoon of corn oil, use three times the effort that is required to digest the same amount of extra virgin olive oil. If you compare it to coconut and palm oil, it is true that they also can withstand high cooking temperatures but they are composed of saturated fatty acids of vegetable origins, which are damaging to our arteries, and even more harmful than those derived from animal origins.
      When it comes to olive oil one must first clarify a key difference: extra virgin olive oil is the only oil that is one hundred percent derived from olives, and regular olive oil is only seventy percent olive oil, as the remaining thirty percent consists of other types of oil that have been blended into it.
      A principle ingredient in the Mediterranean diet, it is however a true elixir of health and beauty, and extra virgin olive oil (E.V.O.), which is also the only vegetable oil extracted by pressing olives, is solely obtained by pressure, without manipulation or chemical additives, unlike seed oil (soybean, peanut, sunflower, etc.) or plain olive oil.
       It is so rich in beneficial properties that it would take a book, not an article, to name them all. It mainly contains vitamins E, A, K, D, phenol, squalene and sterol, which have antioxidant properties as well as a protective effect on the body's cells.
      Vitamin E (tocopherol) is present and constitutes a defense against cancer. Phenol is found in olive pulp, and is a strong anti-inflammatory that inhibits platelet aggregation. It can also play a preventative-chemo role on cancer cells.
      Sterol decreases blood levels of total cholesterol and LDL (bad cholesterol) and has an anti-carcinogenic protective effect.
      Regular consumption of E.V.O. oil is good for your health because it constantly exposes one to the anti-inflammatory effects of oleocantale, a substance that leaves a sour, pungent, taste in the mouth.
      It is for all these reasons that the regular consumption of e E.V.O. oil contributes to the prevention and treatment of cardiovascular disease, by decreasing the formation of oxygenated free radicals, which have been implicated in heart attacks and cell aging, and preventing, in part, the development of atherosclerosis and myocardial infarction, in addition to decreasing blood pressure, systolic and diastolic.
      Among the most important effects of E.V.O. oil, is a significant beneficial activity on the digestive system; aiding, in fact, the different stages of digestion and decreasing the secretion of gastric acid, that favors an inhibitory action on gastric and duodenal ulcers. Not only that, but thanks to its constant consumption one can lessen injuries and, in most cases, increase healing. E.V.O. oil is used a lot in the treatment of chronic constipation and to detoxify the liver, and its use decreases the risk of gallstones, since it facilitates the effective action of bile on the emulsion of fat.
      Astoundingly, it also contains the amazing properties of squalene (400-450 mg per 100 g of E.V.O. oil), known for its anti-carcinogenic effects, which mostly protects against pancreatic cancer and is also a constituent of sebum, the oily substance that keeps the top surface layer of the skin hydrated, protecting it from water evaporation. Squalene also has a protective effect against skin cancer, due to its ability to fight free radicals and the absorption of solar radiation.
      Many properties of the olive tree, its leaves, and its fruit had already been noted in ancient and remote times, as old texts have handed down "recipes" of teas, juices and various concoctions that fall between medicine and magic. In the time of ancient Rome, Pliny the Elder described the strong astringent and cleansing powers of olive tree leaves and recommended mashing them, and then mixing them with olive oil to apply as a compress for ulcers and headaches.
      But, apart from legends and magic, ancient wisdom had already intuited the incredible power of olives. 
Related articles
Apulian Cooking
Pittule
More articles
Apulian Cooking
Flour gnocchi with scrum
Apulian Cooking
The scapece of Gallipoli
Apulian Cooking
Cupeta An irresistibile delicacy
Apulian Cooking
Simulata with mussels
Apulian Cooking
Sardine fishballs
Apulian Cooking
"Fruttone", the other face of the pasticciotto
Apulian Cooking
Potato and zucchini soup
Apulian Cooking
Oven-baked pasta with eggplant and tomatoes
Apulian Cooking
Filled wafers
Apulian Cooking
Cuttlefish with artichokes and potatoes
Apulian Cooking
Pisieddhri a cecamariti (Peas cecamariti-style) or Pisieddhri cu li muersi (Peas with fried bread)
Apulian Cooking
Fish soup - Taranto style
MEDITERRANEAN DIET
Fish A precious part of healthy eating
Apulian Cooking
Puccia, pizzi and other delicacies
Apulian Cooking
Troccoli with octopus sauce
MEDITERRANEAN DIET
Octopus Few calories, good proteins
Apulian Cooking
Cherry pistofatru
MEDITERRANEAN DIET
Cherries, a miracle of goodness
Apulian Cooking
Apostles' fingers
MEDITERRANEAN DIET
Ricotta Tasty, nutritious and light
Apulian Cooking
Soup of cicerchie "alla pizzaiola"
MEDITERRANEAN DIET
Cicerchia In pursuit of old-time flavors
Apulian Cooking
Marzipan fruit
Apulian Cooking
Troccoli with walnut sauce
MEDITERRANEAN DIET
Walnuts Topping up on antioxidants
Apulian Cooking
Spaghetti with clams and samphire
MEDITERRANEAN DIET
Clams Low in calories, high in vitamins and minerals
Apulian Cooking
Lecce's "rustico"
Apulian Cooking
Pot of spring vegetables
MEDITERRANEAN DIET
Potatoes
Apulian Cooking
Scarcella …one of the Easter delicacies
MEDITERRANEAN DIET
Eggs, an extraordinary food
Apulian Cooking
Marzotica …a taste of spring
MEDITERRANEAN DIET
Marzotica ricotta For a calcium hit
Apulian Cooking
Maritati with fresh breadcrumbs
MEDITERRANEAN DIET
Anchovies A "poor fish" rich in goodness
Apulian Cooking
Lentils with lampascioni (grape hyacinths bulbs)
MEDITERRANEAN DIET
Lampascioni (Grape hyacinth bulbs) The viagra of the Ancients
Apulian Cooking
Cakes An alternative to panettone and purceddhruzzi
Apulian Cooking
Pasta with black chick peas from the Foggia Murge
Apulian Cooking
"Olive leaves" Pasta with olives
MEDITERRANEAN DIET
Olives, good and healthy
Apulian Cooking
Green peppers with mussels
MEDITERRANEAN DIET
Garlic A natural antibiotic
Apulian Cooking
Spumone
MEDITERRANEAN DIET
Everything you need to know about ice-cream
Apulian Cooking
Apulian calzone
Apulian Cooking
Foglie mischiate (mixed leaves)
MEDITERRANEAN DIET
Wild herbs, precious for health
Apulian Cooking
Baccalà with spunzali
MEDITERRANEAN DIET
Onions, a concentration of beneficial properties
Apulian Cooking
Artichoke parmigiana
MEDITERRANEAN DIET
Artichokes …so tasty and precious for our health
Apulian Cooking
Purceddhruzzi and carteddhrate to sweeten your Christmas
MEDITERRANEAN DIET
Honey A prodigious food
Apulian Cooking
Apulian focaccia
MEDITERRANEAN DIET
Eulogy to carbohydrates
Apulian Cooking
Red mullet with tomatoes
MEDITERRANEAN DIET
Fish Protein of high biological quality
Apulian Cooking
Poor Man's style zucchini
MEDITERRANEAN DIET
Zucchini An ideal summer food for the table
Apulian Cooking
Stuffed pepper rolls
MEDITERRANEAN DIET
Peppers Super-concentrated
with vitamin C
Apulian Cooking
Pea soup
MEDITERRANEAN DIET
Fresh peas Lots of vitamins and the taste of Spring
Apulian Cooking
Almond paste Easter lambs
MEDITERRANEAN DIET
Almonds So good …and precious for health and beauty
Apulian Cooking
St. Joseph's zeppole
MEDITERRANEAN DIET
Sweets How to stay in shape without feeling deprived
Apulian Cooking
Tubettini pasta with mussels
MEDITERRANEAN DIET
Mussels 
For a full serving of minerals

Apulian Cooking
Ciceri e tria (pasta and chickpeas)
MEDITERRANEAN DIET
Chickpeas Precious for good health and very tasty too
Apulian Cooking
Leccese Quince
MEDITERRANEAN DIET
The innumerable qualities of quince
Apulian Cooking
Lecce's eggplant parmigiana
MEDITERRANEAN DIET
Eggplant, depurative and very tasty
Apulian Cooking
Burnt grain
MEDITERRANEAN DIET
The tomato king of good health and beauty
Apulian Cooking
Pasticciotto, a delight from Salento
MEDITERRANEAN DIET
Pasticciotto
Apulian Cooking
Purée of fresh fava beans with chicory from Galatina
MEDITERRANEAN DIET
Fresh fava beans Chock full of energy and beauty
Apulian Cooking
Orecchiette with broccoli rabe
MEDITERRANEAN DIET
What makes them good for you…