- FEBRUARY 2018 -
Apulian Cooking
Pittule
Plain or full of vegetables, "alla pizzaiola" or flavored with fennel seeds, make them according to tradition, and just freshly fried, they are irresistible...
by Dario Ersetti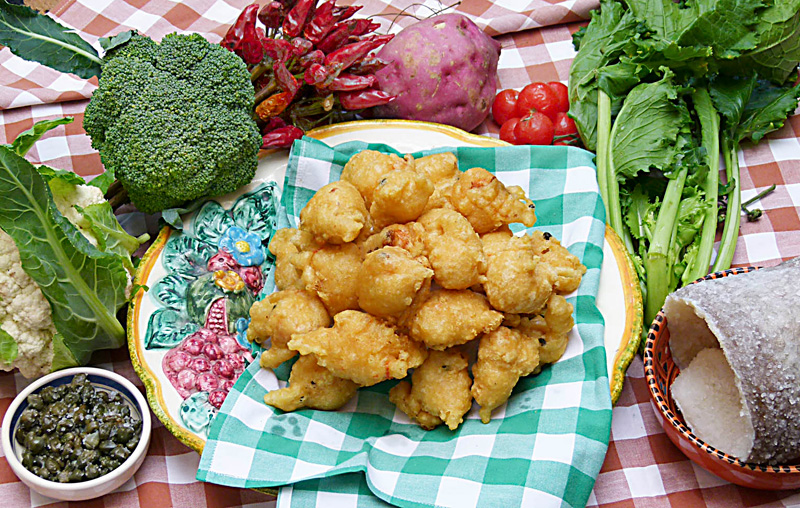 Pittule, plain or in one of their many creative versions with a filling, are one of the tastiest Apulian starters.
Photo by Dario Ersetti
 The name
      "Pittula" or "pittola" is almost certainly the diminutive of "pitta", focaccia. It also has another meaning which is "untucked shirttails" (lu piccinnu cu lla pèttula n culu) that probably derives from the movement with which the pittule were made, by extruding the dough between the thumb and the index finger of the left hand positioned in the form of a fist. The dough would stretch out of the hand, like shirttails do with some shorts. There are various names used in Apulia besides pittula and pittola, such as pèttola, pèttele, pèttulu, pìttala, pètt-li, ppèttulu, pèttala, and also pèttuli (in Brindisi), loffe de mòneche (in Gargano), sckattabotte (in Noci) and pettue nguvatèzze (in Terlizzi), though, in reality, these are transliterations of the same name with different pronunciations. We should not forget that the dialectal intonation in Apulia changes every twenty kilometers, and that the area from Peschici to Capo di Leuca stretches over 400 Km. If we begin with the fact that in Naples they are called "pèttole", and in Calabria (where they also make them in the form of a donut) and in Lecce "pìttule", we can conclude that these two names are the true names and that the other ones are only phonetic variations.
The tradition
      Pittule are a light starter ("di magro" in Italian, which indicates meat-free dishes), and the tradition has always been to serve this dish on the 7th of December, the eve of the Feast of the Immaculate Conception, even if today they are prepared for many other occasions and are inevitable as appetizers at restaurants and trattorie that serve traditional Apulian food. It is a very easy dish to prepare, and as all easy dishes are, difficult to get just right.
      Here is how they were made once upon a time on masserie (local gentrified farms).
      Grain of the last year's harvest, which was stored in a loft in a cool area of a tower at the masseria, was sown on a fertile field where sheep grazed. As soon as the first sprouts would come out, the sheep were brought back to the pasture to eat all the fresh sprouts. That way, the grain would germinate new and more numerous sprouts, that were also more robust. There were no herbicides used, so therefore other types of plants sprouted with their relative seeds, and these got mixed in with the grain even after the threshing. The right measure of grain was taken to a local mill when it was time to make bread and pittule: bread and pittule that had a touching flower-like smell!
      The pittule were then made by the farmer's wife, who with her muscular forearms would knead the dough to just the right consistency, blending it with natural yeast (called the "mother"), which was jealously and religiously guarded for years. The pittule, the plain ones, and the ones with vegetables strictly from the garden, were fried in abundant extra virgin oil produced by the farms' olive trees, over a fire of olive wood and grapevine cuttings.
The recipe
-1 kg of whole wheat flour
- 25 g of brewer's yeast
- salt
- warm water
- extra virgin olive oil (for frying)
      Mix the flour with yeast that has been dissolved in warm water, and add a little salt. The difficulty consists in thoroughly kneading the dough for a good period of time in order to get a very soft mixture, almost like a cream. Put the well kneaded mixture in a large container, cover it, and leave it to rise for at least 2 hours in a warm place.
      The technique for creating pittule needs a little practice. Put a little bit of the mix in your left hand, close that hand to form a fist, and squeeze out little balls of dough through your thumb and index finger. With your right hand, take the little balls as they are squeezed out and put them into the hot frying oil. It seems easy enough, but when you try to do it...
      Fry the pittule until they are of a golden color.
Varieties
      Stuffed pittule require adding boiled vegetables such as cauliflower, broccoli, lampascioni (edible grape hyacinth), celery, and salted anchovies (rinsed) or cooked codfish to the dough. Another recipe, "pizzaiola", calls for onions, tomatoes, capers, black olives, salted anchovies, and hot red pepper.
      In the area of the Murge hills near Bari they also make pittule with fennel seeds, which give them a refreshing taste.
      To make pittule stuffed with vegetables, boil the vegetables until they are half cooked, chop them, and then fold them into the dough, making sure they are well covered.
      Some people also put boiled, grated potatoes in the flour mixture, in the proportion of 1/2 kg of potatoes for every kilo of flour, and others mix refined flour with the whole wheat flour (half and half). Still others use a spoon to form the pittule, and some use pre-packaged, frozen pittule made who knows where or how.
      Plain or stuffed, pittule are irresistible, but after you have been amazed by those prepared the old fashioned way, try not to turn up your nose at the ones that many restaurants serve.
Related articles
MEDITERRANEAN DIET
Extra virgin olive oil elixir of health and beauty
More articles
Apulian Cooking
Flour gnocchi with scrum
Apulian Cooking
The scapece of Gallipoli
Apulian Cooking
Cupeta An irresistibile delicacy
Apulian Cooking
Simulata with mussels
Apulian Cooking
Sardine fishballs
Apulian Cooking
"Fruttone", the other face of the pasticciotto
Apulian Cooking
Potato and zucchini soup
Apulian Cooking
Oven-baked pasta with eggplant and tomatoes
Apulian Cooking
Filled wafers
Apulian Cooking
Cuttlefish with artichokes and potatoes
Apulian Cooking
Pisieddhri a cecamariti (Peas cecamariti-style) or Pisieddhri cu li muersi (Peas with fried bread)
Apulian Cooking
Fish soup - Taranto style
MEDITERRANEAN DIET
Fish A precious part of healthy eating
Apulian Cooking
Puccia, pizzi and other delicacies
Apulian Cooking
Troccoli with octopus sauce
MEDITERRANEAN DIET
Octopus Few calories, good proteins
Apulian Cooking
Cherry pistofatru
MEDITERRANEAN DIET
Cherries, a miracle of goodness
Apulian Cooking
Apostles' fingers
MEDITERRANEAN DIET
Ricotta Tasty, nutritious and light
Apulian Cooking
Soup of cicerchie "alla pizzaiola"
MEDITERRANEAN DIET
Cicerchia In pursuit of old-time flavors
Apulian Cooking
Marzipan fruit
Apulian Cooking
Troccoli with walnut sauce
MEDITERRANEAN DIET
Walnuts Topping up on antioxidants
Apulian Cooking
Spaghetti with clams and samphire
MEDITERRANEAN DIET
Clams Low in calories, high in vitamins and minerals
Apulian Cooking
Lecce's "rustico"
Apulian Cooking
Pot of spring vegetables
MEDITERRANEAN DIET
Potatoes
Apulian Cooking
Scarcella …one of the Easter delicacies
MEDITERRANEAN DIET
Eggs, an extraordinary food
Apulian Cooking
Marzotica …a taste of spring
MEDITERRANEAN DIET
Marzotica ricotta For a calcium hit
Apulian Cooking
Maritati with fresh breadcrumbs
MEDITERRANEAN DIET
Anchovies A "poor fish" rich in goodness
Apulian Cooking
Lentils with lampascioni (grape hyacinths bulbs)
MEDITERRANEAN DIET
Lampascioni (Grape hyacinth bulbs) The viagra of the Ancients
Apulian Cooking
Cakes An alternative to panettone and purceddhruzzi
Apulian Cooking
Pasta with black chick peas from the Foggia Murge
Apulian Cooking
"Olive leaves" Pasta with olives
MEDITERRANEAN DIET
Olives, good and healthy
Apulian Cooking
Green peppers with mussels
MEDITERRANEAN DIET
Garlic A natural antibiotic
Apulian Cooking
Spumone
MEDITERRANEAN DIET
Everything you need to know about ice-cream
Apulian Cooking
Apulian calzone
Apulian Cooking
Foglie mischiate (mixed leaves)
MEDITERRANEAN DIET
Wild herbs, precious for health
Apulian Cooking
Baccalà with spunzali
MEDITERRANEAN DIET
Onions, a concentration of beneficial properties
Apulian Cooking
Artichoke parmigiana
MEDITERRANEAN DIET
Artichokes …so tasty and precious for our health
Apulian Cooking
Purceddhruzzi and carteddhrate to sweeten your Christmas
MEDITERRANEAN DIET
Honey A prodigious food
Apulian Cooking
Apulian focaccia
MEDITERRANEAN DIET
Eulogy to carbohydrates
Apulian Cooking
Red mullet with tomatoes
MEDITERRANEAN DIET
Fish Protein of high biological quality
Apulian Cooking
Poor Man's style zucchini
MEDITERRANEAN DIET
Zucchini An ideal summer food for the table
Apulian Cooking
Stuffed pepper rolls
MEDITERRANEAN DIET
Peppers Super-concentrated
with vitamin C
Apulian Cooking
Pea soup
MEDITERRANEAN DIET
Fresh peas Lots of vitamins and the taste of Spring
Apulian Cooking
Almond paste Easter lambs
MEDITERRANEAN DIET
Almonds So good …and precious for health and beauty
Apulian Cooking
St. Joseph's zeppole
MEDITERRANEAN DIET
Sweets How to stay in shape without feeling deprived
Apulian Cooking
Tubettini pasta with mussels
MEDITERRANEAN DIET
Mussels 
For a full serving of minerals

Apulian Cooking
Ciceri e tria (pasta and chickpeas)
MEDITERRANEAN DIET
Chickpeas Precious for good health and very tasty too
Apulian Cooking
Leccese Quince
MEDITERRANEAN DIET
The innumerable qualities of quince
Apulian Cooking
Lecce's eggplant parmigiana
MEDITERRANEAN DIET
Eggplant, depurative and very tasty
Apulian Cooking
Burnt grain
MEDITERRANEAN DIET
The tomato king of good health and beauty
Apulian Cooking
Pasticciotto, a delight from Salento
MEDITERRANEAN DIET
Pasticciotto
Apulian Cooking
Purée of fresh fava beans with chicory from Galatina
MEDITERRANEAN DIET
Fresh fava beans Chock full of energy and beauty
Apulian Cooking
Orecchiette with broccoli rabe
MEDITERRANEAN DIET
What makes them good for you…