- FEBRUARY 2018 -
Apulian Cooking
Pasticciotto, a delight from Salento
A typical treat from Lecce and its surrounding areas, made with a sweet crust and pastry cream.
You can find exquisite ones in all the famous pastry shops, but making them at home is not very difficult.
They are best eaten fresh out of the oven
by Dario Ersetti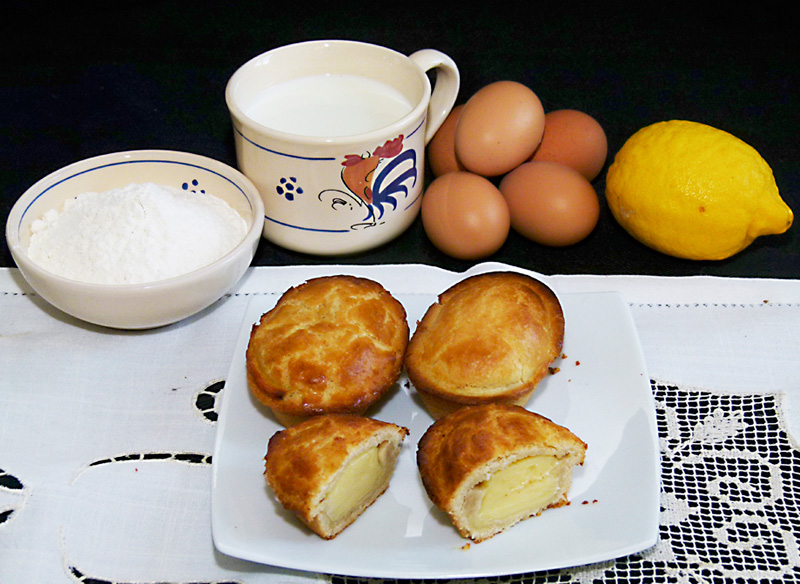 Pasticciotti. With genuine ingredients, like fresh milk and eggs, sugar and lemon rind, you prepare the
cream to fill them. Photo by Dario Ersetti
       It is curious that an exquisite treat that is easy to make has remained the property of a single geographic region: Salento.
      Nobody knows from where it came, but the most credible hypothesis is that it is the child of a double crust cream pie, that itself was related to a sweet ricotta cake, both born in the beginning of the 1700's in local pastry shops in Salento. In practice, it is a single serving cake with a crust. The city of Lecce has named the pasticciotto as the typical Lecce cake, and it is listed on the national food product list of traditional foods by the Ministry of Political Agricultural Foods and Forestry (according to Art. 8, in the legislative decree of April 30th 1998, n. 173).
      There are places you must not miss if you want to taste great pasticciotti and compare them. The first pasticciotto bakery that comes to mind is named Ascalone, in Galatina, about twenty kilometers from Lecce. Wikipedia and other experts claim Ascalone as the inventor of the pasticciotto, and some also fix the date at 1745. Then in Martano, also near Lecce, there is the Ficile pastry shop, that changed owners a few years ago on condition that the original pasticciotto recipe was included in the deal. For the people of Lecce, the pasticciotto reference points are Natale Patisserie, the CinCin Bar, and Alvino's Bar, all located in St. Oronzo Square (because they use the original shortening crust). Other traditional bakeries that make great pasticciotti in other parts of Lecce are Franchini, Capilungo, Citiso, and Carmelino. Nobile, in San Cataldo (Lecce) is also famous for its pasticciotti which are baked fresh daily, more than once a day, and immediately sold out.
      An original marketing ploy by pastry chef Angelo Bisconti from the Chèri pastry shop in Campi Salentina, is a pasticciotto dedicated to President Obama of the United States. It is a pasticciotto made with a chocolate crust and has chocolate cream, certainly not as an offense but as a tribute to an "exquisite" President.
Recipe
Makes about 10 pasticiotti:
For the PASTRY DOUGH:
- 250 g of all-purpose flour
- 125 g of butter or shortening
- 125 g of sugar
- 2 egg yolks
- 1 teaspoon of baking powder
- a pinch of salt
For the PASTRY CREAM:
- 1/2 liter of milk
- 125 g of sugar
- 4 egg yolks
- 50 g of all-purpose flour
- 1/2 of a vanilla bean stick or a little lemon zest
      To prepare the crust, cut the butter into small pieces with two knives and leave it to soften. Shift the flour into a pile on a cutting board and mix it with salt, baking powder, and sugar. Put the butter into the center of the pile and using your fingers, mix with flour mixture until butter has been absorbed. Add egg yolks to mixture and mix thoroughly, then quickly round mixture into a ball. The result should be homogeneous, but not flakey. Cover with plastic film and let it chill in the refrigerator for at least a half an hour, or until you are ready to use it.
     While the dough is chilling, prepare the cream. In a pan, bring the milk to boil with vanilla bean or lemon zest. Remove from heat and let mixture cool for a few minutes. Then remove vanilla bean. Mix flour and sugar in a bowl and add egg yolks. Mix well with a wire whisk then add in a little of the hot milk mixture. Slowly add the egg mixture to the pan with the milk mixture, a little at a time, stirring constantly with wire whisk, or it will stick to the bottom of the pan. Boil on low heat until cream is thick.
     Roll the chilled dough out with a rolling pin till it is three or four mm. thick, and cut to shape with pastry cutter form. Place bottom pieces into individual oval shaped molds, making sure the crust stretches up to the top of the sides. Fill with pastry cream and cover with top crust, pinching the crust edges together. Brush top with beaten egg yolk and cook at 200° c for about a half an hour. Best eaten hot, fresh out of the oven.
Related articles
MEDITERRANEAN DIET
Pasticciotto
More articles
Apulian Cooking
Flour gnocchi with scrum
Apulian Cooking
The scapece of Gallipoli
Apulian Cooking
Cupeta An irresistibile delicacy
Apulian Cooking
Simulata with mussels
Apulian Cooking
Sardine fishballs
Apulian Cooking
"Fruttone", the other face of the pasticciotto
Apulian Cooking
Potato and zucchini soup
Apulian Cooking
Oven-baked pasta with eggplant and tomatoes
Apulian Cooking
Filled wafers
Apulian Cooking
Cuttlefish with artichokes and potatoes
Apulian Cooking
Pisieddhri a cecamariti (Peas cecamariti-style) or Pisieddhri cu li muersi (Peas with fried bread)
Apulian Cooking
Fish soup - Taranto style
MEDITERRANEAN DIET
Fish A precious part of healthy eating
Apulian Cooking
Puccia, pizzi and other delicacies
Apulian Cooking
Troccoli with octopus sauce
MEDITERRANEAN DIET
Octopus Few calories, good proteins
Apulian Cooking
Cherry pistofatru
MEDITERRANEAN DIET
Cherries, a miracle of goodness
Apulian Cooking
Apostles' fingers
MEDITERRANEAN DIET
Ricotta Tasty, nutritious and light
Apulian Cooking
Soup of cicerchie "alla pizzaiola"
MEDITERRANEAN DIET
Cicerchia In pursuit of old-time flavors
Apulian Cooking
Marzipan fruit
Apulian Cooking
Troccoli with walnut sauce
MEDITERRANEAN DIET
Walnuts Topping up on antioxidants
Apulian Cooking
Spaghetti with clams and samphire
MEDITERRANEAN DIET
Clams Low in calories, high in vitamins and minerals
Apulian Cooking
Lecce's "rustico"
Apulian Cooking
Pot of spring vegetables
MEDITERRANEAN DIET
Potatoes
Apulian Cooking
Scarcella …one of the Easter delicacies
MEDITERRANEAN DIET
Eggs, an extraordinary food
Apulian Cooking
Marzotica …a taste of spring
MEDITERRANEAN DIET
Marzotica ricotta For a calcium hit
Apulian Cooking
Maritati with fresh breadcrumbs
MEDITERRANEAN DIET
Anchovies A "poor fish" rich in goodness
Apulian Cooking
Lentils with lampascioni (grape hyacinths bulbs)
MEDITERRANEAN DIET
Lampascioni (Grape hyacinth bulbs) The viagra of the Ancients
Apulian Cooking
Cakes An alternative to panettone and purceddhruzzi
Apulian Cooking
Pasta with black chick peas from the Foggia Murge
Apulian Cooking
"Olive leaves" Pasta with olives
MEDITERRANEAN DIET
Olives, good and healthy
Apulian Cooking
Green peppers with mussels
MEDITERRANEAN DIET
Garlic A natural antibiotic
Apulian Cooking
Spumone
MEDITERRANEAN DIET
Everything you need to know about ice-cream
Apulian Cooking
Apulian calzone
Apulian Cooking
Foglie mischiate (mixed leaves)
MEDITERRANEAN DIET
Wild herbs, precious for health
Apulian Cooking
Baccalà with spunzali
MEDITERRANEAN DIET
Onions, a concentration of beneficial properties
Apulian Cooking
Artichoke parmigiana
MEDITERRANEAN DIET
Artichokes …so tasty and precious for our health
Apulian Cooking
Purceddhruzzi and carteddhrate to sweeten your Christmas
MEDITERRANEAN DIET
Honey A prodigious food
Apulian Cooking
Apulian focaccia
MEDITERRANEAN DIET
Eulogy to carbohydrates
Apulian Cooking
Red mullet with tomatoes
MEDITERRANEAN DIET
Fish Protein of high biological quality
Apulian Cooking
Poor Man's style zucchini
MEDITERRANEAN DIET
Zucchini An ideal summer food for the table
Apulian Cooking
Stuffed pepper rolls
MEDITERRANEAN DIET
Peppers Super-concentrated
with vitamin C
Apulian Cooking
Pea soup
MEDITERRANEAN DIET
Fresh peas Lots of vitamins and the taste of Spring
Apulian Cooking
Almond paste Easter lambs
MEDITERRANEAN DIET
Almonds So good …and precious for health and beauty
Apulian Cooking
St. Joseph's zeppole
MEDITERRANEAN DIET
Sweets How to stay in shape without feeling deprived
Apulian Cooking
Tubettini pasta with mussels
MEDITERRANEAN DIET
Mussels 
For a full serving of minerals

Apulian Cooking
Ciceri e tria (pasta and chickpeas)
MEDITERRANEAN DIET
Chickpeas Precious for good health and very tasty too
Apulian Cooking
Pittule
MEDITERRANEAN DIET
Extra virgin olive oil elixir of health and beauty
Apulian Cooking
Leccese Quince
MEDITERRANEAN DIET
The innumerable qualities of quince
Apulian Cooking
Lecce's eggplant parmigiana
MEDITERRANEAN DIET
Eggplant, depurative and very tasty
Apulian Cooking
Burnt grain
MEDITERRANEAN DIET
The tomato king of good health and beauty
Apulian Cooking
Purée of fresh fava beans with chicory from Galatina
MEDITERRANEAN DIET
Fresh fava beans Chock full of energy and beauty
Apulian Cooking
Orecchiette with broccoli rabe
MEDITERRANEAN DIET
What makes them good for you…