- FEBRUARY 2018 -
Apulian Cooking
MEDITERRANEAN DIET
What makes them good for you…
Orecchiette with broccoli rabe, a typical Mediterranean dish loaded with antioxidants
by Novella Pranzo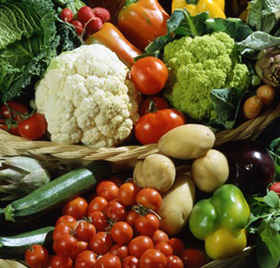 Vegetables and fruit, along with cereals are
the staples of the Mediterranean diet.
Photo Archivio Fotogramma
4 servings:

- 1 lb. orecchiette
- 1 lb. broccoli rabe tips
- 5 tablespoonsful of extra-virgin olive oil
- salt
- freshly ground black pepper
- 3 cloves of garlic
- 5 anchovy fillets
- chilli pepper
- 2 oz. grated ricotta tosta or pecorino
  (ewe's milk cheese)
Nutrition facts per serving:

- Energy: 600 Kcal
- Protein: 18,5 g
- Fats: 25 g (saturated fatty acids: 4,5 g)
- Sugars: 80 g (soluble sugars: 12,45 g)
- Fiber: 8,5 g
      In November 2010 the Mediterranean diet won the prestigious "Intangible Cultural Heritage of Humanity" title from UNESCO (United Nations Educational, Scientific and Cultural Organization). Referring to as the "poor" diet it is based on the consumption of fruit and vegetables, pasta, legumes, fish, polyunsaturated fatty acids such as extra virgin olive oil as well as fresh food in general. It is also tied to the idea of local and seasonal healthy cuisine that Food Science specialists rave about for its power in cancer prevention, heart attacks, atherosclerosis.  So what's better than a typical seasonal Mediterranean recipe such as orecchiette with broccoli rabe? It is very easy to cook and has ingredients rich in antioxidants.
      Broccoli rabe is recommended for its high content of vitamins, minerals and antioxidants. It contains calcium, phosphorus, vitamin C, B2 and A and it is considered a natural body cleanser. Epidemiological studies have shown the cancer preventing properties of cruciferous vegetables such as broccoli rabe, broccoli, cabbage, cauliflower and Brussel sprouts.  Normally the higher the cruciferous consumption the lower the incidence of cancer, especially colon and breast. They stimulate the defense mechanisms that help the body detox itself getting rid of harmful chemical products and dangerous hormones.
      Anchovy, a common mediterranean fish, belongs to the renowned family of oily fish.  They are rich in omega 3 fatty acids, protein, riboflavin, niacin, calcium, iron, phosphorus and selenium. Their omega 3 fatty acid content makes them key in brain development and protecting the heart and arteries. They are an excellent source of calcium as well as a natural supplement for osteoporosis.
      Extra virgin olive oil is a prime component of the mediterranean diet. It's the only oil made simply of fresh pressed olives, without the aid of chemical solvents or other industrial processes used for other oils or vegetable fats. Thereby this oil preserves all of the natural substances found in olive fruits. Extra virgin olive oil contains a significant amount of powerful antioxidants, vitamin E and polyphenols while it's low in saturated fats  which play a major role in increasing cholesterol levels in blood. It is rich in monounsaturated fats, also known as oleic acid, and contains w6 and w3 polyunsaturated fats in good ratio, keeping our body healthy.
      And let's not forget about hot pepper, a pinch of fire that heats up every dish. It is one of the most common spices, largely used in traditional cuisines all over the world including of course Mediterranean cuisine. Unlike pepper, which is notoriously unhealthy and commonly considered an option in recipes, hot pepper has many beneficial properties. It promotes the secretion of gastric juices aiding in digestion. Additionally it has anticholesterol as well as vasodilator properties helping blood vessels to stay elastic while oxigenating the blood. It is a powerful cancer fighter due to its content of vitamin C which stregthens the immune system against tumor formations. It has decongestant and anti-inflammatory powers and consequently it can be used for relieving sore/hoarse throats, and coughs. Hot pepper helps prevent heart attacks and cardiovascular diesease. Its consistent use lowers cholesterol levels in turn strengthening arteries and the heart due to the high content of unsaturated fats contained in its seeds which also cleanse blood vessels.
      Orecchiette from Lecce, made with barley or whole wheat, is richer in fiber compared with that made of bran, and thereby more valuable from a nutritional point of view.
      All and all, this is a healthy and delicious dish, but high in calories. If you're dieting or overweight there's an easy way to enjoy this typical Apulian tasty dish free of guilt: halve your serving. 
Related articles
Apulian Cooking
Orecchiette with broccoli rabe
More articles
Apulian Cooking
Flour gnocchi with scrum
Apulian Cooking
The scapece of Gallipoli
Apulian Cooking
Cupeta An irresistibile delicacy
Apulian Cooking
Simulata with mussels
Apulian Cooking
Sardine fishballs
Apulian Cooking
"Fruttone", the other face of the pasticciotto
Apulian Cooking
Potato and zucchini soup
Apulian Cooking
Oven-baked pasta with eggplant and tomatoes
Apulian Cooking
Filled wafers
Apulian Cooking
Cuttlefish with artichokes and potatoes
Apulian Cooking
Pisieddhri a cecamariti (Peas cecamariti-style) or Pisieddhri cu li muersi (Peas with fried bread)
Apulian Cooking
Fish soup - Taranto style
MEDITERRANEAN DIET
Fish A precious part of healthy eating
Apulian Cooking
Puccia, pizzi and other delicacies
Apulian Cooking
Troccoli with octopus sauce
MEDITERRANEAN DIET
Octopus Few calories, good proteins
Apulian Cooking
Cherry pistofatru
MEDITERRANEAN DIET
Cherries, a miracle of goodness
Apulian Cooking
Apostles' fingers
MEDITERRANEAN DIET
Ricotta Tasty, nutritious and light
Apulian Cooking
Soup of cicerchie "alla pizzaiola"
MEDITERRANEAN DIET
Cicerchia In pursuit of old-time flavors
Apulian Cooking
Marzipan fruit
Apulian Cooking
Troccoli with walnut sauce
MEDITERRANEAN DIET
Walnuts Topping up on antioxidants
Apulian Cooking
Spaghetti with clams and samphire
MEDITERRANEAN DIET
Clams Low in calories, high in vitamins and minerals
Apulian Cooking
Lecce's "rustico"
Apulian Cooking
Pot of spring vegetables
MEDITERRANEAN DIET
Potatoes
Apulian Cooking
Scarcella …one of the Easter delicacies
MEDITERRANEAN DIET
Eggs, an extraordinary food
Apulian Cooking
Marzotica …a taste of spring
MEDITERRANEAN DIET
Marzotica ricotta For a calcium hit
Apulian Cooking
Maritati with fresh breadcrumbs
MEDITERRANEAN DIET
Anchovies A "poor fish" rich in goodness
Apulian Cooking
Lentils with lampascioni (grape hyacinths bulbs)
MEDITERRANEAN DIET
Lampascioni (Grape hyacinth bulbs) The viagra of the Ancients
Apulian Cooking
Cakes An alternative to panettone and purceddhruzzi
Apulian Cooking
Pasta with black chick peas from the Foggia Murge
Apulian Cooking
"Olive leaves" Pasta with olives
MEDITERRANEAN DIET
Olives, good and healthy
Apulian Cooking
Green peppers with mussels
MEDITERRANEAN DIET
Garlic A natural antibiotic
Apulian Cooking
Spumone
MEDITERRANEAN DIET
Everything you need to know about ice-cream
Apulian Cooking
Apulian calzone
Apulian Cooking
Foglie mischiate (mixed leaves)
MEDITERRANEAN DIET
Wild herbs, precious for health
Apulian Cooking
Baccalà with spunzali
MEDITERRANEAN DIET
Onions, a concentration of beneficial properties
Apulian Cooking
Artichoke parmigiana
MEDITERRANEAN DIET
Artichokes …so tasty and precious for our health
Apulian Cooking
Purceddhruzzi and carteddhrate to sweeten your Christmas
MEDITERRANEAN DIET
Honey A prodigious food
Apulian Cooking
Apulian focaccia
MEDITERRANEAN DIET
Eulogy to carbohydrates
Apulian Cooking
Red mullet with tomatoes
MEDITERRANEAN DIET
Fish Protein of high biological quality
Apulian Cooking
Poor Man's style zucchini
MEDITERRANEAN DIET
Zucchini An ideal summer food for the table
Apulian Cooking
Stuffed pepper rolls
MEDITERRANEAN DIET
Peppers Super-concentrated
with vitamin C
Apulian Cooking
Pea soup
MEDITERRANEAN DIET
Fresh peas Lots of vitamins and the taste of Spring
Apulian Cooking
Almond paste Easter lambs
MEDITERRANEAN DIET
Almonds So good …and precious for health and beauty
Apulian Cooking
St. Joseph's zeppole
MEDITERRANEAN DIET
Sweets How to stay in shape without feeling deprived
Apulian Cooking
Tubettini pasta with mussels
MEDITERRANEAN DIET
Mussels 
For a full serving of minerals

Apulian Cooking
Ciceri e tria (pasta and chickpeas)
MEDITERRANEAN DIET
Chickpeas Precious for good health and very tasty too
Apulian Cooking
Pittule
MEDITERRANEAN DIET
Extra virgin olive oil elixir of health and beauty
Apulian Cooking
Leccese Quince
MEDITERRANEAN DIET
The innumerable qualities of quince
Apulian Cooking
Lecce's eggplant parmigiana
MEDITERRANEAN DIET
Eggplant, depurative and very tasty
Apulian Cooking
Burnt grain
MEDITERRANEAN DIET
The tomato king of good health and beauty
Apulian Cooking
Pasticciotto, a delight from Salento
MEDITERRANEAN DIET
Pasticciotto
Apulian Cooking
Purée of fresh fava beans with chicory from Galatina
MEDITERRANEAN DIET
Fresh fava beans Chock full of energy and beauty