- FEBRUARY 2018 -
Dialect Proverbs
That bad reputation priests have…
Prèiti e ffrati Mai bbinchiati
[Priests and friars
Can never get enough]
(Salento)
by Alberto Sobrero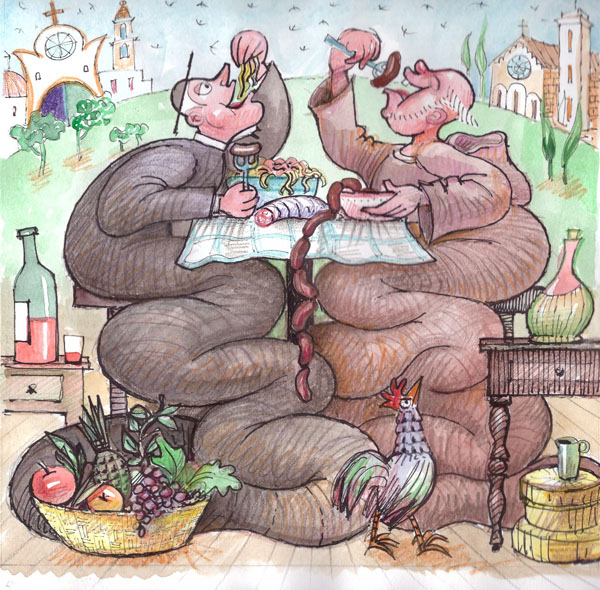 Bruno Maggio. China
This is one of the many, very many, proverbs with priests as their protagonists. The priest was a central figure in the organization of a rural community: he was in charge of all the rites of passage in everyone's personal lives (birth, marriage and death) and social lives. He was the depositary – through the confessions made – of the most intimate secrets of all the community, he was the advisor most listened to, preacher and – as we say these days – first-rate motivator. He was even the unchallenged master of an esoteric language with a magic sound to it – Latin  – and he could have the last word on the destiny of lots of people (get someone's child into college or cast a social stigma on someone who would never be able to shake it off, simply by chastising them from the pulpit). 
By looking at proverbs – containers of stereotypes and social prejudices – we can get an idea of the impact of this figure on the whole of the town, understand to what extent and why he was loved/hated, admired/despised, feared, envied, or revered…
I've taken a look at Salento proverbs, choosing those that have priests and monks as protagonists. Below is a brief review of those that are, proverbially, their main vices and defects. 
•
They are scroungers:
fìmmine, avvucati e pprèiti
/ o
gne staggione mètene
 "Women, lawyers and priests/ they harvest in every season"
•
Even worse, they are avid, lustful and greedy:  
ngurdizzia de prèite
/
misericordia de Ddiu
/
e ssite de ferraru
/
su' ttre cose nfinite
"priests' greed / God's mercy/ and the blacksmith's thirst/ are three things which are infinite";
cani, prèiti e ccaddi
/
nu sse bbinchiane mai
"dogs, priests and cockerels / can never get enough"
•
They are cunning:
ttre su' li suttili:
/
li mònici, li prèiti e cci nu tene fili
"three types of people are shrewd/ friars, priests and the childless"
•
They are obstinate:
fìmmana, mulu e pprete
/
cchiù ccucciuti nu nci nn'ète
"women, mule or priest / there's no-one more stubborn";
•
They are mellifluous:
prèiti, monici e ccani
/
sempre pronti tte lìccane
"priests, friars and dogs, always ready to lick you"
•
They are interfering:
lu monicu de la Lizza
[a church near Parabita] /
a ttutte vanne va' sse mpizza
"the friar of Lizza / pokes his nose in every corner"
•
They are wicked and insensitive:
monici e pprèiti de carità su' pprivi
/
fùttene li morti, e strafùttene li vivi
"friars and priests lack charity / they screw the dead and do even worse to the living"
•
They are vindicative:
odiu de prèiti, vendetta de mònici
/
e rrugna d'ebbrei, mise-rere mei
"the hatred of priests, the vendetta of friars/ the mange of Jews, woe is me  "
But there's more, much more. Some proverbs are overflowing with acrimony: priests appear in a list that we could call a ranking of thieves, even alongside brigands: prèiti e bbricanti / cèrcane cuntant"; lu prèite cu lla stola / lu banditu cu lla pistola / cce òlene òlene "the priest with his vestment / the bandit with his pistol / whatever they want they want".
And that's not all: the suggestions become instigations to carry out further action, in a Rossini-style crescendo; you have to keep them at arm's length (prèiti, monici e ccani / stàmune sempre luntani), you have to be ready to come to blows (preiti, monici e ccani / teni sempre la mazza a li mani "always keep your stick with-in reach"), even strike them on the head and take to your heels (mònici, prèiti e pàssari / càzzali la capu e llàssali "friars, priests and sparrows / a blow to the head and leave them there").
One thing is particularly striking: they are all negative stereotypes, but in a sense generic. They could apply  – and often do – to lawyers or doctors. So why this specific obsession with priests and friars? 
Maybe some other proverbs could throw a little light on the question, as they outline ferocious profiles of priests on a more "sensitive" level: sexual, social and religious.  
Quannu de maritati, de prèiti e dde frati se face ncantare /la fìmmana mutu perde pe ppocu guadagnare "when they are taken in by married men, priests or fri-ars, women lose a lot to gain very little"; lu monicu ca cerca / cerca pe ddoi "the friar who is looking for something / is looking for two [for his girlfriend too]": meaning that priests and friars allow themselves to be entrapped by women. And this sets off the alarm bells of the male sense of possession regarding the female. 
Duttori, avvucati e pprèiti / nu sputane mai a llu piatti "never spit in their own dish": meaning that they are part of the ruling class, they are always on the side of whoever is in charge, and this provokes diffidence and hostility in those people who spend their lifetime on the side of the weak, and see, in these choices, habits and behavior which are contrary to what is found in the Gospel.   
That this incoherence between the preaching and the lived life is central to the negative depiction of priests is confirmed by two last proverbs with a religious basis: prèiti e mmonici / sèntite missa e ffusci "priests and friars / hear the Mass and run away"; prèiti an terra, prèiti an cèlu / picca prèiti a llu vangelu "priests on the Earth, priests in heaven / no priests in the Gospel".
The Mass is not criticized, and neither is the Gospel; just the opposite, they are the fulcrum of spiritual and moral life; what is criticized is the priests who behave so unworthily outside of the Mass and do not follow the way indicated by the Gospel. 
The deeper reasons are thus perfectly pertinent to the specific nature of priesthood, and touch on questions that are still relevant these days: in modern terms, the celibate life, a choice of life true to the Gospel. 
These proverbs: they seem to come from a prehistoric age, then you discover they are very topical. They even make you wonder: could it be that Pope Frances' pastoral doctrine draw its inspiration from our folk sayings?