- FEBRUARY 2018 -
Dialect Proverbs
If the branch indicates quality…
U mmìire bbuène non ave abbeseggne de frasche
[Good wine needs no branches]
(Bari)
by Alberto Sobrero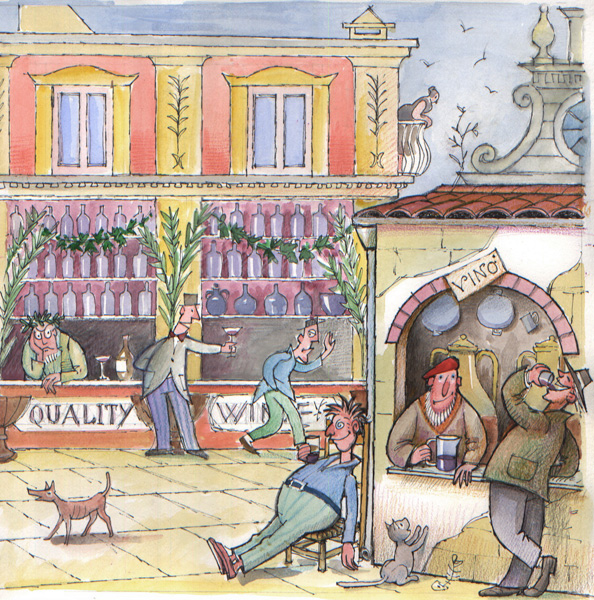 Bruno Maggio. China
In peasant traditions, the frasca (branch) was a small frond (usually bay leaves or palm), with all its leaves, which was hung on the door of a country inn where wine was served. It acted as an advertising sign, inviting people to come in and drink or buy wine. The meaning of the proverb is therefore easy to see: if the wine is good it doesn't need publicity.
One immediately thinks of the importance of wine in the eating habits of the peasant world (it supplied the energy that many people lacked due to the widespread poverty; it granted one of the few pleasures that were available; it allowed a few moments of oblivion, alleviating the pains of lives filled with hardship), and one also thinks of how different life was in a world where the success of a product on the market was achieved by word-of-mouth, and publicity – when there was any – came in signs that were uncomplicated and easy to decipher. For example, a branch hanging on the door.
But today I would like to draw the reader's attention to another aspect, which we have never dealt with.
This column is devoted to Salentinian and Apulian proverbs. This one is an Apulian proverb, and if we look closely it tells us about the civilization and the culture – in the broad sense – of this region. The area where a proverb is commonly used is not necessarily confined to a region, a province or an even smaller area: there are proverbs whose circulation (the area where it is used) is larger: at times it may cover several regions, at times even the whole of Italy, and in some cases may cross the Alps, naturally expressed in different languages. Our proverb is one of these. We find it not only in Salento (Quandu lu vinu è bbonu, lu vindi puru senza frasca) but also in many parts of southern Italy (for instance in Molise: Le vine vuone se vènne senza frasca), central Italy – Lazio, Tuscany, Umbria – and northern Italy (Emilia: in Modena Al vein boun al n'ha bisegn ed frasca), Lombardy (remember The betrothed), Veneto, Friuli (Al vin bon ne ghe serve frasca); as well as in other romance language areas (Spain, France). It seems to be found wherever there is – or was – the custom of marking the presence of a wine-shop with a branch. If this is so, the area is very extensive, because today a quick search on the Internet will show, scattered all over Italy, more than two hundred wine and liquor outlets called The branch, Branches, The Branch Inn etc.
Naturally it varies with the dialect, but the spirit is always the same because, at the time when these proverbs spread, there was one single, or very similar, form of tangible peasant culture, whether they were by the sea, in the mountains, Bourbon or Savoyard.
This applies to its extension in space. But similar observations can also be made about its extension in time. It is true that for almost all proverbs we are unable to date their origin, for the obvious reason that they were spread orally and therefore began to be written down rather late, if not very recently. However, in some cases evidence does exist, thanks to quotes in adages, moral texts, public manifestos etc.
In this temporal dimension, too, our proverb is in a privileged position, because it extends far beyond the 'here and now': it goes back past the two or three centuries we are used to, and skips a couple of millennia. The Romans used to say Laudato vino non opus est hedera or also Vino vendibili suspensa hedera nihil opus. In fact, "An acclaimed wine has no need of ivy", for they too used to hang up a branch – which seems to have been a sprig of ivy – on the doors of inns where wine was drunk and sold.
In short, on the one hand, proverbs follow typical, easy-to-identify patterns and on the other, they are subject to all the variability – spatial and temporal – that marks man's culture. They are the bare flesh of his history.