- FEBRUARY 2018 -
Dialect Proverbs
Be prepared for disappointment!
Quannu te cridi ca ài mangiare sagne
Troi foja de cicore catalogne
[When you think you'll be eating lasagna,
in the plate you find chicory leaves]
(Salento)
by Alberto Sobrero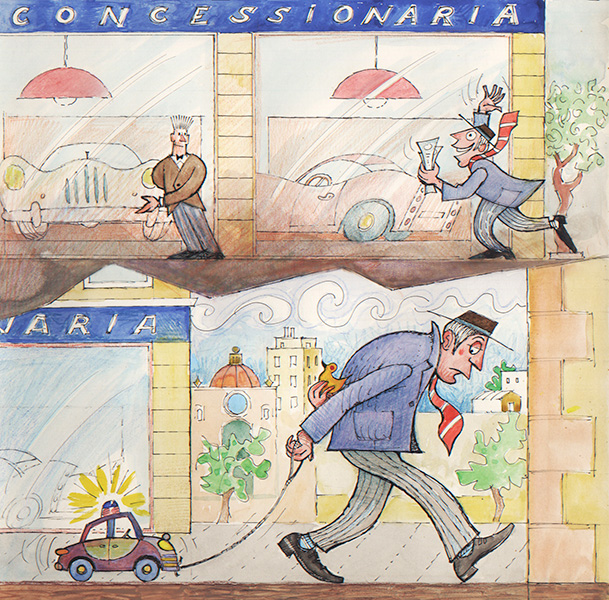 Bruno Maggio. China
This moralizing proverb more or less means "be ready for disappointments: when you think you're finally in luck you may find yourself unexpectedly ruined". Let's try to strip it of the metaphors and look at its literal meaning. There are two central elements: lasagne and chicory. The moral message can only be understood if it is common knowledge that lasagne is a delicacy and chicory is the poorest of foods.
The same thing can be done with many other proverbs, which if taken literally reveal a great deal about the food culture of people from Puglia in centuries past.
Let us say at the outset that hunger was THE problem, of a seriousness that we simply cannot imagine. The poorest did not even have a vegetable patch and could not afford to raise fowls, pigs or sheep, so they made do with what nature provided: fava beans, chicory, berries, figs, and in general anything that grew wild and was edible: Robba ca è fatta Diu / mangia tu ca mangiu iu (The stuff in nature made by God / you eat so I can eat); La salute cu nc'essa / ca cu ppane e zzanguni tiramu nnanti (If we're healthy, on bread and sow / thistle we survive). Any edible weed is good for filling the belly, all you need is to add some oil and salt: Oju e ssale / ogn'erva vale. After all, gastronomic creativity made weeds into tasty dishes, thanks to the use of helpers – herbs and condiments – that were just as poor. Paparina or red poppies ('papavero rosolaccio') are wild weeds that flourish in unplowed fields, and even become a menace, but sautéd with garlic, black olives and chili become paparine 'nfucate, so delicious that today it is a sought-after dish for 'poor' (or fake-poor) cuisine. This recipe also used herb patience (Rumex patientia), in dialect called lapazzu; and a well-known proverb joyfully sang the praises of this combination as follows: La paparina senza lu lapazzu / cci mme la fazzu, cci mme la fazzu? (Poppies without patience / what use is it to me, what use is it to me?), as if it were the rarest and most precious sauce.
The peasant was happy with little: Fae, foje e mmieru / lu villanu se sente an celu (Fava beans, greens and wine / the peasant is in seventh heaven).
But seeds and weeds are not enough: carbohydrates and proteins are needed. Carbs come in bread, which occupies a central position in the diet (and in proverbs about food): Mmacari ca mangi mile e ccirase / mmar'a dda ventre ca pane nu ttrase (However much honey and cherries you eat, doomed is the belly where no bread enters).
For proteins, alas, it was very hard. Meat was extremely precious, only contemplated on solemn occasions: Pe llu capucanale / pane, carne e mmieru a vvoluntà (For the banquet at the end of a job / bread, meat and plenty of wine); Duminica su 'lle Parme / l'autra duminica, Pasca e ccarne On Sunday it's the Palms / the Sunday after, Easter and meat). Meat was the laborer and peasant's dream. And the 'greatest dream of all' was a concentration of protein: pork.
Owning a pig meant warding off hunger for a whole year, in the best way. It was the greatest luxury: better than baking your own bread at home, better than making love: Ci face pane, sta bonu na simana / ci se nzura nu mese / ci ccite lu porcu, n'annu (He who makes bread is happy for a week / he who marries is happy for a month / he who kills the pig is happy for a year).
It's the classic food pyramid: at the bottom, leaves and the earth's wild products, higher up the dishes gradually become more elaborate, but are still not expensive, along with bread; at the top, meat. It is also the pyramid of needs and wants: at the bottom the miserable daily reality, at the top Heaven, out of reach. No matter that here Heaven coincides with the lowly pig. Hunger is hunger.