- FEBRUARY 2018 -
Dialect Proverbs
"Verba volant"
What has changed between then and now
Parola ditte
n-gìile sta scritte
[The spoken word
is written in the sky]
(Bari area)
by Alberto Sobrero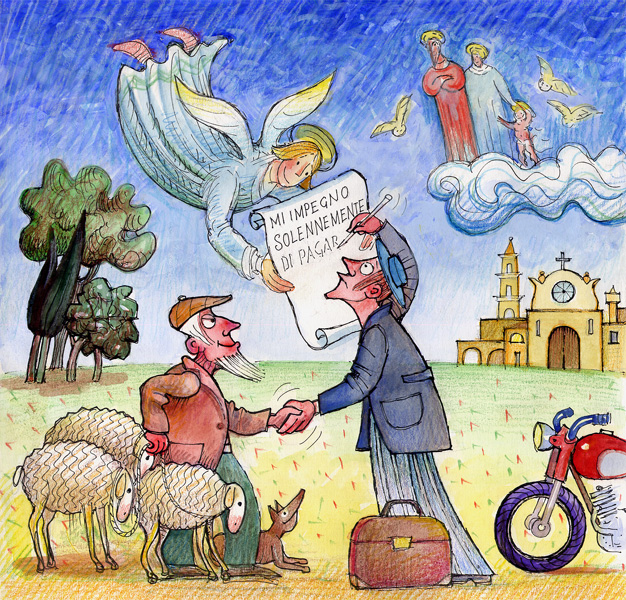 Bruno Maggio. China
What message is this proverb trying to convey? It depends on who is reading it and when. Let's imagine two cases.
a) I, a 21st-century man, am reading it. I am used to raising my eyes and seeing the criss-crossed trails of recently-overhead airplanes fading away and dispersing after a few minutes in the skies, or, maybe on a Sunday morning on a busy beach, small propeller planes that fly banners with greetings on them, or maybe for advertising. Or even a heart drawn with the trails of a small acrobatic plane: a moment, the children go "Ooooh!" and the heart dissolves in the sky. So, if I read this proverb I get the immediate message that my culture suggests to me: a word which is only spoken is as if it was written in the sky: it fades immediately. It's always better to put things down in black and white, rather than trust in promises and agreements, which are only spoken. The Latin maxim affirms it, too, although they didn't have acrobatic planes: "Verba volant, scripta manent".
b) People from the past, let's say from the 16th or 17th century, read it; people who live in a cultural climate dense with symbolic values that remind one of the co-existence of two worlds, the tangible one and the transcendental one, the profane world and the Hereafter. If they read it, they catch on to the message that their culture indicates; the sky is the seat of divinity, the sacred half of the world: words rise to heaven and so a word given – a promise, a spoken agreement – is a sacred promise and can't be broken. To go back on your word is a sacrilegious act: in business as in affairs of the heart.
Since it's a proverb, that almost certainly has its roots in the distant past, the reliable interpretation is of course the latter one. And one's thoughts fly to the 'gran bontà de' cavalieri antiqui', who believed their word was their bond, in the name of values of deep moral and social content, like loyalty and keeping a spoken promise, usually sealed with a handshake.
It's true: even the most important of deals were rounded off with a handshake, which had the same value as a solemn written commitment. To this day this form of contract is conserved in the current civil law, on the basis of which, for example, the Rome Chamber of Commerce numbers amongst its "customs which are still considered of contractual value in the province of Rome", the handshake, "on the occasion of verbal negotiations, at trade fairs and elsewhere, concerning the buying and selling of livestock or farming goods". And many of us remember the village markets and fairs (where farm animals, grain, etc. were traded) during which the dealings between the seller and the buyer were concluded with a simple, vigorous, handshake. Other times. One's word, once given, was elevated to the level of absolute values: as they say these days, it was non-negotiable.
It's all true, but there is a footnote.
The perspective from which we look back on the past in many cases – and ours is one of these – is warped by two mistakes: our superiority complex and the late-Romantic point of view. One on hand we gaze with indulgence on (and commiserate with) the behavior of those who did not have the resources of us 'moderns' at their disposal: the sophisticated juridical instruments, the control mechanisms, widespread literacy and knowledge of the law. We are better than our forefathers. Progress guarantees magnificent advances, etc. On the other hand we project, into a mythical past, our Romantic vision of a golden age, in which men were strong and loyal and feelings were simple and pure: an age whose passing we regret.
Whereas the reality, as we know, was a lot more complex; disloyalty, betrayals and violence were unfortunately ever-present then as now, and often in more cruel forms. And the agreements were often verbal for the banal reason that many were not able to read or write.
And anyway it's always nice, and useful, to have ideals and dreams in our daily lives. Even illusions. If possible, projected into a fictitious world of our own invention.