- FEBRUARY 2018 -
Dialect Proverbs
The revenge of cooking 'poor man's style'
Cuisse è u paste d-i poveridde:
furmagge punde e rrafanidde
[This is the meal of the poor:
maggotty cheese and radishes]
(Cerignola)
by Alberto Sobrero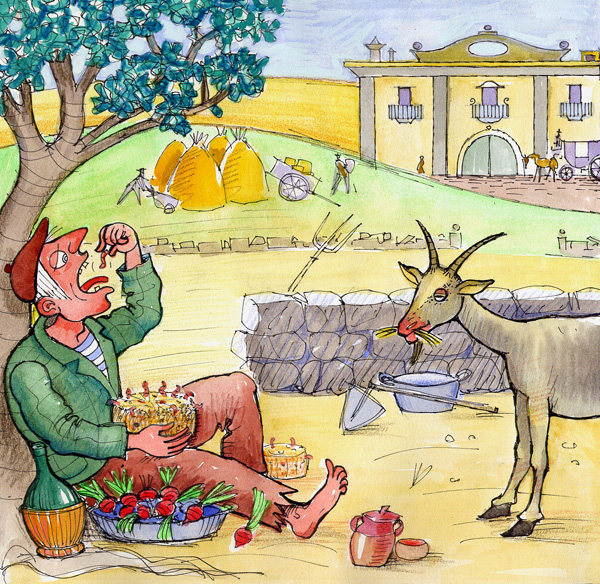 Bruno Maggio. China
Difficult to believe, but it's not easy to speak of nutrition with reference to the rural world of centuries ago. Things have been turned on their head over the past fifty years. These days the so-called 'poor man's cuisine' with the basic components of vegetables, greens, and natural agricultural produce and fruit which has not been treated with chemicals is highly appreciated or even trendy: and that's exactly what used to be eaten by the 'poor', who took advantage of natural produce because they couldn't afford expensive, complicated food (like meat, game, fish or exotic fruit, etc.).
The proverb this month offers a nice example of this inversion of tendency.
In the traditional farming community of old, eating maggotty cheese with a side dish of radishes is a perfect representation of poverty: one food that's gone off with calorie-free vegetable could provide precious little energy to someone who had to work hard in the fields from morning 'till night, and hardly gratify the palate, either (the taste of the maggotty cheese is so strong that it cancels out any other flavor).
However, these days people obsessed with the problems of precocious obesity, sedentary lifestyles, and an excess of calories look on a dish of maggotty cheese and a side dish of radishes as a highly appropriate recipe, and on our fortunate forefathers with envy. The reason is widely documented by a rapid glance at some nutrition science manuals, which explain three things.
a) Cheese is a complete food: a lot of protein, all the amino-acids, fats, liposoluble vitamins, mineral salts (mainly calcium and phosphorous). The only missing element is iron, but by integrating with radishes or similarly 'poor' pulses like fava beans, lentils or chick peas, the daily diet, according to today's dictates, is perfectly balanced.
b) Radishes contain vitamins B and C whereas cheese lacks both (and these vitamins have important anti-oxidizing and purifying properties and very few calories: with their 12 calories for every 100 grams they balance out the hundreds of calories in the cheese. A perfect combination, it respects all the rules in the book.
c) Cherry on the cake: cheese with maggots is not exclusive to Puglia, but can be found in various regions of Italy. The most famous type is from Sardinia. And just think – some American scientists claim that the extraordinarily long life expectancy of Sardinians can be put down to the regenerative benefits of the cells provoked by the larvae in the 'rotten' cheese. Up with maggotty cheese, then, to be sure of a long life.
It's a shame, for modern dieticians, that the production and marketing of maggotty cheese is forbidden by the European Union because it conflicts with the hygiene norms of the Community. And that says a lot about the real status of these dishes, that are 'poor man's food' rather than 'poor' food: food scraped up out of mere necessity from fallow land or plots, and foods prepared in precarious hygiene conditions, with the aim of not wasting anything: a necessary parsimony in bleak times.
And what of meat and fish? These days we are advised to moderate our consumption, especially of meat, so as to avoid the dangers of a diet excessively rich in protein, but for many long centuries it was a food reserved only for high days and holidays. An almost impossible dream. A mirage. And so people consoled themselves by finding defects in the object of the mirage, defects that rendered it undesirable. And here comes a ready-made proverb from the same area: funge, sicce e ccarne vaccéine / sbregugna cucéine, "Mushrooms, cuttlefish and beef / the shame of the kitchen".