- FEBRUARY 2018 -
Dialect Proverbs
Troubles?
Let everyone take care of their own
Uè e delàure
Ognedàune se chiènge le saue
[Troubles and sorrows
Everyone should weep over their own]
(Northern Puglia)
by Alberto Sobrero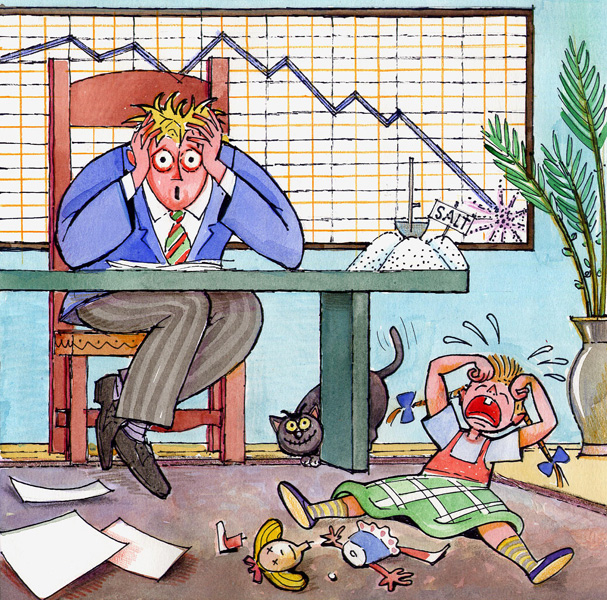 Bruno Maggio. China
The scenario is the painful and eternal one of the myriad woes that torment our daily lives. If we consider the overall picture of the proverbs that focus on this theme, we see that in almost all of them the structure is supported by three columns:
a) the statement/description: troubles are frequent, serious and many, and they are a universal problem;
b) the diagnosis: they are ineluctable, because they reflect a sort of divine design, unfathomable to us (or, from a different point of view, because they are part of our mortal destiny, from which we cannot escape);
c) the therapy: the solution lies almost always in the "bear up" philosophy; man cannot change divine design, neither can he change a destiny that has been decided once and for all by his fate, so he can do nothing but resign himself to accepting the sorrows that life has in store for him.
In folk culture proverbs are the main, if not sole, instrument, for spreading, not only the description but also the diagnosis and the therapy for the troubles thrown up by everyday life. To achieve this aim they strengthen the efficacy of their message in various ways, for example by latching the philosophy of bearing up to the load-bearing structures of the philosophy of life that they express: the two fundamental pillars of ethics and aesthetics.
Ethics. In the proverb "Uè e delàure / ognedàune se chiènge le saue" the philosophy of bearing up is fused with the ethics of egotism. Each man is an island, separated from other islands with which his world does not communicate; I look after my own troubles and woes, you look after yours. Every man for himself. The ethics of egotism, in proverbs like this one, are based on the existence of very few reciprocal ties between people, and no form of solidarity is expected. I won't weigh you down with my problems but neither will I take on yours. I will grieve for my dead, you grieve for yours. The behavior that is preached here is all included in the exhortation not to seek the comprehension nor the consolation of others. We are in the disenchanted area of a pessimistic vision of life and society, a vision that is born of the fatigues of life and that does not know the light of solidarity, of compassion and of charity. Its origins? It may go back to a pre-Christian society, but it could, simply, be born of the loss of faith in better, transcendental realities, of which the man in the street, after centuries of hopes and illusions, has seen not a trace.
Aesthetics. Many proverbs that exalt and regret earthly pleasures come under this umbrella. In the same area of Puglia we find another proverb which is as disillusioned as the first one: "Pile e uè / ne ménghene mè" (Of hairs and troubles / there's never a lack). In the first line there's a description, this time prevalently aesthetic: superfluous hairs are an unwelcome presence, especially for women and old people (who are among the most important 'consumers' of proverbs). In the second there's the diagnosis: woes – of an aesthetic or less trivial nature – are ineluctable realities. Here again the therapy – implicit this time – comes straight from the description and the diagnosis: people shouldn't be surprised by the bad things that happen to them, because this is the law of everyday life. It's the philosophy of bearing up, this time in the key of aesthetics. You just have to put up with superfluous hair, like with all the other troubles in life
There are not only these two proverbs: there's a whole series that illustrates this pessimistic, resigned, gloomy philosophy of life, without beauty. They are proverbs which are a perfect fit with the harsh landscape of life, and they are those which emanate a sense of darkness and frost.
But folk wisdom is not always so bleak. We will see that, luckily, there is also another school of thought, and it is that of the proverbs which aim at giving solace, and spreading a very different message, of light and heat. Of solidarity, of faith and of hope.