- FEBRUARY 2018 -
Dialect Proverbs
Our first lesson in life?
In a nursery rhyme
Lu piccineddu miu, quandu nascìu
Lu Papa a Roma la missa cantàu
Nu panarieddu de denaru nchìu
E allu piccinnu miu li lu donàu
[When my baby was born,
The Pope in Rome sang the Mass,
He filled a basket with money
And offered it to my child]
(Salento)
by Alberto Sobrero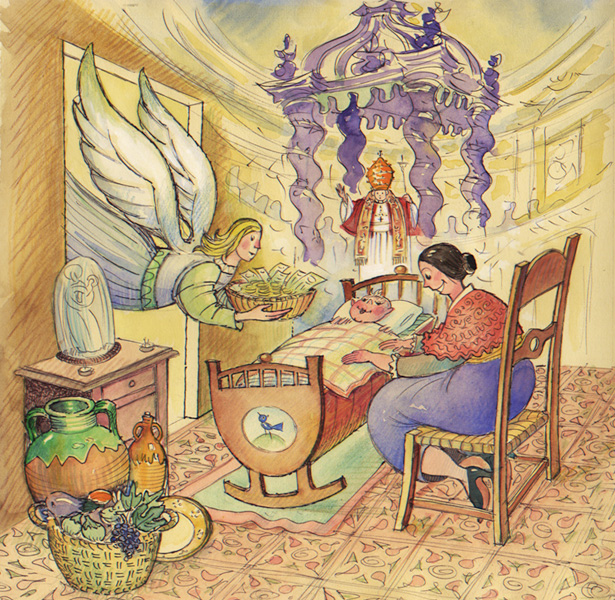 Bruno Maggio. China
We have seen more than once that proverbs, in peasant society, took the shape of a motto which was simple to learn by heart and had the apparent aim of describing aspects of human life, while its real aim was to establish and impose modes of behaviour which in substance responded to the need to conserve a certain social order. In practice, it worked like a para-legislative source.
The problem was, how to instil in man the obligation to follow these precepts if there were no instruments to force him to do so, to set and dish out the penalties? Or rather, how can you implement a 'moral suasion' which leads to certain forms of behaviour in a profound and lasting way, from the cradle to the grave, merely by means of oral tradition?
Here is an in direct answer: by means of early-onset, permanent training. A capillary, daily, effort, insistent and drill-like repetition and reinforcement of the message, in the guise of an occasionally catchy, often peremptory and sometimes threatening saying, not repeated only during those few hours one spends in school, but every hour of the day, every day; not pronounced by those who are paid to do it, but by those who are disinterested and convinced of the opinions they give freely (ones parents, workmates and friends) on every occasion and in every circumstance. From one's early years, even months.
For example with nursery-rhymes, like the one below. Let's look at it carefully. The guise is fascinating and is composed of a metric scheme which means it is easy to memorize: four hendecasyllables rhyming alternately, each line split into two hemistichs (Lu piccineddu miu / quandu nascìu // Lu Papa a Roma / la missa cantàu // Nu panarieddu / de denaru nchìu // E allu piccinnu miu / li lu donàu); the rhythm is easy and pleasant to hear. 'Piccinneddu miu', which starts the first line opens the fourth too, creating a sort of internal rhyme. With these metrical expedients and a simple well-spaced rhythm, it creates an atmosphere of serene sweetness, a climate of joyous intimacy, a festive air. It is the intimate dialogue, almost carnal, between the mother and her baby who she is cradling and getting to sleep.
What is the content of this intimate, cosy, maternal message? The general sense is: I am happy because I am the mother of a lucky baby; and you are lucky because even the pope has celebrated a sung mass for you, he's filled a basket with money and given you it.
The absolute values focussed on here – connected to happiness – are religion and money. Religion is symbolized by the supreme figure of the Pope and the solemn rite of the sung mass; the abundance of money is overwhelming. Money and religion are the peak of happiness: but it is a mythical happiness, not to be achieved by common mortals (who will never see the Pope, will never have a sung mass, and will never see a basketful of money). Not a concrete outlook but a myth, a distant destination to make towards. In these four lines we already have the values of reference, the distant horizons of a society, on which the child, when grown-up, must base his life.
It's just a nursery rhyme: the baby is only a few months old, but the instillation of a value system and rules of life has already begun, at a cheerful pace and with a simple song: these are the unwritten laws that will govern its future.
It will be the job of proverbs to carry on the good work, repeating and boosting the message, so as to create, day by day, a system of norms which may not be written, but are stronger and more forceful than the law books.