- FEBRUARY 2018 -
Dialect Proverbs
Marriage:
what a sentence for men!
U prim'anne 'nzerate
O malate o 'ngarciarate
[In the first year of your marriage
You are either sick or locked up]
(Puglia settentrionale)
by Alberto Sobrero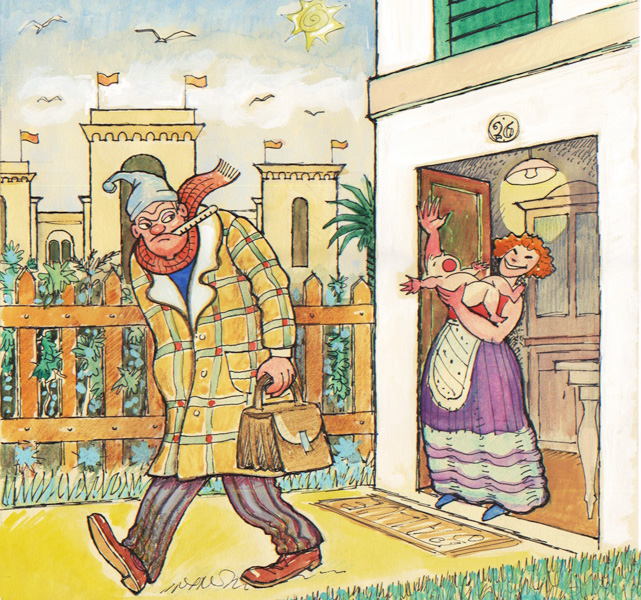 Bruno Maggio. China
      It's a variation on the theme of the previous proverb we commented on. In that, one was a list of the "four banners" that women hoist triumphantly in their war against men: jail, sickness, the gallows and again, prison. Here we can see the effects the defeat has on men; namely, sickness and imprisonment. It more or less repeats the same concept, and adds an aggravating circumstance: men begin to serve their sentence right from the start, that is, straight after the fateful "I do". On this theme there are dozens, perhaps hundreds, of variations in the legacy of proverbs handed down by our forefathers, and they all point in the same direction: marriage for the man is a death (or life…) sentence. The target is not marriage in general, but the wife: in this case, for example, we see that the verb used is 'nzerare (or, depending on the area, 'nzurare or 'nzërarë), a verb which in dialect refers only to the man who marries; for the woman one would say maritarsi. And of the two people in question, in this like in many other proverbial sayings, the one who succumbs is not the one who si marita (takes a husband) but the one who si 'nzura (takes a wife).
      Why do proverbs – which are, let us not forget, the unwritten but unquestionable and undisputed laws of the pre-industrial world – insist so much on this topic, from this single, recurring, point of view? Evidently, because this is a fundamental tenet of community life, to be handed down from generation to generation. Like rearing livestock and grandmother's recipes.
      To judge from the wealth of proverbs, the balance of power between the sexes has the same cultural relevance as the relationship between a servant and his master, or between a man and his pets. And yet the topic of 'women' gets special treatment: young men are to be alerted to the danger of women's powers with a constancy, a vehemence and a bitterness that is not to be found in any of the other great negative themes of folk wisdom such as avarice, betrayal, deception, usury or even war.
      One gets the impression that men and women are bound together by an ambivalent tie, as strong as it is contradictory. On one hand there is the mating and procreative instinct, ordered and blessed by the binds of matrimony, a real taboo in folk culture; on the other there is the obsession with the confrontation with a person who is 'other', and when all is said and done, little- or ill-understood. Women, in this long-standing misogynist culture, are an unknown territory: sometimes inferior creatures to be kept down and trained to be obedient, sometimes superior creatures, astute strategists who are able to command with sweetness and govern without seeming to, something men are unable to do.
      In the face of such an undecipherable enemy, all tactics and strategies vacillate: women are beauty and perdition, heaven and hell, angel and demon. And this provokes the typical reaction of anyone who fears the "other-than-oneself", who is not known, who is perceived as a stranger and therefore an enemy: a strong and mysterious 'other', fascinating and terrifying, mirage and nightmare. It is the same reaction that, in the face of the same problem, our religion has, even today, referring as it does to women as angels but also women as perdition who tempt men and lead them into sin. The dolce stil nuovo poets had a vision of women as a stairway to the Creator, seeing them nearer to God than to Man, but this concerned just a few intellectuals and was not to last; what remained, in religious folk culture, was the opposing vision of the devilish creature, a lustful temptress, a spellbinding accursed witch.
      In our proverbs too, or at least in most of them, women are bearers of pleasure but also of grief and suffering: concrete suffering, because we are in the real world of this earthly life, but atrocious. Women grant their grace and beauty, but let you enjoy it for a few days at most: after the first few months of marriage you will suffer the consequences of their curses; sickness and jail.
      Don't trust them. Beneath that lovely countenance lurks the devil himself. On this, lay (folk) and Catholic (traditional) culture are agreed: in heaven with women, to hell with women.