- FEBRUARY 2018 -
Dialect Proverbs
The over-privileged who wield the money:
a never-ending story
Ci maneggia fisteggia
[Life is a party for those who control the money]
(Salento)
by Alberto Sobrero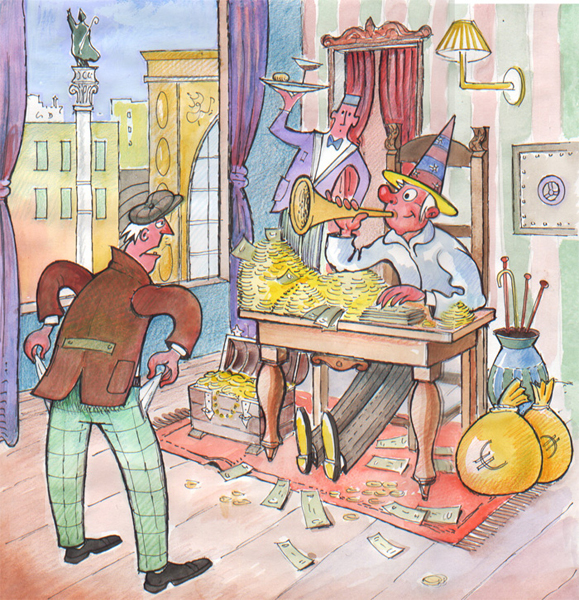 Bruno Maggio. China
      And they say that proverbs are old junk, stone-age stuff. I challenge the reader to find a law on the new economy or a new philosophy maxim more up-to-date than this old proverb, more fitting to describe the moment in which we are living. Life smiles on those who administer other people's money: today they are called usurers, loan sharks, bankers, brokers, managers, and top level executives, yesterday they used to be called money changers and money lenders. The work is the same, and there are two types: lending money to make money by charging interest getting it by taking risky financial gambles, with unsecured speculations or derivatives. To put it briefly, it's about convincing someone with a nest egg to trust you with it, and together with other nest eggs, using the money to make a profit, with ploys that have over the centuries become more and more sophisticated, including virtual, non-existent money transfers (the modern method) and shell companies that move money further and further away from the tangible economy, with great profits for those who "control" it, opening an ever-deepening chasm in the real economy between those who work and produce along with their children and grandchildren (post-modern method) and those who don't.
      It seems like an eternal truth, and indeed the power of those who wield other people's money is so immense that it can change the course of history. To cite one example, in ancient Rome the conspiracy of Catilina (63 b.c.) originated from the position the over-privileged obtained, due to a shortage of cash, by money-lending, and the revolutionary social and economic consequences that resulted from that practice. Two millennia later, the President of the greatest power in the world jeopardized his re-election due to the enormous difficulties involved in putting a plan in to action – something so obviously needed – a cap on the super bonuses bankers are given: and this had the support of irate Working Families. It was good common sense (supported on this occasion by the basic principles of democracy, or at least by tax progressiveness), but nothing seems able to weaken the position of the over-privileged who have done terrible damage to the U.S. economy through their unscrupulous financial dealings that have enormously enriched a small segment of the population, but which have brought another, far larger, segment to total ruin. Something very much like what we are living through now here on this side of the Atlantic.
      "Life is a party for those who control the money": this is not a makeshift adage from a small town in the deep South, but one of the few proverbs that is good for all seasons, all historical periods, for all levels of society: high society (super bankers and top level executives) and low (back alley loan sharks), the Right (cynical and shameless capitalism) and the Left (fake cooperatives and fake NGOs). A rhyming couplet that entwines ancient and modern times, and leaves an unpleasant sulphureous aftertaste: behind the economic plague which has left the economy in ruins we sniff the sinister stench of money 'the devil's dung'. Stuff of medieval times in fact. Hopefully we won't be going back to the Middle Ages in the near future.