- FEBRUARY 2018 -
Dialect Proverbs
The unwritten laws of social injustice
A purtè respétte a-u chéne d-u patrune
[The master's dog must be shown respect]
(Bari area)
by Alberto Sobrero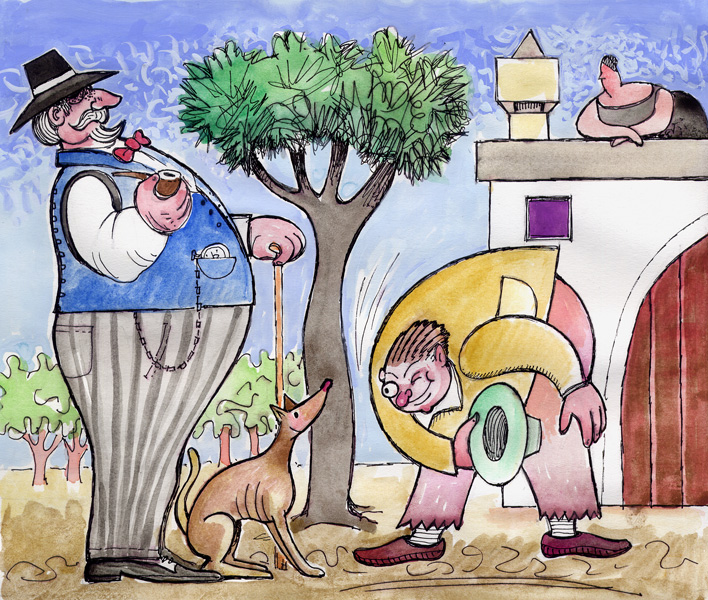 Bruno Maggio. China
      Servants and masters: there are various words for them, depending on the historical period and the people living in it, but they are always the same: one issues the orders, sometimes with humiliating abuse of power, and the other has to obey, prostrate and deferential. One on top and one underneath. In the collective imagination the master wears showy, rather than elegant clothes, he wears the symbols of his wealth (not only shoes and socks but also a waistcoat, a bowtie, a fob watch and chain), he smokes a pipe, and carries himself gravely. He is unbending: he demonstrates his boundless authority in the most humiliating of ways, demanding homage not only for himself but also for his cronies, for his court, for all those around him who by adulating him gain some advantage – whether they be men or beasts. The poor – badly-dressed and malnourished – submit to this, since this is how the world turns, and this is what they have been taught to do, if they want to survive somehow. It is what the Church has taught them, and their parents and their grandparents and their great-grandparents… and their proverbs, the wisdom of their forebears, timeless laws, which have the validity of general precepts, only slightly less binding than the ten commandments.
      With proverbs like this we are almost always in a peasant society, characterized by a strict division of rigidly closed social groups, lacking in social elevators, extremely poor, regulated by unwritten (and anyway unread) laws regarding devotion and respect. A society that perceives and suffers social injustice but does not seem to nourish a spirit of rebellion. It has not yet been touched by the desire for social freedom or the myths of egalitarianism.
      This is the general situation. But there are also proverbs which, beneath the timeless surface of resignation let you glimpse flashes of rebellion: quashed, repressed, perhaps "censored" by the predominant spirit of the Vendée, but telltale signs of restlessness that history will swell up with. Another proverb from Bari says: Vése quèdda méne ca non pute trunché ("Kiss the hand you can't cut off"). Usually this is interpreted to encourage submission to extreme humiliation, but I like to see the central tenet to be trunché la méne (cut off the hand) which, if not carried out, justifies the humiliation. It's a flash of rebellion, the sudden urge to throw rules and regulations to the winds, to overturn the society of injustice and abuse, even by violent means. A moment, a dream, inexorably unfulfilled (non pute trunché … "you can't cut off"): but enough to let us intuit the presence, under the cloak of resignation, of a rush of hot blood.
      It tells us that the democratic urge, which is essential to social life these days, comes from the instincts of repressed and quelled revolts, which are still alive even in those societies that seem most conservative and homogeneous. Of course, to find the traces you have to scrape off the thick patina of resignation and conformism that the patruni (bosses) have spread abundantly over the history of the humble. But they are there. Even in Apulian proverbs.