- FEBRUARY 2018 -
Dialect Proverbs
Fatalism of the weak
Sorte noscia! – tissi la cozza – Cinca passa ne scafazza
[Oh woe is me! – said the snail – Everyone that passes by tramples me underfoot]
(Salento)
by Alberto Sobrero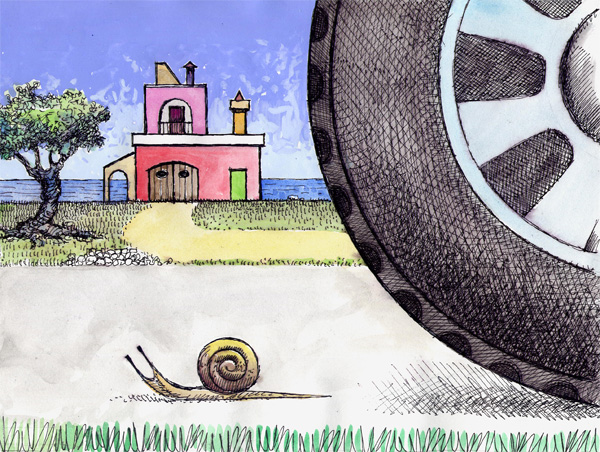 Bruno Maggio. China
      The power of a proverb (in this case from Salento) – Two verses are enough, nine words in all, to portray with a few broad strokes the character of a society, and its philosophy of life. It is a genre picture, a fulminating sketch, along the lines of classic fairy tales, with three ingredients: a talking animal, a man who abuses his power, and a moral. The animal is the snail, which in popular Salento culture symbolizes a thing or person that has little or no value: it has no personality, and it has no beauty – 'she's a snail' can be said even today about a very ugly woman ['she's a dog' in American slang] – it has an infamous selling value. The abusive man that rides roughshod over the snail: upon doing so he commits two acts of violence because he crushes it and he does so unknowingly, all the while thinking his behavior is natural, obvious, and normal. The moral is: resign yourself to your fate, poor snail. Violence and injustice are inherent traits of human nature, in all societies: one who commits such an act is not even aware of doing it. It will always be like this, because this is a law of nature.
      The rhyming tempo is set, the metrical prose is vernacular: a nine-syllable line followed by an eight-syllable line that produces a rhymed couplet, which is also a near rhyme. It is the structure of moral maxims that are authoritative and indisputable; passing along a message with bitter resignation, without light and without hope.
      There is more. This is not the only proverb that contains such profound resignation. On the contrary, it is found throughout all proverbs from Southern Apulia. None of them ever raise, even faintly, the idea of rebellion, of changing the status quo, or spread the ideas of justice or liberty. The only reaction to injustice is a bitter smile. The snail/the subject is worthless, powerless. It has been trampled on and finds the situation unpleasant – nothing more; an exclamation of disappointment is stated, at most an expletive, like when the weather turns bad or the harvest is scarce, spoken in a low voice so as not to disturb the powerful.
      In the traditional world, agricultural and conservative, the universal unwritten law is that of silence, of resignation, of meekness. It is not something written in treatises by philosophers but it was felt by the humble, the illiterate, and those at the bottom: people who steered their rudder along the course laid out by the three main moral and material guides: the Church, tradition (and therefore proverbs), and the survival instinct; all geared towards preservation, fatalism.
      From proverbs, humble, popular and age-old like the dialect in which they are expressed, emerge beautiful examples of concrete testimony not of the material conditions of life – for that we have archeological findings and material culture – but of the state of the soul, the anima, which the masses had to cope with day after day, in the very hard struggle for survival: in a nutshell, how they lived and what they really thought, in Salento, a century or two ago.
      And what proverbs tell us does not stop there. Here we see in the state of the soul, the basic, underlying existential conditions of a civilization. We will soon see, with other proverbs, along these same lines – pessimistic, bitter, and fatalistic – an outline of a more complex, articulated, and lively reality. Proverbs, we can already say, that are not always so darkly grim.