- FEBRUARY 2018 -
Dialect Proverbs
Why proverbs
Once regarded as rules to live by, proverbs are practically unknown to new generations. A pop-culture heritage of wit and wisdom with more yet to give
by Alberto Sobrero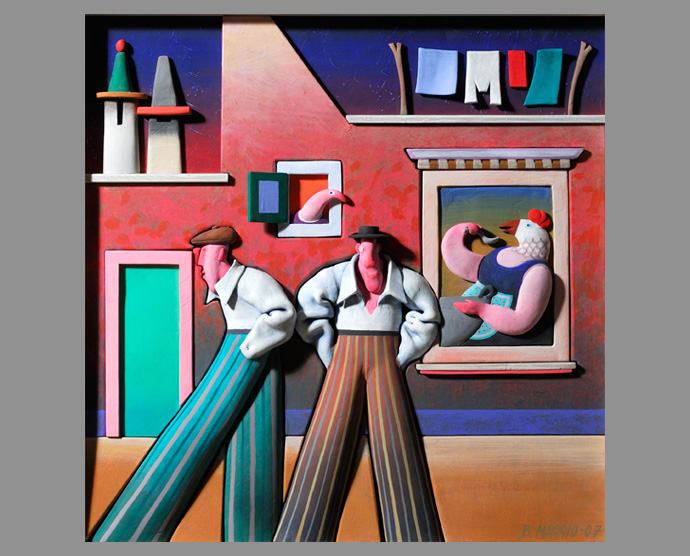 "Salentino portrait". Work in terracotta by Bruno Maggio. Photo by Oronzo Fari
      Proverbs were once considered an expression of popular wisdom.  Back in those days a proverb was a good closer to put an end to a long discussion as well as explaining to children life's rules and values.  It held the perfect explanation, whether to giving or getting, for otherwise incomprehensible natural and supernatural events. And those who would speak through proverbs were considered wise and commonsensical.  Altogether, proverbs were the pillars of society's rules, sort of a "law collection" both authoritative and generally accepted.
      Things are different today.  Our kids no longer know proverbs: their generation has rejected them as a mark of a society they find it necessary to give up for being archaic and primitive. By doing so though one may wonder if they also give up wisdom? To be kind and politically correct language wise- we could say with a euphemism that today's people are "differently wise". Because by giving up proverbs, precepts, wellerisms and apologues as well as a blind faith in Religion, the other solid source of provisions, they have lost their bearings guiding them along the bumpy path of life.  And now they are painfully looking for new guidance in today's world, which is radically different than yesterdays' and even more so than centuries ago.  We are currently living in a time of transition from one world with a self-regulating system grounded on proverbs and religion, into another somewhat attractive but also mysterious and almost unregulated.  Or rather, a world filled with formal rules (laws, provisions and various rules) that have not yet penetrated the 'social body' as deeply as the 'pearls of wisdom' of our fathers and grandfathers' tradition.
      If we can stop and take a look back in time, digging in our memories in search for the  'proverb's society' we will be able not only to answer to the need for recapturing the roots of our community but we would also fulfill a fundamental need, the need of feeling the continuity between past and future, in order to worm out the secrets of the relationships linking rules, ethics, reason and civilization that have been lost. And maybe, we will find inspiration for new ethics. Something we all feel the urge for.
      For these reasons, in this section we'll focus our attention on the most popular proverbs of Apulia, to be considered an indication of an Apulians' inner world.  This way we will be putting together important pieces of a population's life philosophy: their moral, social, economic and civil values, that have for centuries guided their day-to-day life, their way of dealing and solving problems from the biggest to the smallest.  In other words, we will know all the facts that history books don't talk about. If we are willing to know Apulia for real, and we are able to read between the lines, by thinking over the proverbs of illiterates' we will learn more than from ponderous treatises on battles, lineage or other social or economic facts.
      Each proverb contains many different, direct and indirect information on three main levels:
      - the content, or  purpose: at times moral,  at times hinting at playful or mordacious
      - the social background: men, women, environment, social relationships, values, matters, stereotypes, hopes
      - the tongue, or better the dialect used and its metrical structure (often in rhymes with differing patterns).
      In this section we will be examining a different proverb each time generally using as interpreting tools the aforementioned three levels. The interaction with our readers will be key. Each proverb is more or less localized and nuanced in many such variations, not just in sounds and words but also in meaning.  Nobody knows how widespread a proverb is or the number of different possible variations that exist. But with the help of our readers from either side of the Atlantic sea we will be able to collect important and unknown data.  Moreover, by putting all these pieces together we could build, over time, a collection of Apulian proverbs that would provide us with information such as their dissemination, meanings, variations, dialect and so forth.  A dictionary that is at the same time a geographical atlas or a small database to consult whenever we want to get back in touch with the forgotten world of our grandfathers and forefathers.