- FEBRUARY 2018 -
Best of Italy
"A thousand and one Puglias"
Fabulous tours in Puglia organized by Naonis Viaggi with the input of Bridge Puglia USA. Nature, history, art, outstanding local cuisine and so much else; the best of everything for discerning travelers seeking to discover the thousand faces of an extraordinary region. Customized tours are available on request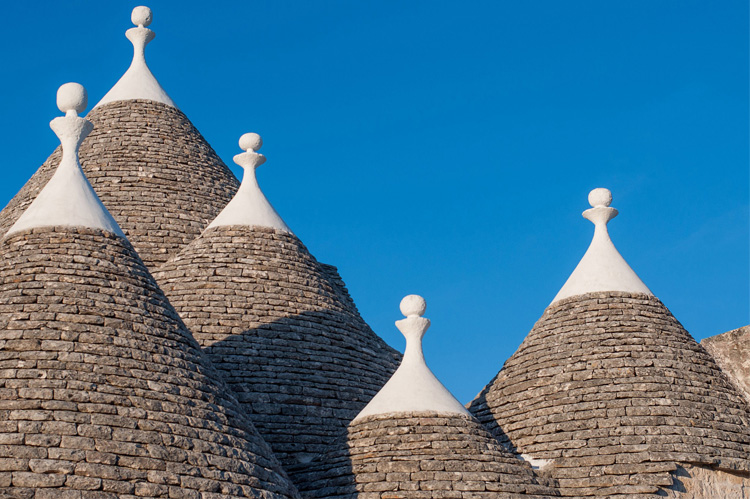 Puglia is the land of trulli, ancient fairytale buildings scattered over the area between Alberobello and the Valle d'Itria, UNESCO World Heritage site, and which exist nowhere else in the world. It is a land marked by the great beauty of the Romanesque and Baroque architecture. It is a land lulled by two seas with eight hundred kilometers of coast, breathtaking beaches and rocky headlands. It is a land of castles and masserias in the countryside, where one can find a long-forgotten atmosphere and rhythm of life. It is a land of olive trees and of outstanding cuisine with traditional peasant dishes made from strictly local produce. It is a land of vineyards and great wines. It is a land of fascinating ancient traditions and rites, both religious and secular. It has enchanting little villages where time seems to have stood still. But there are also stylish venues and beach-clubs with non-stop night life.
A thousand faces, as we said. You can discover them with the tours that Naonis Viaggi has created with the input of Bridge Puglia USA. They will lead you to the best-known places but you will also discover hidden corners and authentic atmospheres still unknown to mass tourism. Every detail has been chosen with meticulous care, with special attention to the food and wine (trattorie, typical restaurants, on-site degustations where the products originate, visits to the top wineries, etc.) because gastronomy, in Puglia, can also be an unforgettable experience.
For travelers with particular requirements who want to have the trip of their dreams Naonis offers, with Bridge, a tailored service for a top quality tour on request.
Would you like to stay at one of the most beautiful masserias in Puglia? Are you interested in doing a cooking course to learn all the secrets of Apulian dishes and go to tastings of the typical local products right where they are produced? Are you a wine enthusiast and would you like to discover the best-known wineries in the land of Primitivo and Negroamaro? Do you want to learn to dance the pizzica or plan your trip to take part in traditional events of folk-culture? Do you love trekking and long excursions through the countryside? Are you keen on archeology or paleontology? Do you want to visit the most picturesque beaches and rocky headlands along the coast? Are you interested in small museums or top quality crafts? Would you like to do a tour of restaurants with Michelin stars or the Slow Food snail?
We are at your disposal and look forward to seeing you!
For information and details, contact:
info@naonisviaggi.it