- FEBRUARY 2018 -
Italian American World
Licia Albanese
The living legend of opera's 100th birthday
The celebrations in New York, with a concert of young voices, holders of awards from her Foundation.
Born near Bari, with an extraordinary career achieving international success, she became an American citizen in 1945.
She has never forgotten the dialect and the cooking of her home land
by Ugo Sbisà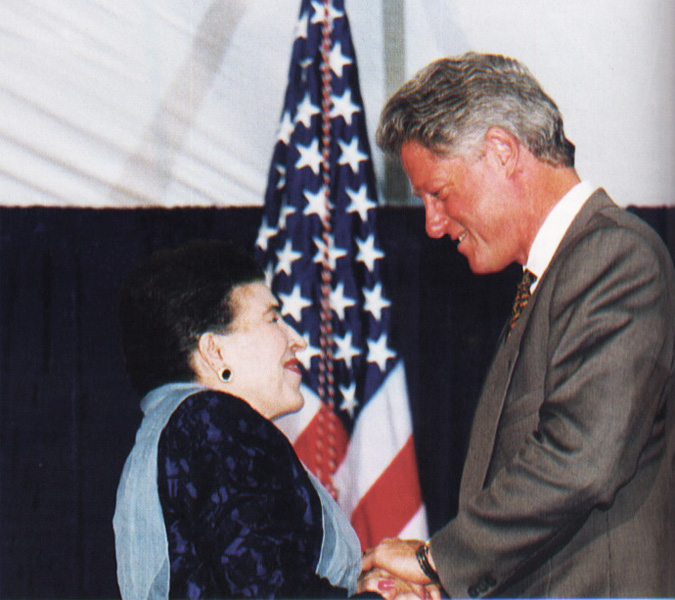 1995. Licia Albanese receives the Medal of Honor for the Arts from President Clinton
Whether she was born in Torre Pelosa (at the time a borough of Noicattaro) on 23rd July 1913, the date that Wikipedia gives, or 24th July 1909, as it says in the Utet encyclopedia, is of little concern: Licia Albanese is a living legend of opera music, and for this reason in New York they have decided to celebrate her 100th birthday at the Rose Theatre in the Lincoln Center with a concert of young voices who have all won prizes awarded by the Foundation that bears the name of the great soprano from Bari.
The story of Licia Albanese is an interesting one, from the moment that little Felicia (her real name), daughter of a representative of food products, seemed destined for a career as a ballerina, until one day, while she was listening to her sister do some voice practice with her singing instructor, when she tried to repeat the exercise, and did it so well that the family decided to encourage her in that direction.
Her biographers say that her debut on stage happened almost by chance: at La Scala in 1934 she was in the audience to hear a performance of Madame Butterfly, and found herself having to stand in bravely for the role of Cio-Cio-San, the leading role, since the official protagonist felt unwell after the first act. She did this so successfully that the audience and the critics took note. A long series of successes in Italy and abroad (at Covent Garden in London, in Paris and in Spain) encouraged her to cross the Ocean in 1940 and aim for the Metropolitan in New York, again to play the part of Madame Butterfly. Something special happened at this point: a friend from Bari had told her to get in touch with her brother, Giuseppe Gimma, who worked at the Stock Exchange in New York; the two met, fell in love and got married.
In 1945 she became an American citizen, but for all her life the official language in the Gimma-Albanese household was the Bari dialect, later used, as Alfredo Giovine tells us, to talk with their son. The link with Bari and Puglia, where some of her relatives still live, meant that Albanese came back to perform in her home region: in Madame Butterfly in 1956 at the Piccinni Theatre and then the following year in La Traviata; she had already sung at the Petruzzelli in 1934 and 1935, in Manon di Massenet and in La Bohème. The newspapers of the day tell of a triumphant chamber music recital held in 1964 at the Petruzzelli dedicated to Piccinni, Rossini, Bellini and Verdi. On that occasion, the Albanese family stopped in Bari longer than strictly necessary for the recital: Licia wanted her son to get to know his family's origins so that their beauty would remain with him. Like the colors and also the "tastes" of her Bari had remained with her. Her husband was known to often say "Give her a pan, an onion, a bunch of herbs and even in the kitchen she'll show you what an artist she is!".
In her long career, Licia Albanese has been Cio-Cio-San at least three hundred times and can boast of having sung with Arturo Toscanini, a great admirer of hers who directed her on more than one occasion, and also recorded a version of La Traviata with her. In Manhattan, a lot of singers have asked to take part in the celebration of her 100th birthday. And she has been moved by this, demonstrating that behind her legendary talent there has always been great feeling for the part and at the same time great humility. "I have never been a star, – she said some years ago to a reporter from the San Francisco Chronicle – Call me a very expressive singer".
New York has celebrated her as a legend on a par with Caruso, Gigli and Toscanini, whose nephew Walfredo, for years a member of the committee of the "Licia Albanese Foundation", died last year at the age of 82.
A reason for being proud of Puglia in the world, and perhaps it would be worth celebrating her and remembering her better in her home town, too.