- DECEMBER 2013 -
Underwater
Varano
The lake of gentle jellyfish
The unforgettable experience of swimming with the Aurelia aurita, a harmless jellyfish species populating a tiny Apulian coastal lake
by Ferdinando Boero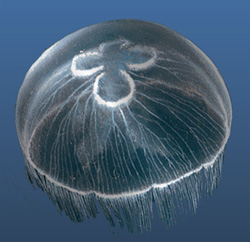 Aurelia aurita, the kind jellyfish.
Illustration courtesy of Alberto Gennari
      Lesina and Varano are two close lakes along the northern coast of Gargano promontory. Close and yet different. For ten years, Varano has been constantly inhabited by a dense jellyfish population that does not exist in Lesina.  Depending on tide, jellyfish drift toward different parts of the lake and experienced fishermen know exactly how to avoid them. There was a time, however, when jellyfish would clog up their nets turning fishing into a difficult game, but nowadays they live together in peaceful coexistence.  The local species is the Aurelia aurita, also known as the "four eyed" jellyfish because of the four eye-shaped circles decorating the top of its umbrella. The Aurelia is a non-urticant species, a non stinging one that can be boldly approached and observed in all its beauty.  Ranging from 10 to 30, and in some cases even 40 centimeters across in size, the Aurelia is a pretty big and visible animal.  It swims elegantly, pulsating oblivious to our presence. One can touch it although it is better to leave it alone, unharmed and undisturbed. In the Pacific Ocean, East of Philippines, there is a renowned island named Palau, whose fame comes from its lake, the Jellyfish Lake.  Palau's jellyfish also don't sting.  They are safe and passive when swimming with and tourists take very long trips to experience the excitement of a close encounter with these ancient animals.  All and all, jellyfish popularity is such that nowadays in aquari worldwide their tanks are the main attraction.
      The Aurelia aurita populates another lake in the Adriatic area, a lake in Mliet, a Croatian island. Clearly this species is finding more suitable conditions now than in the past and is spreading in specific habitats such as coastal lakes that are connected to the sea. Since Apulia houses many jellyfish lakes, they could become a tourist attraction here too.
      I went to Varano to see the Aurelia during the filming of a Linea Blu episode, a RAI 1 show dedicated to the sea. I jumped into the water and swam with them, filmed by Roberto Rinaldi. Afterwards I spoke about jellyfish with Donatella Bianchi, the show host.  Donatella told me that three million viewers watch her show weekly and thus I feel like I have successfully promoted Varano and its jellyfish.
      I've been studying these animals for some forty years, but the Aurelia experience left an impression on me more than any other.       The water was warm and I didn't wear a mask.  I saw the jellyfish from above, then dove with them, and petted them.  They were pulsating around me, oblivious of my presence.
      Few animals exhibit the same attitude towards the human presence that these jellyfish do, and within them, only some can be touched whithout painful consequences.  Say for example that instead of the Aurelia there were Pelagia noctiluca in the water with me. I could not swim with them without wearing a wet suit and other protection. Pelagia, to be clear, is the purplish jellyfish commonly found in the Mediterranean sea that is responsible for most of the stinging jellyfish encounters.  But the Aurelia is the gentle jellyfish that wants to make us change our opinion about its cousins.
      Well, in part at least. Besides the Aurelia, Varano also houses the Rhizostoma pulmo, a large bluish-white jellyfish. Their sting can be considered pretty negligible, although on sensitive skin it can cause some burning (quickly healing). They are beautiful and imposing, reaching up to 50 centimeters in diameter, and often followed by small fish. The first reaction to a jellyfish is fear. But knowing the different species can help one to avoid the urticant ones and righteously enjoy the safe ones' beauty. If you get a chance to go to Varano, look for the jellyfish, fishermen will tell you where they are.  And if you go there in summertime, take a swim with them.  You will be up for an experience that will leave a mark on you.  But in your memory, not on your skin.

WHERE: Lago di Varano - Gargano (Foggia)

Google maps