- DECEMBER 2013 -
Nature and Landscape
FAUNA
The sparrow
It is among the species most attracted to fig trees. For their shade and sweet fruit
by Giuseppe La Gioia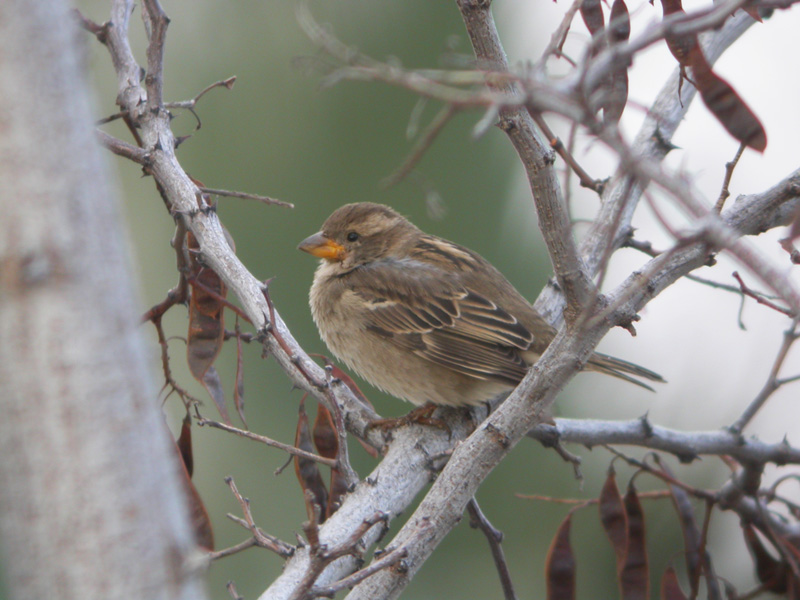 A cute example of a female Italian sparrow. Photo by Cristiano Liuzzi
      The fig tree, so characteristic of our summer countryside scenery, has two features much appreciated by birds: the shade afforded by its large leaves and its sweet fruit. If you stop at an adequate distance from these trees it is not difficult to observe, even in the absence of wind, the constant movement of their leaves, and this motion is due to little birds hopping from branch to branch in search of ripe fruit or small insects flying around. Among the bird species most attracted to these trees are sparrows.
      In Apulia, although sparrows are a still common species that live in close contact with humans, few know that there are three different species: the Italian house sparrow (Passer domesticus italiae), the Eurasian tree sparrow (Passer montanus) and the Sardinian sparrow (Passer hispagnolensis). The first two species are the most widespread throughout the region, while the third has a much more focused habitat and is found mainly along coastal areas between Foggia and Bari, although their presence is spreading. This last species, however, is interested in overwintering in Puglia during migration, and they carry out this activity more regularly than the other two species.
      The Italian house and the Sardinian sparrow have two different types of plumage, a uniformly brown one characteristic of all young and female sparrows, and the more colorful markings seen on the male of the species. Young birds and females of the species are indistinguishable, while males are distinguished by the greater presence of black streaks on their breasts with white coloring on their flanks, and the Sardinian sparrow also has white dorsal coloring. The tree sparrow has similar coloring to the males of the other two species, but with crescent-shaped black spots on the cheeks, as well as being slightly smaller. The young of this species have similar plumage, but with less bright colors.