- DECEMBER 2013 -
Nature and Landscape
FLORA
The saltmarsh morning glory
Individuated, in Italy, only in a few places in Puglia, Sicily and Lazio, it is at risk of extinction because its habitat is gradually disappearing
by Silvano Marchiori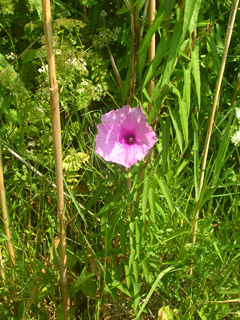 Saltmarsh morning glory
(Ipomea sagittata Poiret).
Photo by Piero Medagli
      The saltmarsh morning glory (Ipomea sagittata Poiret) is a herbaceous perennial, with fleshy, creeping rhizomes, divided into nodes and internodes.
      The prostrate (or creeping) stems and the climbing ones (that climb only by winding themselves around a support or another plant) reach a length of 4 meters. The leaves, of up to 9 centimeters, alternate with stalks of 2-3 centimeters.
      The saltmarsh morning glory has leaf dimorphism, that is, in the same plant there are leaves of differing shapes: the cordate base leaves have a broader heart-shaped tip, while the upper ones are lanceolate, saggittate, narrower and pointy, and at the base of the tip, present an inlet with acute and divergent lateral lobes. The morphology of the upper leaves brought the specific term sagittate to mind when the describer of the species gave it its name.
      In the summer months, at the point where the stem and the axilla of the upper leaves meet, large, showy flowers bloom (one for each axilla), as long as the leaf tip, borne by a stalk of a few inches long. The corolla, which is pink and fuchsia colored, has 5 gamopetalous petals, that is, completely attached to each other and form, at the base, a long (4-5 cm), narrow (0.7cm) tube, which at the top broadens up to a diameter of 4 centimeter (tunnel-shaped corolla).
      The seeds, and the various parts of the plant are poisonous if swallowed.
      It is a hygrophilous species, which prefers terrains that are saturated with water for long periods of the year, even if this water is slightly salty or briny (halo-tolerant).
      In fact, the plant can be found in the coastal wetlands, like marshes behind sand dunes, wet, briny muddy areas and sandbanks. In Italy it has been observed only in some areas of Lazio, Puglia and Sicily.
      The areas in Puglia are all to be found in Salento: the Rauccio and Torre Rinalda marshes, the Cesine reserve, and lastly near Ugento and Gallipoli.
      The saltmarsh morning glory is on national Red List of species at risk. The main threat is represented by the shortage of areas protected by dunes and marshland in which it could live, since these have been destroyed to make way for bathing establishments.