- DECEMBER 2013 -
Nature and Landscape
FAUNA
The lesser kestrel
It's a small falcon present in diverse regions in southern Italy whose numbers are diminishing and is therefore safeguarded.
In the Cape of Otranto, in the province of Lecce, dozens of specimens can be spotted in spring
by Giuseppe La Gioia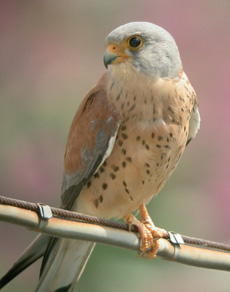 A fine specimen of the lesser kestrel.
Photo courtesy of Cristiano Liuzzi
      The lesser kestrel (Falco naumanni) is a small falcon, a bit smaller than the more common kestrel, but unlike the latter it is a migratory species and presents a fragmented and localized nesting area stretching from Spain and North Africa to northern China; it winters locally in the southernmost portions of the reproduction area, but above all in sub-Saharian Africa and in the southern Arabian peninsula. In Italy it nests mainly in Puglia, Basilicata and Sicily, but it is also present in Sardinia. It is specialized in preying on middle-sized insects, especially crickets and beetles, but doesn't turn its nose up at reptiles and micro-mammals. It prefers open spaces in warm dry environments, with scarce vegetation or even where there is no vegetation, but adapts itself to sowing land. It nests in colonies on man-made structures even in the cities, but also on natural sites like rock faces.
      Subject to rapidly declining numbers in the last decades of last century, both in Italy and in the rest of its area, it is an endangered species globally although presently seeming to enjoy a moderate recovery.
      Conservation and safeguarding guidelines have been set up for the lesser kestrel and they seem to be beginning to work, at least in Puglia, where the numbers are growing slightly and show a net expansion in the range, above all in the central-north section of the region. In the province of Lecce some isolated nesting has taken place and it is not impossible that the presence is greater than so far confirmed.
      The lesser kestrel is more easily spotted in spring. In this period, in fact, a few dozens of specimens are often present in the Cape of Otranto, an important national site for the transit of birds of prey during the return migration to nesting areas. From mid-March to mid-May many kestrels stopover on the pseudo-steppes that distinguish the area, to replenish themselves before carrying on their migration towards Albania, by crossing the Adriatic at the narrowest point or along the coastline. This is therefore the most suitable period for observing large groups of kestrels (up to 70 at a time!) swooping together to take out flying insects, exploiting the ascending currents of air created by the impact of the wind against rocky cliff faces. A wonderful sight.