- DECEMBER 2013 -
Nature and Landscape
The national park of Alta Murgia
Between nature and history
A vast territory predominated by its steppe, rich in splendid flora and fauna.
Millions of sheep used to be shepherded along its cattle-tracks and many millennia before that, at least five species of dinosaurs roamed the area.
From medieval traces of the presence of the wealthy Aragonese dynasty, to small villages which have sprung up along its borders
by Fabio Modesti

Direttore Parco Alta Murgia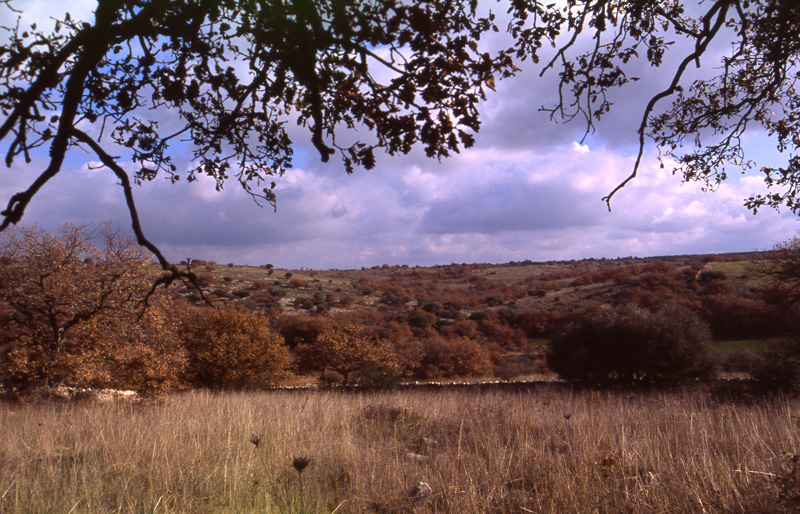 Alta Murgia national park. Woods of Quercus pubescens encircle Lama Reale, the biggest erosive gully in the park. Photo courtesy of Ente Parco Nazionale dell'Alta Murgia
      The national park of Alta Murgia is a real hotspot of animal and vegetative biodiversity, with a huge number of wild species; bird fauna is characterized by approximately 75 species, which represents a little less than half of all nesting species in Apulia; there are around 1,500 species of vegetation which is equal to 25% of all Italian flora. It is a little- known area even if it is easy to get to and visit, and it conserves a fascinating semi-arid environment that embraces the poetic, undulating views, from the sublime, infinite spaces of the plateaus to traces of great medieval emperors (Castel del Monte and the remains of Garagnone Castle).
      It is the largest occidental European steppe area, characterized by the presence of endemic species of vegetation like the Stipa austroitalica (called "fairy flax") which in the Springtime creates a sea of white flowers billowing in the wind. An ancient pastoral kingdom (that today is in great economical difficulty), the Alta Murgia national park is testimony to an extraordinary civilization that reached its peak just before the discovery of America, with the institution of the Aragon dynasty. It was used as a country farm estate for sheepskins and their associated customs and duties: it was a formidable instrument of fiscal pressure which fed the avid estate (the fields were the king's property and to let sheep graze, a fee had to be paid), and he could count on a massive number of herds to come down from the plateaus and into the grazing fields of the Alta Murgia, to then leave in May, heading towards the high plains in the Abruzzi mountains: millions and millions of sheep that made cattle-tracks into proper animal highways: the royal cattle-tracks from Melfi to Castellaneta and Barletta to Grumo were as wide as 116 meters, located parallel to the ancient Roman consular roads Appia and Traiana, running coast to coast from East to West to the plateaus of the Alta Murgia national park. Jazzi, country farm estates, were resting places built out of dry stone walls that delineated the "parks" assigned as grazing fields for the herds, and are located on the outskirts of the protected park area. Today many of these structures are abandoned, waiting for public and private investment to restore them, and it is the same for numerous ancient watering holes (natural pools, troughs, "lakes") and snow wells.
      The Karst land of the national park of Alta Murgia has been stimulated over the course of millennia by the inventiveness of its inhabitants, to store the most important element of survival for all living things: water, which infiltrated into the cracks and crevices of the limestone, present in the subsoil of the park, eroding it to great depths that oscillate between six hundred to one thousand meters in depth, where it pooled.
       In 1999 the park got international attention for an extraordinary discovery made on the land of Altamura. In a cave located in Pontrelli, in an area of approximately 15,000 square meters, fossilized dinosaur footprints were found, belonging to at least five different species, herbivores as well as carnivores. They had fossilized in the limestone of the cave, and were preserved in decent condition. Approximately 30,000 of these tracks were found: this is an incredible concentration of fossilized dinosaur tracks, making it one of the richest finds in the world.
      The principle mission of the park is to conserve the natural resources and beauty of these splendid plateaus in central Apulia; not an easy task because all around its almost desert-like calcareous boundaries, thirteen small villages have been developed over the years, with a total population of 500,000 inhabitants: historically important cities, with an income very close to major cities located in Northeastern Italy, with industry, artisans, and commercial activity involved in agricultural production (furniture production, and grain mills in Altamura and Corato). The park association, in regards to this matter, is developing important undertakings with agro-livestock businesses located in the protected area, including agreements that range from land management, with financial funding to sustain agricultural endeavors, to collaborations with local park communities to restore portions of the land as public property, and with hotelier businesses (agro-tourism and B&B's), to develop large band internet connections and satellite telephone capacity needed in remote areas that are difficult for cable and telephone companies to reach, and to organize vacation packages amidst the splendid scenery of the park.
       The national park could be defined as a jewelry case; it is open to all those who would like to experience and visit it, to explore its views, smells, colors, and cuisine, along with the products of one of the most beautiful plateaus in Europe.

WHERE: Parco nazionale dell'Alta Murgia

Google maps