- NOVEMBER 2013 -
Nature and Landscape
Flora
Apulian Heather
An Autumn bloomer that in Italy only grows in Salento
by Silvano Marchiori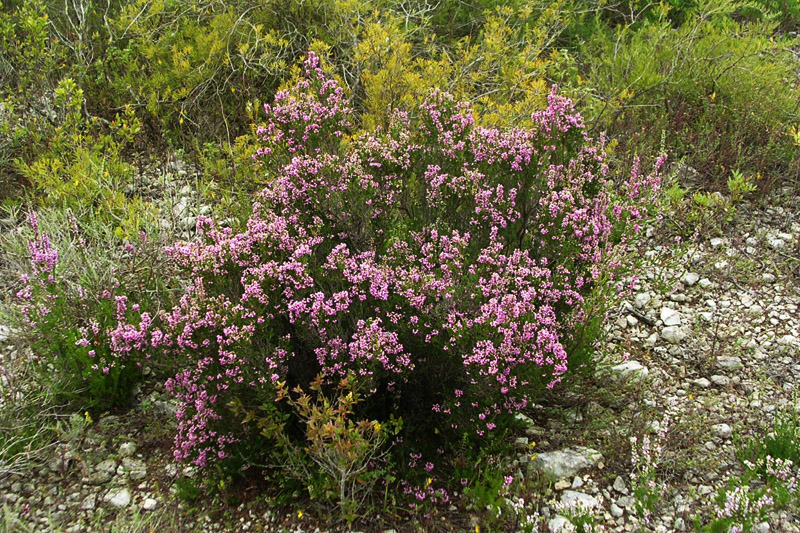 Erica pugliese. Photo courtesy of Piero Medagli

      The Apulian Heather (Erica forskali – synonym of Erica manipuliflora) derives its common name from the fact that can be found solely in the Italian region of Apulia, specifically in Salento.
      It is not however an endemic species to this territory because its distribution encompasses all south-eastern Mediterranean coasts, from Dalmatia to Lebanon, to Aegean islands and Crete.  Within Salento, it can be found in various locations along the Adriatic coast around the municipalities of Brindisi and Lecce, particularly in Torre Guaceto's Nature Reserve. On the Ionic coast it grows only in one place, at Punta Pizzo, nearby Gallipoli.
      The Apulian Heather is a small-sized (reaching 30 to 60 centimeters in height) evergreen shrub with a briefly creeping grey-brownish trunk that quickly turns upright. Densely branched, it has small needle-shaped leaves growing in groups (whorls) of three. Its flowers, arranged in clusters on lateral floriferous branches, have a modestly dense subterminal inflorescence of about 6 centimeters and a bright pink corolla.  Petals are fused into a bell-shaped tube whose mouth (fauce) has protruding anthers.
      When the blooming is over, the corolla turns blackish and lasts for long time even after the fruit has formed. Blooming occurs between September and the end of October.
      This species grows in hot and dry habitats (thermo-xerophilic species) forming coastal scrublands on shallow ground as well as hard compact substrata.
      The Italian population of Apulian Heather is considered threatened. It has therefore been included in the IUCN (International Union for Conservation of Nature) Red List of Italian plants to protect, being assessed as endangered species.