- NOVEMBER 2013 -
Nature and Landscape
Torre Guaceto
Nature and culture between land and sea
A Nature Reserve and wetlands of International Importance spreads out around an old fortified tower. A few kilometers from Brindisi, flora and fauna of great interest and eco-sustainable activities flourish.
by Fabio Ippolito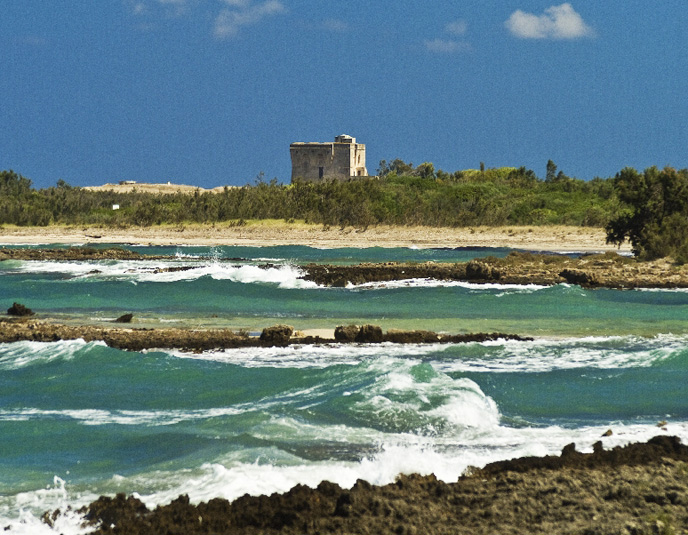 In arab "Gawsit" means "land of freshwater", while the toponym "Gaucito" appears on an arab map dating back to the 13th century.  This small bay north of Brindisi, characterized by a belt of marshy land crossed by a tiny river, was used by the Saracens well before the year 1000 as a basis for their land and sea raids, as well as for trading oil and wine.
      Around the 1300s, in an attempt to prevent pirates from landing, Carlo D'Angiò provided this site with its first fortified structure, which became two centuries later under the Kingdom of Aragon the largest among the coastal towers of the land of Otranto.
      A 1948 Military geographical Institute map shows the tower connected to Punta Penna Grossa by a small country road, while dissected by a network of swampy canals: a garrison defending an inland scattered with manor farms, Mediterranean scrub and olive groves.
      Today, Torre Guaceto's charm is still irresistibly intact, making it ideal scenery for nature activities of all sorts. To this day, its tower – facing southeast toward its calm and emerald watered bay - still offers freshwater and a secure landfall, well shielded from the wind. Yet times have changed. Nowadays the ships that once passed from Brindisi to Venice take refuge here no longer, and have been replaced by migratory waterbirds moving from north to south along the Adriatic coast.  And no other sails cross the bay save those belonging to a nearby sport center's trainees.
       "Wetland of international importance" according to the Ramsar Convention and State Nature Reserve since 2000, Torre Guaceto stretches for over 1100 hectares, at the borders of the municipalities of Carovigno and Brindisi.  Interstate 379 cuts it in two parts, each with very different landscape.
      The inland part is more anthropic and punctuated with sown grounds, gardens and centuries-old olive groves. Dry stone walls and country roads run throughout this land, neatly patching the plots; this is where the Reserve organic oil, the Park's Gold, is produced.
      The sea facing part is wilder and dominated by Mediterranean scrub, holm oak woods and swamps.  Giant eucalyptus trees remember a history of land drainage and reclamation begun by senator Dentice di Frasso around the end of the XIX century.  A major drainage canal was built and completed during the time of Land Reform, with the cultivation of scrubs and swamps. Today, the wetland extension is significantly smaller although the skillful and wise work of the Reserve's management did partially re-establish its original conditions encouraging large numbers of waterbirds to rest here.
      A particularly spectacular habitat in Torre Guaceto is constituted by sand dunes some of which rise up to 15 meters. They house a highly specialized flora ranging from the colossal junipers (absolutely unique in size) to the smallest grass species such as sea bindweed.
      A mature and slow-to-recover Mediterranean scrub includes marvelous specimens of lentisk, Phyllyrea and wild olive tree, as well as small strips of holm oak woods hosting  remarkable biodiversity for both animals and plants (Torre Guaceto is the easternmost Italian outpost for rare Apulian Heather). Presently the clearings are home to large numbers of reptiles, such as the colubro leopardino and rare tortoises, as well as mammals, birds and amphibians.
      Furthermore, Torre Guaceto is an important protected marine area. Seagrass beds of Posidonia oceanica as well as spots of precoralligenous communities colonized by fascinating invertebrates, such as the arborescent-like bryozoans and gorgonians, characterize the Reserve seabeds (explorable in guided immersions).
      Torre Guaceto and its inland, where the most authentic natural values have been conjugated with perfectly sustainable turistic and agricultural activity are an ideal destination for nature-filled getaways. 

WHERE: Torre Guaceto (Brindisi)

Google maps